2011 PGA Tour: Reviewing the Best Moments of the Season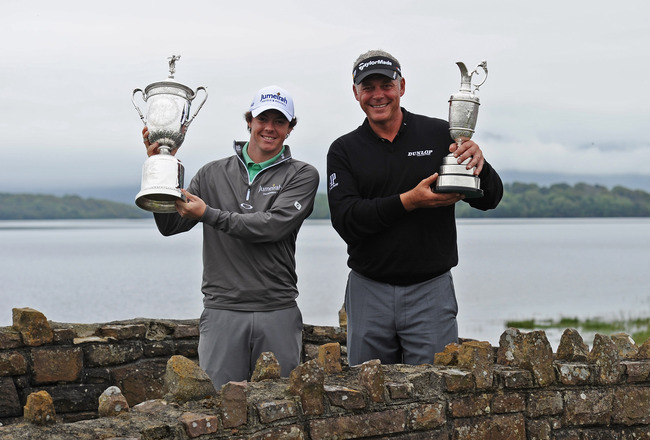 Stuart Franklin/Getty Images
The 2011 golf season is all but in the books!
It was a season filled with great excitement and great golf.
We saw Northern Ireland continue their recent streak of major tournament dominance and we saw some of the game's best performers underachieve.
We were surprised by the play of some and disappointed by the play of others.
Either way, the 2011 PGA Tour season was one that will always be remembered for the records that were broken and amazing golf we witnessed!
Best Shot of the Year: Bill Haas
Bill Haas had a great year in 2011.
With 7 top ten finishes, two second-place efforts and a victory in the Tour Championship, it would be hard to be disappointed with the year.
But even more memorable was the shot Haas hit during his playoff victory at the Tour Championship. Haas desperately needed a par to extend the playoff, but with his ball sitting in shallow water, his chances did not look good.
It is a shot that he might pull off once out of a 100 chances. Good thing he pulled it off when he needed it most!
Worst Shot of the Year: Kevin Na
Just when you think you have seen everything golf has to offer, it throws something else at you.
Kevin Na's "shot" at the Justin Timberlake Shriners Hospital for Children Open was downright hilarious. Never before have I seen a professional golfer whiff a shot, and I will likely never see it again.
And yes, I am aware Na claims he did it on purpose. I don't buy that excuse.
Best Played Hole: Tom Watson
Arguably the best Open Championship American player in history, Tom Watson always turns back time when it is time for the annual trek across the pond.
Although he was not a factor to win the 2011 Open Championship at Royal St. George's, it did provide one great moment for all his fans by acing the 178 yard par three sixth hole.
Making a hole in hole is fantastic, but doing it in golf's oldest championship at the age of 61 is even better!
Worst Played Hole: Kevin Na
As if having the worst shot of the year wasn't enough, Kevin Na also has the distinction of playing the worst hole on the PGA Tour this year.
Na made a 16 at the Valero Texas Open. In the process, he set a PGA Tour record for the worst score ever recorded on a par-four!
Most Impressive Year: Luke Donald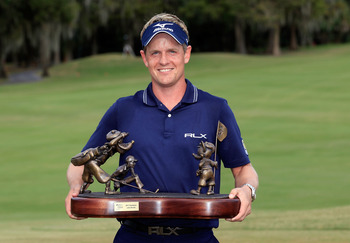 Sam Greenwood/Getty Images
Winning the money title on the PGA Tour is very impressive. It guarantees a five-year tour exemption and shows who played the most consistently for the entire year.
In 2011, the title went to Luke Donald, who had to win the last tournament of the year in order to secure his money title.
Now factor in that Donald ALSO won the money title on the European Tour.
Never before has that feat been accomplished, and it isn't likely to happen again anytime soon.
The season also saw Donald capture the No. 1 world ranking and also numerous tournament victories, including the WGC Accenture Match Play Championship.
Least Impressive Year: Tiger Woods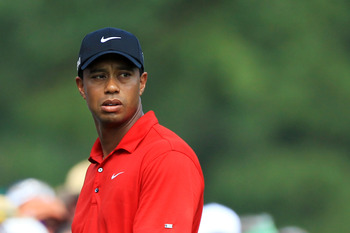 David Cannon/Getty Images
Tiger Woods' stats on tour this year read like a horror story. Nine events played, only seven cuts made, and a lousy two top tens.
To make matters worse, he has slipped out of the top 50 in world rankings and can't seem to gain any traction to improve.
In the year Tiger was supposed to get back on track and start his assault on Jack Nicklaus' major record, he has done nothing to show us he still has it in him.
Best Interview: Darren Clarke
Darren Clarke won the 2011 Open Championship at Royal St. George's with great style and poise.
And after winning the trophy he has always wanted, Clarke did what any respectable golfer would do and had a few adult beverages to celebrate.
So when he showed up to his press conference the next morning without having slept and still a bit under the influence, hilarity ensued.
Most Meaningful Win: David Toms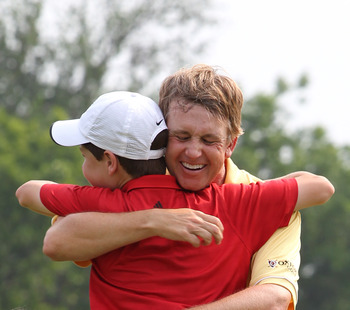 Hunter Martin/Getty Images
When David Toms won the 2011 Crowne Plaza Invitational, the entire golf world cheered. After losing by a shot to KJ Choi the week before, it was nice to see Toms grab his first win in five years.
Since 2006, when Toms last hoisted a trophy, he has struggled with injury and desire. He no longer played the game because he loved it, but instead because it was the only way he knew he could support his family.
Then he started playing golf with his son and rediscovered his passion and love for the game. So when his last putt dropped at the Crowne Plaza and his son ran out to embrace him, it reminded everyone that golf is just a game.
Most Dominating Win: Rory McIlroy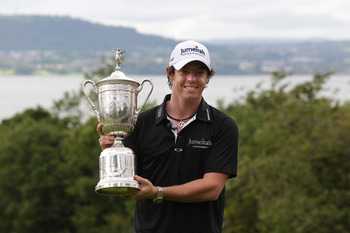 Peter Macdiarmid/Getty Images
No surprises here.
After choking away the 2011 Masters in historic fashion, Rory McIlroy headed to the U.S. Open determined to win.
Not only did he win, but he won by setting or tying 12 U.S. Open records. His performance was reminiscent of a young Tiger Woods at the 2000 U.S. Open.
As we head to next season, it will be interesting to see if McIlroy can back up his first major by winning another.
Best Overall Win: Charl Schwartzel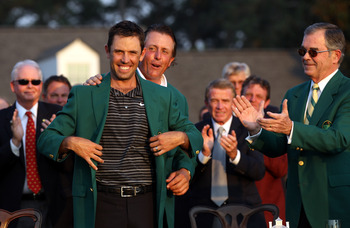 Ross Kinnaird/Getty Images
I call Charl Schwartzel's win at the 2011 Masters the best win of the year without a doubt.
I don't really care that he needed Rory McIlroy to collapse epically in order to win. That happens in golf. Players falter and others step up.
Schwartzel stepped up big by birding the last four holes of the tournament. That feat has never been accomplished in Masters history.
To pull that off under the immense pressure of Augusta on a Sunday is simply remarkable.
Most Surprising Split: Mark Steinberg and IMG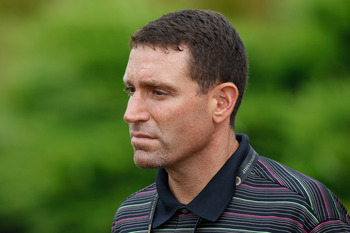 Sam Greenwood/Getty Images
You were probably expecting to see Tiger and Stevie take this place, but that honestly that was probably expected with all the troubles Tiger has been having.
Mark Steinberg leaving IMG blew me away.
As the head of the IMG golf division, Steiny had unprecedented power. He would often help create notable tournaments and then ensure they had premier positions on the schedule.
So for him to dart to a new agency was risky.
Although he brought top client Tiger Woods with him, it remains to be seen if he still holds as much weight in the golf world.
Keep Reading