NFL Picks Week 8: Detroit Lions Will Pound Tim Tebow, Denver Broncos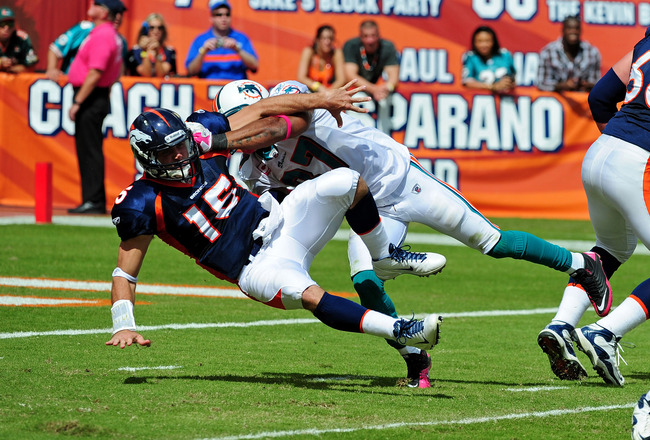 Scott Cunningham/Getty Images
Coming off of two consecutive losses, the Detroit Lions are coming to Denver ticked off. Oh, and not to mention, they're playing against Tim Tebow. Meanwhile, on the other side of the ball, Tebow has his Denver Broncos flying high after a miraculous comeback victory last week over the perfect 0-6 Miami Dolphins.
But, the Lions have more a chip on their shoulder to prove in this game. They're coming off two consecutive, and bad losses. They're angry, want a win, and want Tebow. The Lions need a good, tough win before a grueling stretch of the season in which they eventually play Green Bay and New Orleans.
The Lions will enter Denver with vengeance on their mind, as they look to, and will, get back on a winning track against an inspired Tebow-led Broncos team.
Here's a look as to why the Lions will get at Tebow, pound him and his teammates this coming Sunday in search of win number 6.
Keep Tebow in the Pocket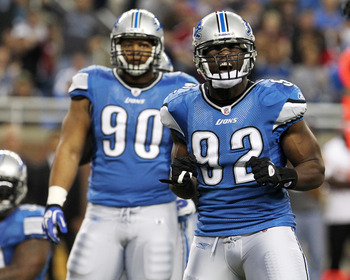 The Lions need players like DE Cliff Avril to get at Tim Tebow
Dave Reginek/Getty Images
Tim Tebow is at his best when he is out of the pocket. Whenever Tebow is forced to scramble and run, he usually, somehow makes a play.
So, in order to put and keep Tebow outside of his normal comfort zone, the Lions need to keep Tebow inside the pocket.
The Lions need players like Cliff Avril and Kyle Vanden Bosch to have big games. Fans should expect to see a healthy amount of edge and cornerback blitzes from Detroit.
The linebackers will also play an important role in the containment of Denver's Tebow. Quarterback spy plays should be expected from Jim Schwartz's defensive playbook.
If players like Chris Houston and Avril can force Tebow to quickly deliver the football or force him to take a sack, the Lions will have a very successful game.
Detroit's Pass Defense Is Better Than Denver's Pass Offense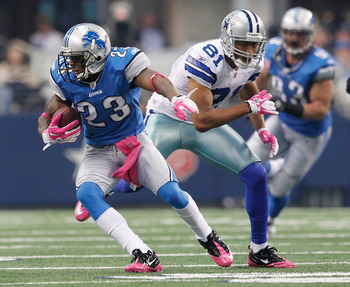 Tom Pennington/Getty Images
It's actually way better than the Broncos' passing offense.
The Lions rank ninth in the NFL in passing defense, only allowing an average of 204 yards per game. On the other hand, the Broncos own an absolutely dismal 190 yards passing per game, good for 26th in the league.
The Broncos haven't been very accurate either, throwing seven interceptions. The Lions have already recorded 10 interceptions this season.
This advantage gives the Lions the opportunity to rush and blitz Tebow.
A dominant defensive line and a solid linebacking corps can blitz Tebow as much as they please, as well.
Since the Lions have such effective, ball-seeking defensive backs, the Lions can easily build on their already 17 sacks this season.
Step Back and Make Tebow Throw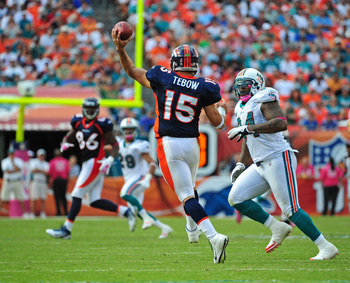 Scott Cunningham/Getty Images
If somehow the Broncos can contain the Lions' blitzes and attacks, the Lions can easily do one thing: back off.
During the game, if Tebow is not being rushed or hurried as originally planned, the Lions defense can simply back off the rush, add more players to defending and coverage and force Tebow to make the difficult pass.
Tebow certainly isn't heralded as much of an accurate passer in the pocket. Forcing him to make a quick, tight throw could definitely frustrate him, having been pushed from his instinct to run.
As they say, the best offense is a great defense. That's what the Lions could and may have to do on Sunday.
If Tebow Runs, He's Fair Game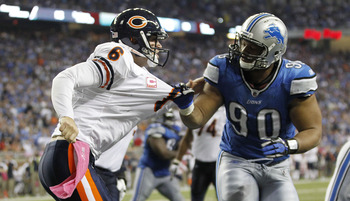 Leon Halip/Getty Images
The fun thing about a running quarterback who steps out of the pocket? He's fair game.
When a quarterback scrambles and leaves the vicinity of the pocket, he is subject to as hard a tackle as any other player. Because he would no longer be protected by a "roughing the passer" rule, this will give the Lions their chance to pound Tebow.
Yes, the Lions are gaining a reputation as a dirty team with dirty players. This may or may not be true, but don't expect the aggressiveness to end Sunday.
If Tebow scrambles, he's going to get hit—and he's going to get hit hard.
Proceed with caution, Tebow. I certainly wouldn't want Ndamukong Suh running full speed behind me all day.
My final score prediction: Lions 26 Broncos 14
Keep Reading

Detroit Lions: Like this team?