UFC 137 Fight Card: Who Wins Nick Diaz vs. B.J. Penn and Main Card Fights?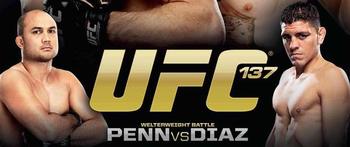 The wait is nearly over: UFC 137 is less than three days away and the anticipation has reached fever-pitch. Who wins and who loses—Nick Diaz or B.J. Penn?
UFC 137 is set to bring the house down at the Mandalay Bay Events Center on October 29 in Las Vegas, Nevada.
And this is without the original main attraction of Georges St-Pierre vs. Carlos Condit.
The event is already stacked, from the preliminaries on Facebook and Spike TV, to the main card, where all eyes will be on the Diaz/Penn main event and its outcome.
However, there are four other fights that will be featured on the main card and are more than worthy of a mention, with the upshots probably signalling the end of a career or even a swift exit from the UFC altogether.
Forthwith, here are my predictions for UFC 137.
5. Featherweight Bout: Hatsu Hioki vs. George Roop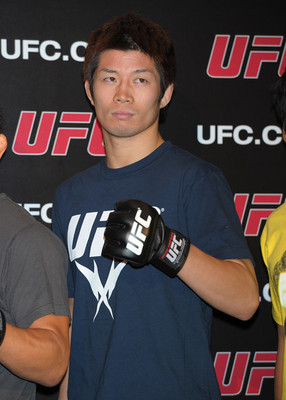 Hatsu Hioki
Record: 24-4-2
Age: 28
Height: 5'11"
Nationality: Japanese

George Roop
Record: 12-7-1
Age: 29
Height: 6'1"
Nationality: American
Hioki, making his debut for the UFC, is currently ranked the No. 2 featherweight in the world by Sherdog.
Roop, on the other hand, is 1-1 in the company and in dire need of a win.
Against a supreme Jiu-Jitsu and Shooto specialist in the vein of Hioki, Roop will have his work cut out for him.
Roop's plan will be to keep the fight standing where he has a chance of eking out a decision.
I don't see that being the case, so expect Hioki to take this fight to the ground as soon as proceedings get underway.
Barring some unforeseen circumstances, an upset isn't on the cards.
Prediction: Hioki via Round 1 submission
4. Bantamweight Bout: Scott Jorgensen vs. Jeff Curran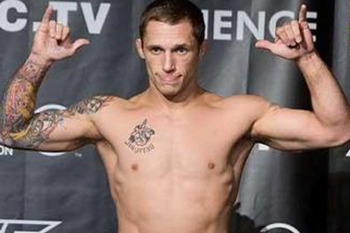 Jeff Curran
Record: 33-13-1
Age: 34
Height: 5'6"
Nationality: American
Scott Jorgensen
Record: 12-4
Age: 29
Height: 5'4"
Nationality: American
Curran is making his first foray into the UFC since his debut loss to Matt Serra at UFC 46 almost eight years ago. For Jorgensen, this will be his debut for the company.
"Young Guns" will want to keep the fight standing whilst "Big Frog"'s sole aim will be to get the fight to the ground.
Either way, Curran will feel at home, as he's got both the boxing and the supreme Jiu-Jitsu skills in his repertoire.
Even though both fighters are desperate to impress the hierarchy, I can only see this fight going one way—a successful return to the UFC for Curran.
Prediction: Curran via Round 1 submission
Jeff Curran
Jeff Curran will strive to be the best he possibly can.
3. Heavyweight Bout: Mirko Filipović vs. Roy Nelson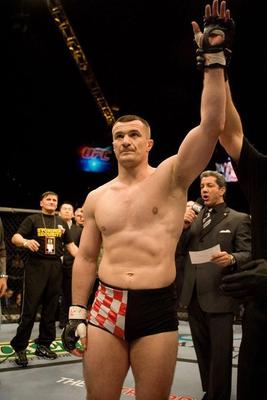 Mirko Filipović
Record: 29-9-2-1NC
Age: 37
Height: 6'2"
Nationality: Croatian

Roy Nelson
Record: 15-6
Age: 35
Height: 6'0"
Nationality: American
Filipović and Nelson are both on two-fight losing streaks each—the former by KO (twice) and the latter via decision (twice).
Whilst Nelson has a sturdy chin, Filipović's punch resistance seems to have deserted him.
I really can't see this fight going to the ground unless Nelson has changed up his strategy and decides that's his best option—he has a far more superior ground game than Filipović.
Other than that, it's going to be stand and bang all the way.
How Filipović reacts to getting hit by Nelson is anyone's guess.
Given Filipović's recent spate of humiliating defeats, everything points to a Nelson victory, and rightly so.
This fight could signal the swan song of Filipović's once-stellar career.
That notwithstanding, I'm sure that Filipović isn't here for one last paycheck, and he'll be looking to end things in dramatic "Cro Cop" fashion, maybe one last time.
The likelihood of a "Cro Cop" win looks slim, but I'm willing to put my neck out on the line and give the former Pride legend one last shot at redemption.
Prediction: Filipović via Round 2 TKO
Mirko Filipović
One of the many occasions when "Cro Cop" was in his element.
2. Heavyweight Bout: Cheick Kongo vs. Matt Mitrione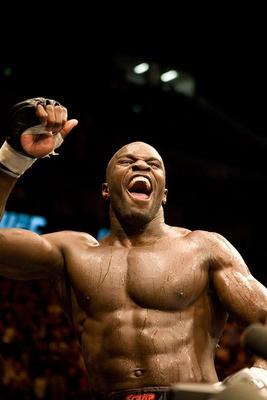 Cheick Kongo
Record: 16-6-2
Age: 36
Height: 6'4"
Nationality: French

Matt Mitrione
Record: 5-0
Age: 33
Height: 6'3"
Nationality: American
Kongo's most recent victory was an improbable come-from-behind victory via his first-round KO of Pat Barry in June of this year.
Mitrione, on the other hand, is riding a five-fight winning streak, and will want to continue that ascendancy to an eventual title shot.
As both Kongo and Mitrione have proven that they have punching power, I see this as another stand and bang fest.
That being said, Mitrione might revert to his wrestling and Jiu-Jitsu background if things get a little too heated.
The result could hinge on the ground game of either Mitrione or the fighter who connects with the most accurate and devastating precision.
Kongo has shown that getting knocked down doesn't necessarily suggest he's down for the count.
Kongo will continue his quest to stay relevant in the heavyweight division.
Prediction: Kongo via Round 1 KO
1. Welterweight Bout: Nick Diaz vs. B.J. Penn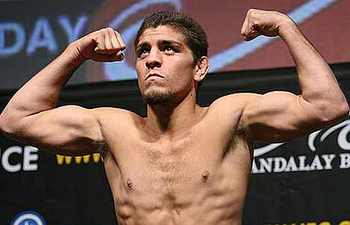 Nick Diaz
Record: 25-7-1NC
Age: 28
Height: 6'1"
Nationality: American

B.J. Penn
Record: 16-7-2
Age: 32
Height: 5'9"
Nationality: American
The winner of the this bout will most likely contest the next UFC welterweight championship after Georges St-Pierre and Carlos Condit settle up.
A lot is at stake for both fighters—a loss for either will see their careers take a mini nosedive—back in the mix with the other aspiring welterweight contenders.
I expect the fight to be fast and furious, with each combatant throwing and eating leather in equal measures.
A knockdown or two maybe, but I doubt it will result in either being put to sleep.
Penn will attempt to secure takedowns and execute his ground and pound assaults.
Nevertheless, I see Diaz weathering the early storm, and once Penn's cardio slows down, he'll go in for the kill in either the second or third round.
Prediction: Diaz via Round 3 Submission
Nick Diaz
Nick Diaz, a warrior to the end.
Keep Reading