Los Angeles Galaxy vs. Red Bull New York: Showdown in the Big Town Continues
October 27, 2011
Andy Marlin/Getty Images

In a recent LAGalaxy.com poll, over 50 percent of voters wanted Bruce Arena's Los Angeles Galaxy to take on Hans Backe's New York Red Bulls in the 2011 Major League Soccer Western Conference Semifinals.
Well, LA football fans, you got your wish.
The Galaxy and Red Bulls will indeed meet in what is sure to be a blockbuster Conference Semifinal after Joel Lindpere and Thierry Henry both gave New York a 2-0 victory over FC Dallas in the wild-card game at Pizza Hut Park in Frisco, Tex. on Wednesday.
The first leg will take place on Sunday, Oct. 30 at Red Bull Arena, in Harrison, N.J.
Los Angeles finished the regular season with a successful Supporters' Shield defense and a 19-5-10 record (67 points). As for the Red Bulls, they've had a trying year with a 10-8-16 record (46 points) and only clinching a spot in the playoffs on the final match day against Philadelphia.
But it's a new season, a new game, and a chance for a new outlook.
"This is a whole new year," Arena told LAGalaxy.com's Larry Morgan. "If you look through your records we probably won the most games in the playoffs the last two years. It's not like these are bad memories. We fell short, but we do know how to be ready for playoff games.
"I don't think there's anything … if they had to have a whole new genetic makeup for this challenge, then we've had it wrong the whole year. You go about your business the same way you have previously."
For Los Angeles, they know that futility against New York is not an answer. Indeed, Chris Birchall hinted that New York was the last opponent the Galaxy would ever consider due to one issue: travel.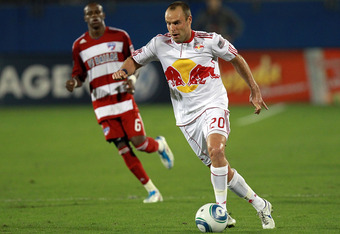 Ronald Martinez/Getty Images
"I don't think we have a preference who we play," Birchall said. "Maybe [not] New York because of how long the flight is, and we've done a lot of flying recently. To be honest with you, we don't mind who we play.
"We just know if we play well in both games we'll get through. For us, it's really we know at some point in every round we're going to be at home."
Still, the Red Bulls are LA's first opponent this postseason, and Henry will be ready to give the fans in Harrison something to cheer about. This season, Henry led the team in scoring with 14 goals in the regular season.
A player that Backe will be sweating on is the health of Luke Rodgers. Rodgers was second on the team in goals with nine, but injury prevented him from starting in the wild card match against Dallas.
One player that Los Angeles will not need to worry about is Jan Gunnar Solli, who is tied for first on the team in assists with seven. Solli was suspended for Sunday's first leg due to a studs-up challenge on the Hoops' Daniel Hernandez, drawing a red card.
However, Los Angeles do have to mind Dane Richards and Joel Lindpere.
Richards has seven goals and seven assists, and was responsible for punching New York's ticket to the postseason last week against the Philadelphia Union.
Lindpere also has seven goals and assists apiece and could be the X-factor. The Estonian international could have helped his country's Euro 2012 prospects but elected not to participate, and it has paid off despite a difficult year for New York.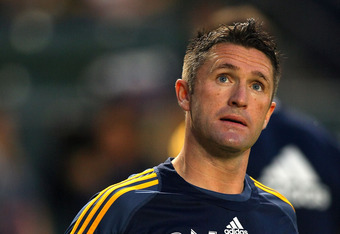 Victor Decolongon/Getty Images
Los Angeles understand that the Red Bulls are one of the few teams they have yet to defeat this season, and there is no better way to break the slump than in the MLS Cup Playoffs.
Landon Donovan's 12 goals and David Beckham's 15 assists make these two players legit targets, but Robbie Keane and Omar Gonzalez are even more vital to the cause.
Keane might not start against New York, but he could see minutes in the first leg. The captain of the Republic of Ireland national team is returning from an strained quad suffered in a Euro 2012 qualification match against Andorra. No specific timetable is set, but all signs point to a successful recovery in time for postseason action.
Gonzalez, the team's defensive MVP, has been an enforcer in the backline and will need to help Beckham keep Henry in check up top.
The play of New York's Rafael Marquez will also be one to watch. Marquez has been criticized for being too vocal about comparing his skill level to the rest of the team, but his efforts on the field have apparently peaked at the right time for the Red Bulls.
Another battle to watch in both legs is that of the goalkeepers.
Frank Rost, long considered a waste of money in a number of circles, has actually proved to be worth his weight in gold in the last meeting betweek both sides which ended in a 2-0 Red Bulls victory. Rost has a 1.33 goals against average, a 65 percent save percentage and 26 saves in a season which saw New York use five different goalkeepers.
LA's Josh Saunders may be playing the best season of his career. Once upon a time, Saunders was listed as the backup goalkeeper to Donovan Ricketts. Now the starter for the Galaxy, Saunders has compiled a 0.93 GAA, a 75 percent save percentage and 55 savers on the year.
Prediction:
This is the point where Los Angeles must play their best football. It can be the CONCACAF Champions League all over again. The "win-and-you're-in" mentality is the midset that will help the Galaxy progress to the next round, where either Seattle or Salt Lake await.
It all begins on Sunday against the Red Bulls.
Los Angeles Galaxy 2, Red Bull New York 0
Kickoff is scheduled for 12 p.m. PT/3 p.m. ET and will be televised by ESPN2 and ESPN Deportes.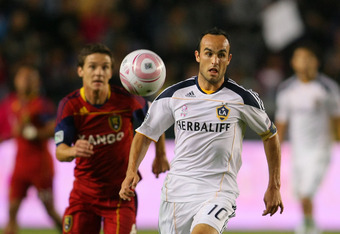 Victor Decolongon/Getty Images