The 5 Most Devastating Hits in NFL History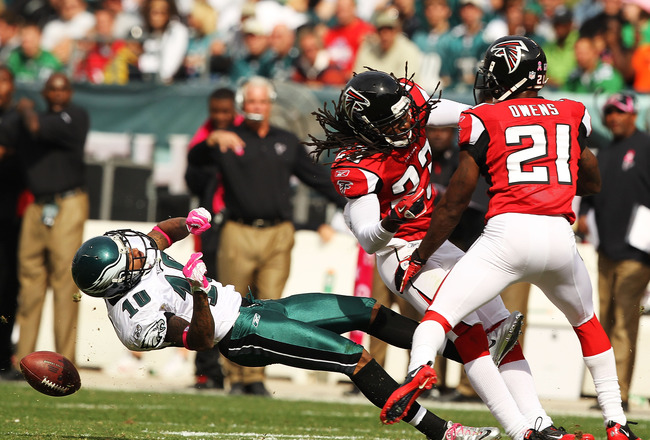 Al Bello/Getty Images
Over the past 40 years or so in the NFL, there have been some amazingly hard, brutal hits, some legal and some not. As players continue to get bigger, faster and stronger, the hard hits will come with greater and greater frequency.
So, here are what I believe to be the five most devastating hits in the history of the National Football League.
5. Dunta Robinson's Hit on DeSean Jackson

Dunta Robinson's Crushing hit on DeSean Jackson

This hit was flat out scary. It was visually disturbing. DeSean Jackson, who is 5'10" and generously listed at 165 pounds, looked like a dummy when he was laid out by Dunta Robinson in this 2010 regular-season game.
The really frightening thing about this hit is that both guys were concussed and were down for several minutes afterwards, which you'll rarely see. I vividly remember watching this hit and being shocked by what I saw. Dunta Robinson is a repeat offender of these helmet-to-helmet hits, having made a very similar one against fellow Eagles wideout Jeremy Maclin earlier this year.
All together, this is one of the hardest, most solid, and brutal hits in NFL history.
4. Sheldon Brown Laying out Reggie Bush

Reggie Bush Jacked up by Sheldon brown

As one YouTube subscriber so eloquently commented, Sheldon Brown "knocked the Kardashian" out of Reggie Bush on this hit. This is perhaps one of the most square, perfect tackles that we've ever seen. Reggie looked like a straight up rag doll on this one. Pause the video at 33 seconds to see what I'm talking about.
The great thing about this hit is that it was 100 percent legal. Brown led with his shoulder, squared up and delivered a hit to Bush's body rather than his head, something which current NFL defensive backs should work on doing more often.
What really speaks to the gravity of this hit is that Bush tries to get up, does, then goes right back down after and starts crawling on the ground. What a hit.
3. Jack Tatum's Hit on Darryl Stingley
Jack Tatum's hit on Darrell Stingley was tragic. Stingley came over the middle and Tatum, arguably the hardest hitter of all time, hit him at the wrong angle and tragically caused Stingley to become a quadriplegic.
Tatum never apologized for the hit on Stingley, correctly citing that he led with his shoulder and that it was just a clean, hard hit that led to some unfortunate circumstances. I agree with Tatum that it was a great hit that was clean, but apologizing would've gone a long way.
Stingley luckily befriended Gene Upshaw and ultimately was very influential in securing benefits for disabled NFL players. Still, him and Jack Tatum will be forever linked by Tatum's brutal hit on him in August of 1978.
2. Eric Smith Destroys Anquan Boldin
This hit is as brutal as they come. Anquan Boldin went up for the ball, when Eric Smith met him in one of the hardest helmet-to-helmet hits you'll ever see.
As with the DeSean Jackson-Dunta Robinson hit, both the hitter and the guy on the receiving end went down for a while. This is the other hit on this list that I saw live, and it was really scary. On the video, someone commented that they were at the game, in the upper deck, and were still able to hear the hit, which is pretty amazing.
Boldin broke multiple bones in his face but still ended up playing a couple of weeks later. It's a testament to his toughness that he was able to come back and still go across the middle after such a rough hit.
1. Lawrence Taylor's Hit on Joe Theismann
Was there any doubt as to which hit would go down as the most devastating in NFL history? Lawrence Taylor's hit on Joe Theismann is one of the most gruesome hits or injuries that you'll see in any sport.
The video speaks for itself as to how brutal this hit was. It ended Theismann's career prematurely, unsurprisngly. Amazingly, Theismann claimed that he felt no pain after the hit. My dad saw this live and said it was one of the most disturbing things he's seen in over 40 years of watching sports.
I've seen Lawrence Taylor breaking Joe Theismann's leg way more times than I can count, but every time I still cringe, and that'll probably never stop, because it is without a doubt the most devastating hit in NFL history.
Keep Reading