Tony Sparano Wisely Puts His House on the Market
October 26, 2011
Nick Laham/Getty Images
Tony Sparano's days in Miami are numbered. If you don't believe me, ask Sparano himself.
Yahoo! Sports reported on Monday that Sparano told a referee that he was going to be fired.
Now, Jorge Sedano is reporting a new development.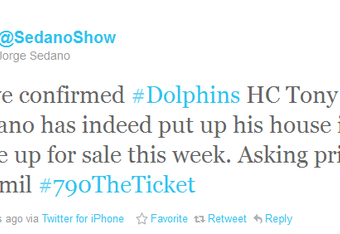 That can't be an especially good sign, at least not for those people who want Sparano to stay on board as Miami's coach.
But the team is winless and has taken a noticeable drop in productivity since their 11-5 division championship season in 2008.
Whether Sparano's firing is imminent or not remains to be seen. Personally, I don't see much of a point in firing him this season, unless the long term replacement will be hired this year. Miami's season is lost. What can really be done by firing Sparano now?
Nothing, not even running the table, would get them anywhere near the AFC East championship.
But as far as Sparano is concerned, this is the best move for him. By putting his house up for sale, he's taking one big step towards removing pretty much all of the pressure that exists this season.
He knows he's on his way out. With this, the players and coaches are more likely to be loose in their jobs. That's really the only chance this team has at succeeding.
If Sparano has any designs on staying as the bead coach in Miami, he needs to show that some progress is being made. From what we've seen in 2011, the team is just too tense.
When a bad team plays tense, they have no chance at winning.
Maybe Sparano knows that he's on his way out far sooner than the end of the year. That's not impossible.
But one way or the other, this move was necessary.