Brendan Schaub Responds to Fabricio Werdum's Comments
October 26, 2011
On Monday, Strikeforce heavyweight Fabricio Werdum tweeted a response to Brendan Schaub calling out the Strikeforce heavyweights.
The response was a call to Schaub for a fight in the near future and possibly Werdum's return fight to the UFC.
"Brendan Schaub, I'm ready for you. Anytime, anywhere," Werdum tweeted on Monday. "Great fight for the UFC fans."
With Werdum's response, Schaub hopes he knows he meant no ill will with his comments.
"It's nothing disrespectful in any way. I think Werdum is No. 5 in the world in some rankings, an absolute nightmare, and man he got word of that and I woke up this morning to about 10 missed calls and 20 text messages and my Twitter is just blowing up with Werdum saying he's ready for me anytime," Schaub said of the incident to MMAWeekly Radio.
What were Schaub's comments you may ask. Well he told MMAWeekly about that too.
"So I was out in L.A. just doing an interview for THQ and we were talking about the Strikeforce guys. I haven't seen the interview yet, but as I remember it, they were just like 'who's next for you? Who do you want to fight?' and I was like there are so many tough guys out there, any of the Strikeforce guys would be great, a great fight for me would be me and Werdum," said Schaub.
Schaub then said regardless of what his intentions were behind his comments, he doesn't care and would take the fight in a heartbeat.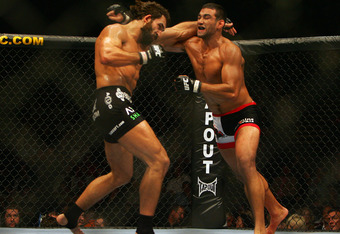 Gary M. Prior/Getty Images
"I'm like Marty McFly from 'Back to the Future,'" Schaub said. "Don't call me a chicken, tell me where to sign. I don't back down. I would definitely take that fight if it was offered."
Schaub then went on to talk about the awkward run-in between the two fighters. Schaub and Werdum recently trained at the Reign Training Center with each other, but Schaub asked gym owner, head coach and UFC middleweight, Mark Munoz, to put the two heavyweights in separate drills as they could be opponents someday.
Albeit with the very few run-ins they had, Schaub said there were some awkward moments.
"He was down there. It was awkward man, not going to lie," said Schaub. "He's a great guy, he's nice about it, [but] there's definitely a little bit of tension. He did come in while I was there. He was on one side of the room, I was on the other. You'll even see a team picture with me and him in it. A little awkward."
Schaub doesn't regret his Werdum comments and went on to talk about the success of Werdum and how if Werdum wants him, then he must be doing something right.
"If Fabricio Werdum's saying he wants to fight me, obviously I'm doing something right. This guy fought Fedor [Emelianenko], he fought Alistair Overeem, so for me it's definitely a huge honor and it's just all about respect," Schaub said.
"If you look back on your career and you fought guys like Cro Cop, Nogueira, Gonzaga, and Werdum, that's what people remember," said Schaub. "No one remembers my first two fights in the UFC where I just smoked these guys who aren't there anymore. All they're asking about is Gonzaga, Cro Cop, or Nogueira."
With that said, Schaub's comments are true and adding a guy like Werdum to his resume would be yet another impressive name for him.
Schaub made one final comment about Werdum and it was very straight forward to the Brazilian fighter.
"Let's do this. Tell me where to sign," Schaub said addressing Werdum directly. "I'm always ready. You never have to get ready if you're always ready. A big card would be that Super Bowl card early February, something to think about. Tell me where to sign."