Georgia vs. Florida: TV Schedule, Live Streaming, Radio, Game Time and More
October 26, 2011
Kevin C. Cox/Getty Images
The Georgia Bulldogs have battled back from dropping their first two games of the season.
They square off with Florida in Jacksonville in a game littered with SEC and BCS implications.
This is one of the most anticipated SEC clashes of the season, and while it may not be Alabama vs. LSU, the winner of this game will have a fighting chance at seeing the winner of that game in the SEC Championship.
Let's take a closer look to see who walks away from this one with a victory.
Where: Everbank Field, Jacksonville, FL
When: Saturday, Oct. 29 at 3:30 p.m. ET
Watch: CBS
Listen: Free Football Radio
Betting Line: Georgia -3 (via 5Dimes)
Key Storyline
Is Georgia headed to the SEC Championship?
Georgia is 5-2 overall with a 4-1 SEC record.
Every team in the SEC has a tough schedule, but the Bulldogs' toughest game will come against Auburn at home. That's a manageable game, and despite a shaky 0-2 start, Georgia is the favorite to represent the East in the SEC Championship.
With Marcus Lattimore down, South Carolina becomes far less scary.
Who Might Not Play for Georgia
Kwame Geathers, NT, (Suspension) Questionable
Shawn Williams, S, (Suspension) Questionable
Malcolm Mitchell, WR, (Hamstring) Questionable
Israel Troupe, SE, (Knee) Knee
Cornelius Washington, LB, (Disciplinary) Questionable
Trinton Sturdivant, T, (Knee) Out for Season
Rantavious Wooten, WR, (Concussion) Out
Kolton Houston, T, (Eligibility) Out
Jakar Hamilton, S, (Ankle) Out

Who Might Not Play for Florida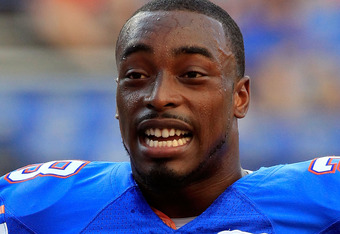 Sam Greenwood/Getty Images
Ronald Powell, LB, (Undisclosed) Probable
Jeffery Demps, RB, (Ankle) Probable
Dan Wenger, C, (Ankle) Questionable
Caleb Sturgis, K, (Leg) Questionable
Andre Debose, WR, (Ankle) Questionable
John Brantley, QB, (Ankle) Questionable
Jeremy Brown, CB, (Knee) Out

BCS/Top 25 Implications
Florida's hopes of popping back into the Top 25 aren't a pipe dream.
They have three losses, but all three came against ranked opponents, two were on the road, and two of them were against the No. 1 and No. 2 teams in the nation.
With games against Georgia, South Carolina and Florida State lying in front of them, three losses doesn't bind them from cracking the Top 25.
Georgia is there already. They've been a promising bubble team all season and are finally getting some of the recognition they are due.
Georgia is more than likely going to run the table, and doing so will have them easily finishing in the Top 15 to close out the season.
What They're Saying
"Wherever I played has no bearing on this game at all. I don't mean any disrespect to anyone, but I'm loyal to people, not places."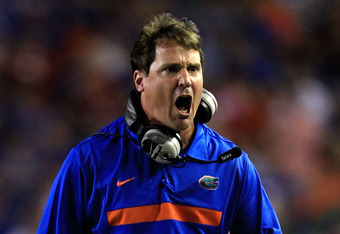 Sam Greenwood/Getty Images
Florida coach Will Muschamp has Georgia roots, but anyone who thinks there is a conflict of interest at work is flat-out wrong.
His loyalty lies with the Florida Gators—though, as he suggests with this quote, he hasn't cut off ties with everyone involved with the organization.
"It'll be kind of crazy the first drive or so with me being back out there for the first time. After that, I'm pretty sure it will be the same as it was before."
Linebacker Alec Ogletree has been out since breaking his foot in the opener. His return gives the already-surging team an even bigger lift in one of the most important games of the season.
Georgia Player to Watch: Isaiah Crowell
There was a four-game stretch where Crowell topped the 100-yard mark three times. He's fallen off a bit in the last two games, amassing less than 100 yards in the two outings combined.
Georgia was able to come away with wins, but for their offense to be at their best, the young back has to be at his.
Florida Player to Watch: John Brantley
John Brantley re-entering the lineup couldn't come at a better time. Having the senior under center in a game of this magnitude provides them with the leadership they need, and as long as he can keep his completion percentage above 60 percent and his turnovers down, Florida's offense won't be an issue.
Key Matchup: Florida's Run Game vs. Georgia's Defense
Jeff Demps has been banged up, and Chris Rainey has 89 yards in his last three games combined. Florida can't win when their run game is completely in check.
Auburn was able to keep the Gators' run game in check. Georgia will look to replicate their success—this matchup will determine the outcome of the game.
Prediction
Georgia 31, Florida 24