Iowa State vs. Texas Tech: TV Schedule, Radio, Game Time and More
October 26, 2011
Brett Deering/Getty Images
Texas Tech is the toast of the college football world following their amazing upset of then No. 3 Oklahoma. The victory found them jumping to No. 20 in this week's poll.
They now must try to regroup and focus on a struggling Iowa State team. The Cyclones have lost four straight, and all four of those have come in conference play.
They will now try to right the ship against the red hot Red Raiders.
Where: Jones AT&T Stadium in Lubbock, Texas
When: Saturday, October 29 at 7 p.m. EST
Watch: FSN
Radio: Full list of Iowa State radio networks, full list of Texas Tech radio networks
Betting Line: Texas Tech -15 according to Bodog Sports 
Injury Report for Iowa State
Injury report via USA Today
Out: RB Shontrelle Johnson (neck), OL Brayden Burris (leg), OL Shaban Dika (knee), WR Donnie Jennert (academics), DE Roosevelt Maggitt (knee), QB Jerome Tiller (academics), DB Earl Brooks (knee), TE Ricky Howard (knee)
Injury Report for Texas Tech
Injury report via USA Today
Probable: C Justin Keown (knee)
Questionable: UT Pete Robertson (shoulder), Jacoby Franks (ankle), DT Donald Langley (undisclosed), LB Blake Dees (ankle)
Doubtful: CB Derrick Mays (hamstring)
Out: RB Eric Stephens (knee), LB Tanner Foster (knee), RB Ronnie Daniels (suspension)
BCS/Top 25 Poll Implications
Texas Tech needs to win this game in spectacular fashion if they want to increase their BCS resume. There is really little good that come out of this one for the Red Raiders, and a giant pile of bad if they were to lose.
Key Storyline: How will Texas Tech respond to their huge upset victory?
The Red Raiders were flying high after they shocked the world by beating Oklahoma last week. It is now time to see if they can focus and work hard during a week of practice to prepare for a struggling team.
Player to Watch Iowa State: RB James White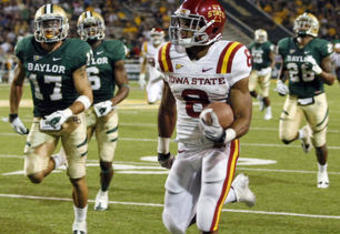 Sophomore James White is starting to come into his own. This compact running back is averaging five yards a carry and has gained 444 yards on the season. He also has six touchdowns.
He is tough to bring down, and explosive enough that he can score from anywhere on the field.
Player to Watch Texas Tech: QB Seth Doege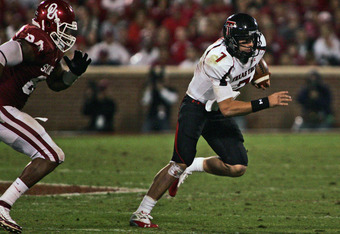 Brett Deering/Getty Images
Doege is having a fantastic season, and he may have played his way into Heisman contention last week with his performance against the Sooners.
He was 33-52 with 441 yards with four touchdowns and no interceptions.
Doege can make all the throws and Texas Tech allows him to throw it often.
Key Matchup: Seth Doege vs. Iowa State's Secondary
If Iowa State wants to keep this game close, than somehow, someway they need to find a way to slow down and confuse Doege.
They will need to mix up their coverages and be on the top of their game.
Prediction: Texas Tech 42, Iowa State 17
I don't see the Red Raiders overlooking this game. They are going to be fired up and focused. Their offense will put the petal to the metal and leave it there as Seth Doege picks apart an over matched Iowa State secondary.