Texans vs. Jaguars: Why This Is a Must Win for Houston
October 25, 2011
Joe Robbins/Getty Images
The Houston Texans have possession of first place in the AFC South, and they must win games against weaker opponents to stay there.
This Sunday, Houston faces off against the Jacksonville Jaguars, and if they lose, they make the rest of the season way more difficult than it should be.
After beating Tennessee last week to take over first place, both teams have relatively easy games this week.
The Titans will be playing host to the Indianapolis Colts as Houston hosts Jacksonville.
Tennessee should be able to pull that win out, which means Houston must stay in the win column to stay in first.
It is not until Week 11, when the Titans start a string of games against tough teams (at Atlanta, vs. Tampa Bay, at Buffalo, vs. New Orleans), that Houston has a good chance to add separation between the two teams.
If Houston does not take care of business before those weeks come around, then Houston will be playing catch up those weeks instead of trying to put the division on lock.
It all starts now. Houston must build off of the momentum they got off of their convincing win last week against the Titans.
If Houston loses this game, then they lose all momentum going forward and will be sitting at an all-too-familiar place: 
.500.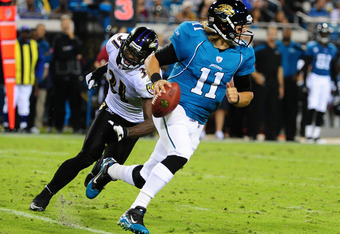 Scott Cunningham/Getty Images
The Texans cannot remain at .500 all season and try to make a late push to make the playoffs.
This has been the formula for the Texans in past seasons, and it has always been too little, too late.
Also, Jacksonville's season is on the line.
If Jacksonville wins, putting them at 3-5 and Houston at 4-4, then the Jaguars will find themselves just one game behind Houston.
This makes the AFC South a three horse race.
However, a loss will keep Jacksonville in the cellar with the Colts, which is good for Houston.
Houston cannot allow the Jaguars any daylight, and a win this Sunday will keep Jacksonville in the dark.