WWE Vengeance 2011 Results: Match-by-Match Breakdown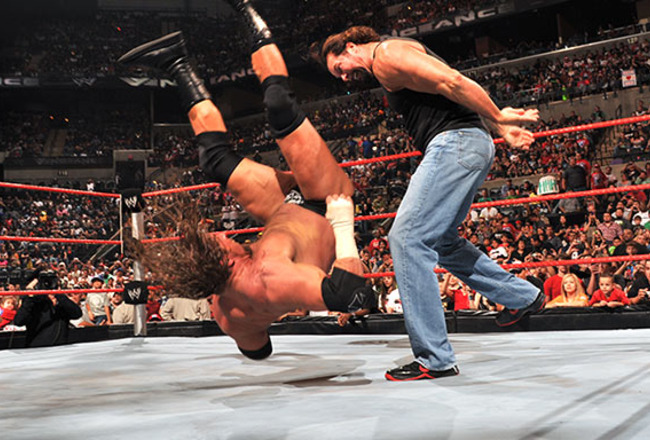 WWE Vengeance is in the books, and though it easily could have been a throwaway pay-per-view, it actually wound up being rather memorable.
No new champions, but new feuds are on the horizon. New reasons to be excited about the WWE's future.
With Vengeance now a part of WWE history, we're officially on the road to one of the company's "Big Four" pay-per-views, Survivor Series. But before we get there, let's take a look at what went down tonight in San Antonio, Texas.
We'll go back and break down each Vengeance match: who won, why that person (or persons) won and what the result means for both the winners and losers.
Here is my match-by-match analysis of what is probably Kane's favorite pay-per-view, Vengeance.
WWE Tag Team Championship: Air Boom vs. Dolph Ziggler and Jack Swagger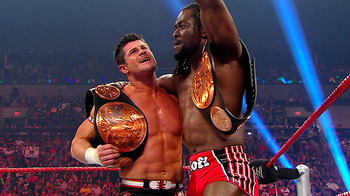 Result: Evan Bourne pins Dolph Ziggler after hitting the Shooting Star Press, Air Boom retains
No surprise here.
The team of Bourne and Kofi Kingston, collectively known as Air Boom, looks like it will be the focus of the WWE's tag team division well into 2012. Thus, it's important to build these guys up for a while before an up-and-coming heel tag team beats them for the WWE Tag Team Championship.
Judging by the end of this match—when Jack Swagger inadvertently hit Ziggler and cost their team the bout—it appears that they could be teasing tension between these two, and my guess is that one of those two will probably turn face after they split in the near future. It'll likely be Swagger, who will stay in the upper mid-card while Ziggler continues his feud with Zack Ryder for the United States Championship.
The matches between Ziggler/Swagger and Air Boom have been a lot of fun, and they certainly have reminded us how good the tag team division could be.
Therefore, I don't necessarily want to see this feud end because I'm not sure who will challenge Kingston and Bourne next, but I think Ziggler and Swagger are both moving on to bigger and better things within the next couple of months.
United States Championship: Dolph Ziggler vs. Zack Ryder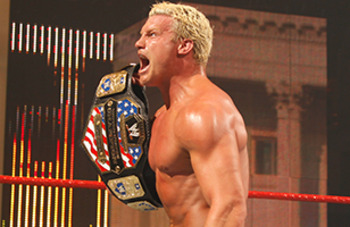 Results: Dolph Ziggler hits a super kick on Zack Ryder after interference by Jack Swagger, retains United States Championship
Dolph Ziggler winning his match with a super kick? Obviously a shout out to Shawn Michaels in his hometown of San Antonio, Texas.
I gotta say that (other than the super kick) the ending to that match didn't surprise me. After Ziggler and Swagger lost their WWE Tag Team Championship match, it became pretty obvious that Ziggler would retain the United States Championship because the creative team isn't going to have a rising star like him lose twice in one night.
The dirty finish was a smart booking tactic, however, because it didn't necessarily make Ziggler look weak, and it will give Ryder a legitimate claim to another US title shot.
I know broskis around the world aren't going to be excited about their boy, Ryder, losing, but trust me when I say that his feud with Ziggler isn't over yet.
My guess is that these two will be on opposing Survivor Series teams; whichever team Ryder is on will win and then he'll get another opportunity at Ziggler's United States title. He'll likely win it in a couple of months, while Ziggler will move on to the main event scene.
Divas Championship: Beth Phoenix vs. Eve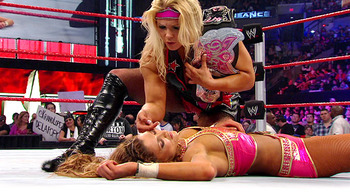 Result: Beth Phoenix retains the Divas Championship via Glam Slam
I think the odds of Eve ever actually winning this match were about 25,000,000/1.
Although the bout wasn't as bad as I thought it would be, Eve got almost no reaction from the crowd, and it was pretty clear that she was being fed to Beth Phoenix simply because the WWE didn't want to do another match with Kelly Kelly and the company has no other babyface Divas that the fans care about.
Beth's run with the Divas Championship is likely just starting, and it probably won't end until the newly named "Sisters of Salvation" (she and Natalya) split way down the road.
Until then? Who knows what will happen.
I'm thinking the Divas title will go on the back burner for a while, we'll get some sort of babyface Divas vs. heel Divas match at Survivor Series and then another new challenger will step up to face Beth for the Divas championship afterward.
I'm not sure who that'll be, but I wouldn't mind to see either Layla or Maryse return as a face during the buildup to Survivor Series, get the win for her team and emerge as a serious threat to the Sisters of Salvation.
It would be something different and fresh for a Divas division that seems to do the same recycled K2/Eve vs. Beth/Natalya crap over and over again.
Christian vs. Sheamus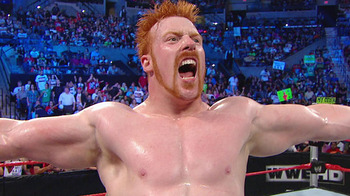 Results: Sheamus wins after hitting Christian with the Brogue Kick
The Celtic Warrior gets the victory again? I'm a really big fan of Sheamus, but even I have to question that booking.
That's two straight pay-per-views in which Sheamus has pinned Christian. Clean. Straight up. No interference. Nothing.
I get that the WWE wants to build up Sheamus as Smackdown's No. 2 babyface, but it's coming at the expense of Captain Charisma. Now that Sheamus is 2-0 against Christian, there's virtually no reason for this feud to continue, even though I thought that it would go through Survivor Series at least.
Logic would say that Sheamus will move on to a different feud, but this is the WWE—throw logic out the window.
It seems like Sheamus will likely start gunning for the World Heavyweight Championship, Christian will want "one more match" with the Celtic Warrior and then he'll somehow end up getting involved in the World title picture as well.
This leaves the options for these two at Survivor Series wide open, but I'd expect one of two things to happen: Either Sheamus and Christian will be on opposing 5-on-5 teams, or they'll both be involved in that rumored Championship Scramble match.
The Miz and R-Truth vs. CM Punk and Triple H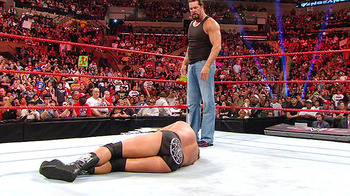 Result: Kevin Nash returns and attacks Triple H at the end of the match, The Miz and R-Truth simultaneously hit their finishers on CM Punk to get the victory
What most people expected to happen in this match is exactly what happened: Kevin Nash returned and hit Triple H with the jackknife powerbomb, essentially allowing The Miz and R-Truth to get the victory.
It makes sense from a booking perspective because of the ongoing beef between Nash and Triple H as well as the fact that we all knew both Punk and Triple H were going to be at least somewhat protected here. Neither was going to take a totally clean pin.
The victory for Miz and Truth likely means that they'll team up with Nash and two others (maybe Dolph Ziggler and Jack Swagger?) for a 5-on-5 match at Survivor Series against Triple H, Punk and three others (perhaps John Cena, The Rock and a third babyface from Raw?).
That would be fine with me, as long as we see Punk get a victory after he took the pin on two straight pay-per-views.
That being said, the interesting thing about this match, though, was that Nash attacked Triple H but left Punk alone.
What's the story behind that? Or is there none?
It will be fun to see where this story goes, but I think most of us can agree that—no matter what the specifics are—the end result is likely going to be some sort of match between Triple H's team and Miz/Truth's team.
The only question is if Punk will be involved in this match or if he'll move on to a feud with Alberto Del Rio for the WWE Championship. That seems less likely, though, now that Punk is on a bit of a losing "streak."
Randy Orton vs. Cody Rhodes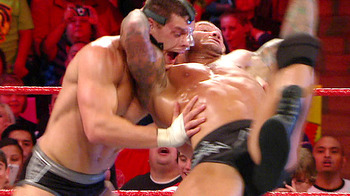 Result: Cody Rhodes calls for one of his baggers to come into the ring, but they wind up costing him the bout by allowing Orton to hit the RKO and get the three-count
This is where I begin to question the WWE's philosophy—if you can have Orton put Mark Henry over, then why can't you have him do the same for Rhodes?
A big pay-per-view win (and subsequent push) for Rhodes is going to help the long-term future of the company, while Henry's current run won't really mean that much in the WWE landscape a year from now.
I get that Rhodes already has a victory over Orton, but that came on TV. Not on PPV.
No one is going to remember that, and now that Orton is 1-0 against Rhodes on pay-per-view, you have to wonder where this feud is headed. I'm going to be an optimist for once, though, and say that this rivalry isn't over.
There's been too much invested in it to have it end like that, so much like some of the other feuds we've seen tonight. We should see this Orton/Rhodes rivalry continue all the way through Survivor Series.
After all, Orton likely isn't going to challenge for the World Heavyweight Championship as long as Henry is holding it (though he could be if that Championship Scramble match happens), and Rhodes doesn't have any formidable competitors for the Intercontinental title at the moment. So, having them go at it again at the next pay-per-view is a smart idea.
It likely will be a traditional 5-on-5 match rather than a singles bout, though, with Team Rhodes consisting of guys like Sin Cara (the unmasked one) and Wade Barrett, while Team Orton will feature the real Sin Cara and Daniel Bryan. Maybe throw Sheamus and Christian on their respective face and heel sides as well.
World Heavyweight Championship: The Big Show vs. Mark Henry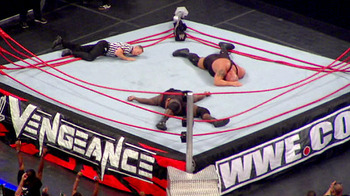 Result: The match is called a draw after Mark Henry superplexed The Big Show and the ring collapsed
This bout was about what you would expect from two huge guys, but the ending was awesome, even if we did see Big Show do the exact same thing with Brock Lesnar back in 2003.
The surprising finish left Mark Henry as the World Heavyweight Champion, but it also didn't settle anything. The Big Show didn't lose, so he can still lay claim to being the No. 1 contender.
Hmmm. I smell a rematch coming.
Though I'm not necessarily a fan of watching Big Show and Henry wrestle—especially when it's against each other—I think it's fine to have them competing again for Smackdown's World title if they're going to have matches that really showcase their power like the one tonight did.
After all, most of the blue brand's main-eventers—Sheamus, Christian, Orton, etc.—are already entangled in fierce rivalries, so it's not like Henry has a new, fresh feud he can move onto right now.
The World's Strongest Man and the World's Largest Athlete will probably be selling their injuries this week, but after that, this feud will likely kick back into high gear as we head to Survivor Series.
Henry should defend his title once again against Big Show at the pay-per-view, and it wouldn't surprise me if it came in some sort of gimmick match that would make a Show/Henry bout much more entertaining.
Last Man Standing Match for the WWE Championship: Alberto Del Rio vs. John Cena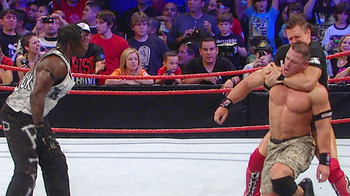 Result: R-Truth and The Miz interfere to help Alberto Del Rio win and hold onto his WWE Championship
Apparently, the creative team decided to go with the most obvious booking for this pay-per-view.
You just knew that someone was going to help Del Rio beat John Cena and retain the WWE Championship. I thought it would be Ricardo Rodriguez, but in a somewhat interesting twist, it wound up being The Miz and R-Truth.
I guess I can't really complain about that outcome because it likely set up what could be a huge tag team match for Survivor Series. I was gonna say a 5-on-5 match, but 4-on-4 makes more sense in this scenario.
Since it appears Cena is done with the WWE Championship for the time being and The Rock is coming back, I think we could see this bout as the main event of next month's pay-per-view:
Triple H, CM Punk, John Cena and The Rock vs. The Miz, R-Truth, Kevin Nash and Alberto Del Rio
If that match doesn't go down, I think Del Rio will move onto a singles match with Punk for the WWE Championship, while Cena will still team with The Rock in a 5-on-5 match, just one that will involve different competitors.
Survivor Series is shaping up to be a great event, and no matter what, both Cena and Del Rio will play massive roles in what happens in Madison Square Garden.
Keep Reading