Monday Night Football Live Blog: Baltimore Ravens at Jacksonville Jaguars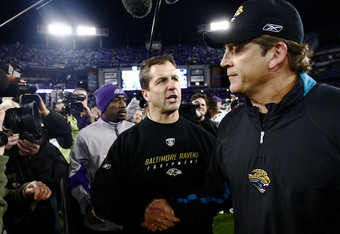 Chris McGrath/Getty Images
THAT is why they play the game.
Only Monday Night.
The Baltimore Ravens had only one net yard passing in the first half, as the Jacksonville Jaguars held them to 146 yards of total offense.
The result?
Josh Scobee drilled four field goals, three of which came from 50+ yards, as the Jaguars shocked the world in beating the AFC North leading Baltimore Ravens.
Maurice Jones-Drew, despite four fumbles, added 105 yards and Jason Hill had four huge catches for 64 yards as the Jaguars defense held Ray Rice to 28 yards rushing.
It was an inspired effort by the Jaguars defense, who didn't allow a first down by Baltimore until the late third quarter. Jacksonville pressured and sacked Joe Flacco often, resulting in a a Ravens offense that seemed completely discombobulated throughout the game.
Jacksonville's victory marks the first win in the career of young Blaine Gabbert, who couldn't have picked a better time to change the tide than on national television.
Coach Jack Del Rio's hot seat, in the meantime, got a much-needed scoop of ice.
Del Rio's team was passionate throughout the contest, and out-hit the Ravens' vaunted defense throughout sixty minutes.
The Jaguars improved to 2-5, just two games back of first-place in the division.
Updated score: Jaguars shock the Ravens, 12-7 as defense allows only 146 total yards by Baltimore.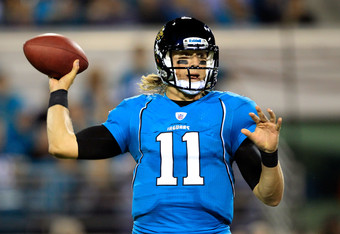 Inspired effort by Jacksonville, who improves to 2-5, and just two games back of Houston in the AFC South.
Without question, the best defensive effort we have all seen from the Jacksonville defense in numerous years.
For all you Jags' fans, sleep tight.
Smile.
Laugh.
Live lightly.
Your team has pulled off the improbable. They were ALL ON THE RAVENS, and the Jaguars shocked the world.
That's it from Jacksonville, as Blaine Gabbert wins his first game, 12-7 against the Baltimore Ravens.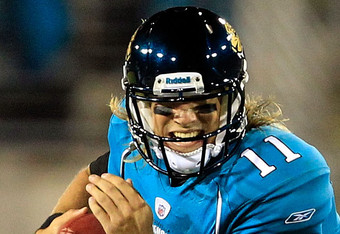 BALL GAME.
JAGUARS BEAT THE RAVENS, 12-7!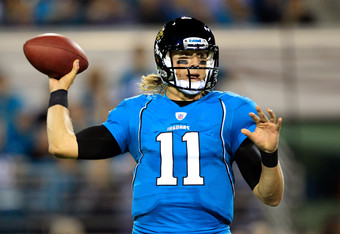 Tick, tick, tick...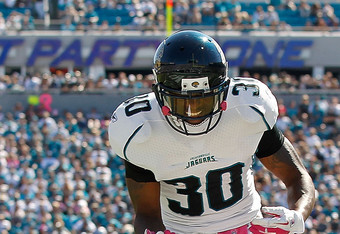 INTERCEPTED BY JACKSONVILLE WITH 1:32 REMAINING!
Post-possession foul on Baltimore doesn't negate the pick by Drew Coleman, who sets the Jags up to ice it!!!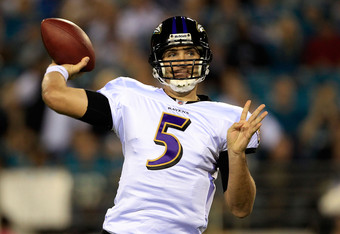 My next update might be the last. Ravens start at the 20.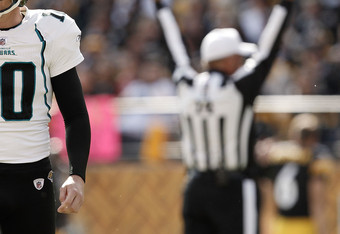 SCOBEE DRILLS ANOTHER 50+ YARD FIELD GOAL!
Ravens trail, 12-7 with 1:35 left. No timeouts.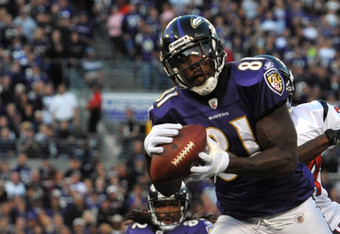 Two minute warning, Jacksonville has it on the Baltimore 35-yard line after a failed onside kick by Baltimore. Second down and eight yards to go. Ravens with one timeout.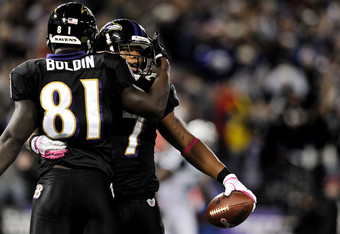 TOUCHDOWN ANQUAN BOLDIN! JAGUARS LEAD 9-7 with 2:02 remaining!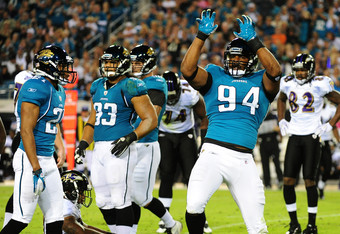 First down Ravens, official's timeout, ball on the Jaguars 6 with 2:10 remaining. Jaguars lead 9-0.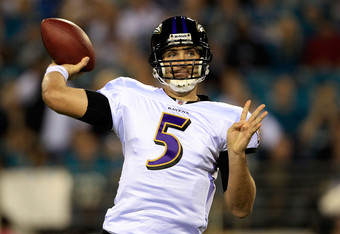 2nd down on the Jags 45. 2:37 left.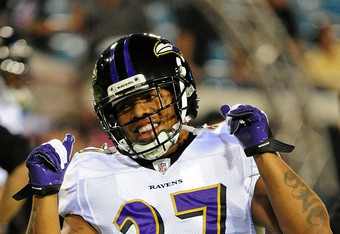 Four minutes left. Ravens driving.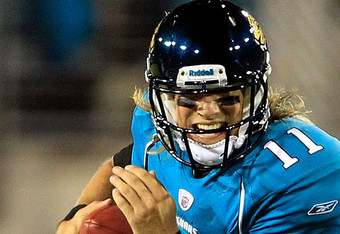 Jaguars punt it, and the Ravens have it at their own nine-yard line with 5:25 left, down 9-0.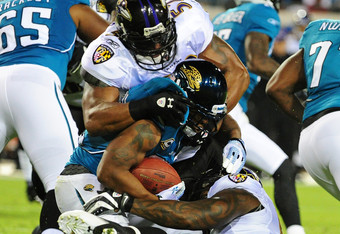 Ladies and Gentlemen, your Jaguars are six minutes away from victory.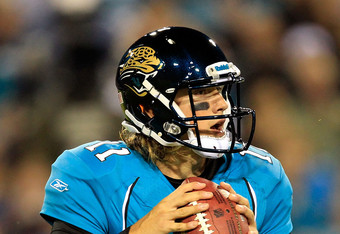 BIG throw by Gabbert on second down. Jaguars have it on their own 40 yard line.
HUGE first down. Eight and a half minutes left.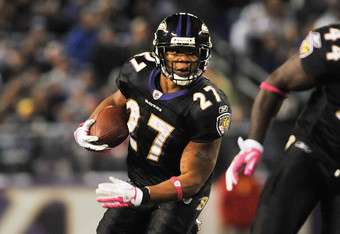 9-0, Jaguars' lead as they force a Baltimore punt. After a holding penalty on the touchback, Jaguars have it on the nine-yard line with ten minutes remaining.
Ravens have 56 total yards.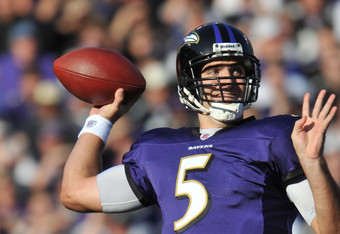 Jaguars drive it a bit, then punt...
Ball is...
DOWNED ON THE RAVENS ONE YARD LINE! Ravens' ball, but the Jaguars are in great shape, as the game is in the fourth quarter and Baltimore needs two scores.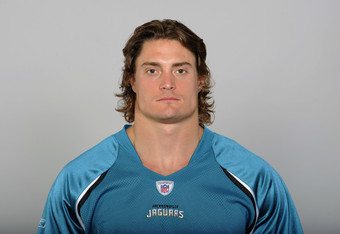 End of three quarters.
SHOCKER in Jacksonville!
Jaguars have it at the Baltimore 47-yard line, first down and ten yards to go. Jags' lead, 9-0.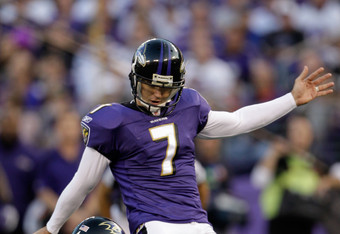 After Mathis smothers Smith on 2nd down, the Lowery sacks Flacco on third.
Cundiff in for a long field goal. Have a feeling it'll go through...
And...
He...
MISSES IT! STILL 9-0 Jaguars!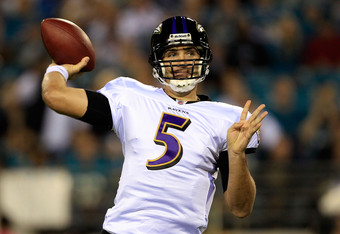 Ravens are driving...at the Jags' 46.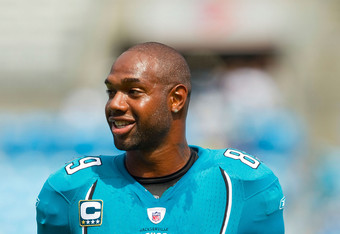 Ayanbadejo of the Ravens ejected after a 15-yard PUNCH against Guy Whimper that would have ended the Jaguars' drive on a third-down.
Jaguars have the ball on the Ravens' four-yard line...
And...
Mercedes Lewis...
DROPS A TOUCHDOWN PASS ON THIRD DOWN!!!
Josh Scobee's 22-yard field goal makes it 9-0, Jaguars. The drive was 9:30 long, and 5:30 remains in the third quarter.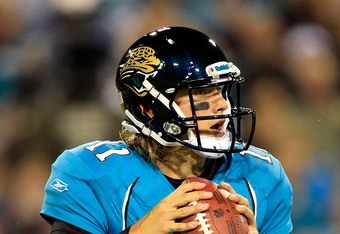 Blaine Gabbert is getting...
HOT!
Jags' ball on the Ravens' 24 yard line.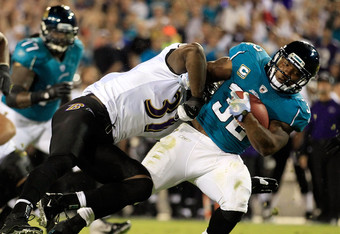 Jaguars have the ball, and have 2nd and 5 on the 35 after the game's 5th first down. All by Jacksonville.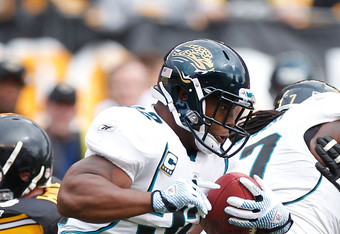 Ladies and gentlemen, I want to hear YOUR thoughts...
Tell me what YOU think. Comment on this article, or sound off at me on twitter at...
http://twitter.com/#!/justin_uselton
We're ready for the second half. Can the Jags hold on and shock the world???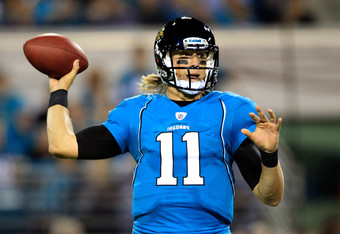 Halftime adjustments for the Jaguars? None.
Keep playing defense the way they are, be prepared for Baltimore to take more deep shots, and pressure Flacco.
There WILL come a point where Gabbert has to show up to win this game.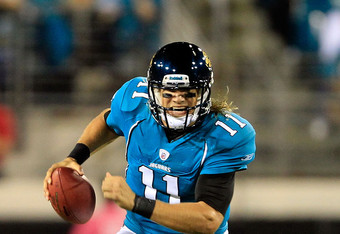 The first half ends, with both teams combining for 4 total first downs and less than 100 total yards. Jaguars lead 6-0.
Blaine Gabbert is 6 of 12, and Maurice Jones-Drew has run well despite several fumbles.
Jaguars will get the ball to start the second half.
This article is
What is the duplicate article?
Why is this article offensive?
Where is this article plagiarized from?
Why is this article poorly edited?

Jacksonville Jaguars: Like this team?