New York Rangers 101: Grading Each Player from Game 4 at Vancouver
October 19, 2011
Rich Lam/Getty Images
After every game of the 2011-2012 season, each Rangers player will be assigned a letter grade based on his individual performance, impact on the game and outlook going forward.
In Game 4 of the 2011 season, the New York Rangers defeated the Vancouver Canucks 4-0, evening their record to 1-1-2. 
Let's take a look at the grades.
Grade: A
In what may have been his best performance as a New York Ranger, Lundqvist used his acrobatic prowess, impeccable rebound control and even his helmet to shut down the high-powered Canucks to the tune of a 40-save shutout.
There are very few goalies in the NHL who can instinctively react to deflections the way Lundqvist can, a skill that proved necessary against a Canucks team that always seems to have bodies around the net and sticks in the shooting lanes on every offensive possession.
Without Lundqvist, the Rangers easily fall behind early and lose this game, once again proving his value to a team devoid of consistent offensive firepower. Is there anyone out there who wants to argue that Roberto Luongo is the better goalie? 
Ryan McDonagh
Guy thinks he's Brian Leetch. Not only does McDonagh put a puck inside the left post to open up an insurmountable two-goal lead in the third period, but he also weaves his way through the Vancouver defense to set up Marian Gaborik with a tap-in goal that even Erik Christensen could finish.
Then, as icing on the cake, he puts notorious pest Alex Burrows right on his keister after taking exception to a post-whistle stick jab at Lundqvist. Great game for the young kid.  
Dan Girardi
Shutting down the likes of Daniel and Henrik Sedin, Ryan Kesler and Alex Burrows is no small task, proving that Dan Girardi is ready to become the cornerstone of this Rangers defensive corps.
When considering the sub-par caliber and youth of the other five Rangers defensemen, you have to give Girardi a majority of the credit for the team's defensive performance last night. One play specifically—in which Girardi fell to his knees and used his hands to knock the puck out of the defensive zone during a Canucks rush at the defense blue-line—demonstrates his supreme confidence and defensive ability.
Girardi was on pace to play well over 30 minutes until the Rangers blew the game open in the third period. In my opinion, Girardi is the second-most indispensable player on this team right now.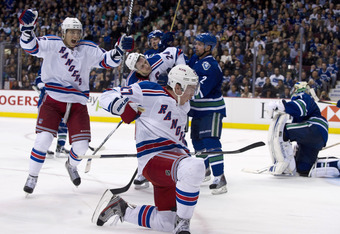 Rich Lam/Getty Images
Grade: B
Marian Gaborik
Gaborik earns a "B" for this game not for his goal, which was set up completely by McDonagh, but instead for his consistent offensive performance throughout the course of the game.
Great goal-scorers don't necessarily score every game, but they are always noticeable, and they always scare the opposing team. Against Vancouver, Gaborik was all over the ice, looking for outlet breakaway opportunities from Richards and maintaining excellent puck control in the offensive zone.
I also liked his ability to quickly recover from a handful of hard, clean hits, a few of which resulted from hard defensive zone play.
Mike Rupp
You can't ask for anything more after a fourth-line player puts the puck in the net, especially in a tight game.
Well, maybe you can. A little more toughness and offensive zone forecheck would be a welcome sight from Rupp, but, bottom line, right place at the right time gave this new Ranger a game-winning goal.
Brandon Dubinsky
Dubinsky was a frustrating player throughout most of the night, consistently fumbling the puck in the offensive zone and proving especially ineffective on the power play. 
Then the third period came around, and Dubinsky made a beautiful pass to McDonagh for a goal and—more importantly—scrapped with a frustrated Kevin Bieksa (don't we pay other guys to do this?) taunting the Vancouver bench on his way to the locker room (Dan Cloutier anyone?).
Great job by Dubinsky to make an impact on a night when he was off his game.
Steve Eminger
Surprising grade? There is a reason Eminger has migrated to six teams in the past five seasons, and it has a lot to do with the fact that he is not that good at hockey, so lets temper our expectations.
Right now, however, Eminger is the third-most reliable defenseman on this team, and against Vancouver he did his job. He stayed out of the penalty box, he blocked shots and he was excellent on the penalty kill.
When he reaches the days of the Healthy Scratch, fans should remember this game as an example of what he can contribute.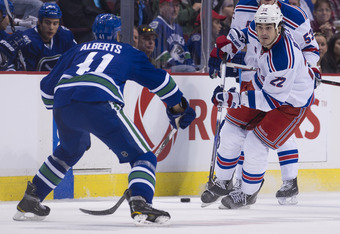 Rich Lam/Getty Images
Artem Anisimov
One thing I really like about Anisimov in general—and specifically in this game—is that unlike most players on this team who are content to play within the confines of John Tortorella's system, he is always trying to create on the offensive end.
Even when unsuccessful, his willingness to try to be a playmaker and generate offensive scoring chances is something that this team lacks. Anisimov had the puck on his stick often last night and played hard on the penalty kill, resulting in a well-deserved assist.
Grade: C
Ruslan Fedotenko
As much as I want to see Fedotenko play with a  more ferocious, hard-nosed attitude, I was very impressed with the patience he showed on a semi-odd man rush to set up Boyle for the third goal.
I still want to see more tenacity and ability to impact a game off the scoresheet a la Ryan Callahan.
Brad Richards
It is pretty clear that like Jagr, Lindros and Messier before him, Richards is a better hockey player than almost everyone else on the ice. An off-balance rifle shot from the point on the power play, his soft feather passes and his puck possession in tonight's game will tell you that much.
But despite Richard's fourth point in four games (secondary assist), he has yet to improve what is becoming an embarrassment of a power play. I don't care that it's "looking better"—time to start putting some pucks in the net with the man advantage.
Michael Del Zotto
Del Zotto's egregious defensive play just seconds after the Rangers first goal might have been enough to warrant an "F."
Luckily for Del Zotto, however, Lundqvist was there to bail him out. Even further, Del Zotto made a great play up the ice and fired a low-hard shot on Luongo to set up Rupp's game-winning goal. 
Once you come to terms with the fact that Del Zotto will never be a good defensive player, his offensive contributions are a welcome sight.
Tim Erixon
Didn't notice him too much (good thing for a defenseman), but some bad positioning on defensive zone dump-ins has me somewhat concerned. I like what I see so far, but the jury is still out.
Grade: D
Ryan Callahan
I love what Captain Callahan brings to this team on a nightly basis, and last night's game was no exception. The effort (two hits, one blocked shot) is always there, and his penalty-killing instincts might be among the best I have ever seen.
Unfortunately, Cally is no longer a role player on this team—the Captain needs to get on the scoresheet.
Brandon Prust
Sans Callahan, Prust is probably the player I would least expect to be in Tortorella's doghouse. However, after an unwarranted offensive zone penalty, Prust found himself riding the pine-pony.
I can't say I agree with the move—Prust is an energy player that does not need to be taught a lesson. Tough night for the heart and soul of the Rangers, but two assists ought to make him feel better.
Brian Boyle
A goal—yes. A good game—no.
Boyle needs to get back to asserting himself as a grinder. While his shot can be lethal and his hands are surprisingly above average, Boyle needs to  keep the puck on his stick for extended periods of time.
He needs to use his body to work below the goal line and wear teams down throughout the course of a game. I blame Boyle and Prust's lack of hard-nosed body work as the reason for the Rangers' lack of sustained offensive pressure during the first two periods against Vancouver.
Derek Stepan
Call me a Stepan detractor, but I just don't see the potential.
He doesn't play all that physical, and he's not all that reliable defensively. If he's not scoring, then what is he even doing out there?
After tonight, I would consider taking him off the Richards-Gaborik line and replacing him with Fedotenko. An opening-night hat trick against Buffalo last season has gone a long way for Stepan.
Jeff Woywitka
When a goalie has to break his game focus to spout off instructions to a defenseman, you know things are not going well. Through two games I am still having trouble seeing what this guy brings to the table.
Grade: F
Erik Christensen
There was one rebound opportunity on which I thought Christensen had a chance to score tonight. He didn't. Same old story. Where is Sean Avery?
Kris Newbury
Newbury missed his flight to Vancouver, rendering the Rangers shorthanded throughout the entir—wait, he played? Didn't notice.