Tottenham Hotspur Transfers: Is Seydou Doumbia Mr. Right?
October 19, 2011
Dmitry Korotayev/Getty Images
Tottenham Hotspur will use Roman Pavlyuchenko in a player-plus-cash deal for £30 million-rated CSKA Moscow striker Seydou Doumbia, with Spurs boss Harry Redknapp keen to freshen up his attacking options.
That's according to the media in England, with 23-year-old striker Doumbia said to be drawing interest from a whole host of Europe's elite clubs, having been heavily linked with Tottenham in recent weeks.
The Ivory Coast international has also stoked the flames of a potential move to White Hart Lane, telling Skysports.com that he's open to a switch to the Premier League, and Redknapp's club in particular, saying:
"I am very interested in playing in the English league. Harry Redknapp is a coach African players love, so who knows? ...my dream is to play in the Premier League, everyone knows that."
The player evidently wants the switch to happen, but do Tottenham need a new striker?
Considering Roman Pavlyuchenko wants to leave, as well as the fact that there's no guarantee Emmanuel Adebayor will stick around once his loan from Manchester City finishes, it seems like they do need to freshen up in attack, especially when you take into account that Jermain Defoe is 29.
In that case, would Seydou Doumbia be the right man for Spurs?
Just looking at his goalscoring record, the answer has to be yes.
He's already scored four goals in this season's UEFA Champions League from just three matches in Group B, having notched a brace in the games against Trabzonspor and Lille OSC, which is highly impressive considering this season is his debut in the tournament.
In the Russian campaign so far he's got 17 goals from 25 league matches, as well as 25 goals in 36 games in all competitions.
That's a goalscoring ratio of 0.68 goals per game in the Russian Premier League, and a 0.70 goals per game ratio overall this season.
Considering most managers dream of signing strikers in the 0.50-0.60 ratio, it's no surprise Doumbia's ratio means his club values him at around £30 million.
After all, the Russian top-flight is not a league to be taken lightly, considering it ranks seventh in the UEFA League Co-efficient, two places above the Eredivisie.
His impressive goalscoring doesn't end there. Overall since he's been in Russia, he's scored 37 goals in 49 games, settling in instantly after his move from BSC Young Boys in Switzerland.
In Europe his record looks even better. He's only played 10 matches in European competition, seven of which were in the UEFA Europa League, but has scored nine goals.
All in all, Doumbia is a cultured striker capable of scoring against all types of defences.
Before his move to CSKA, the forward was top scorer in both his seasons in the Swiss Super League for Young Boys, a league renowned for its tough defences.
Having just made the switch to Switzerland from Japanese club Kashiwa Reysol, as a 20-year-old Doumbia ended the 2008/09 season as the league's top marksman, scoring 20 goals.
And the remarkable thing about this, besides the fact he had to adapt to a whole new culture (both on and off the pitch) and language, was that all those goals came from only 13 starts, and 19 appearances off the substitutes bench.
He followed that up the next campaign with 30 goals from 32 games, with his overall record for the club being 57 goals scored in 78 matches.
Having performed well in Japan, Switzerland and Russia, Doumbia so far has a career goalscoring ratio of 0.60 goals per game, having scored 104 goals from 174 appearances.
Apart from his goalscoring, the Ivorian would also be good for Tottenham in terms of his re-sale value, which could be quite high considering his age and the clear potential from his statistics.
Should Spurs spend £15 million on the striker plus Roman Pavlyuchenko? If Doumbia scores over 20 goals in two of the next four seasons, the North London club might easily see a 50 percent or even 100 percent return on that investment.
This could be quite important seeing as Spurs have no forward at the moment with significant re-sale value, nor in fact many players at all besides Gareth Bale, Sandro, Kyle Walker and Luka Modric.
With the UEFA Financial Fair Play rules getting stricter season after season, it's an issue that needs to be addressed.
Also, compared to a lot of Tottenham Hotspur's other transfer targets in attack, Doumbia again seems like a wise choice.
Sevilla striker Alvaro Negredo has a goalscoring ratio less than Doumbia's at 0.48 goals per game, and has never moved from Spain so could have issues adapting to English football.
Internacional forward Leandro Damiao does have a better goalscoring ratio and and re-sale value than Doumbia, but is less experienced and has never played outside of Brazil, so again could have significant issues adapting to life in England as well as English football.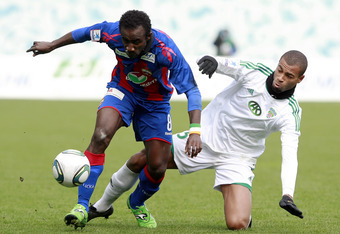 Dmitry Korotayev/Getty Images
Unlike the above two, Doumbia has proven he can adapt to different styles and cultures with ease, after being an instant hit in Switzerland (after moving from Japan no less) and Russia.
Then there's the in-form Schalke 04 striker Klaas-Jan Huntelaar, who's scored 16 goals in 15 games this season.
While he has a better goalscoring ratio than Doumbia and more experience, he has no significant re-sale value and would not be a long-term solution.
Overall, it could be said that the CSKA Moscow forward is the best transfer option for Tottenham in January.
If Spurs can offload Pavlyuchenko to Russia and get the Ivorian in return for about £15-20 million, it could turn out to be money well spent.
Is Seydou Doumbia Mr. Right for Tottenham Hotspur? At the moment, it looks like he is.