College Football Rankings 2011: South Carolina and Potential BCS-Crashing Teams
January 17, 2017
Streeter Lecka/Getty Images
The BCS rankings are out, so now it's time to talk about which schools will be ruining other schools' shining moments from Sunday.
Obviously, these rankings aren't set in stone, but the first edition of the list will likely be the furthest thing from the final list that will determine this year's bowl games.
Here are the current BCS rankings:
1  LSU  .9522  
2  Alabama  .9519  
3  Oklahoma  .930  
4  Oklahoma State .857  
5  Boise State .803  
6  Wisconsin  .771  
7  Clemson  .758  
8  Stanford  .748  
9  Arkansas  .626  
10  Oregon  .619  
11  Kansas State .569  
12  Virginia Tech .505  
13  Nebraska  .497  
14  South Carolina .491  
15  West Virginia .373  
16  Michigan State .329  
17  Texas A&M .308  
18  Michigan  .300  
19  Houston  .286  
20  Auburn  .265  
21  Penn State .231  
22  Georgia Tech .197  
23  Illinois  .152  
24  Texas  .135  
25  Washington  .087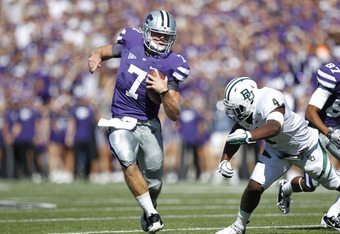 Joe Robbins/Getty Images
Here are five teams that can crash the party and join the top 10 in the BCS rankings.
South Carolina – Ranked No. 14 in BCS (6-1, 1st in SEC East)
The South Carolina Gamecocks were edged out by a mere field goal by the Auburn Tigers in their fifth game of the season. Although they struggled in their last game against Mississippi State, they have a bye week coming up.
The Gamecocks could see some teams lose before they take the field again. They will also have extra time to prepare for their Oct. 29 game against Tennessee. A win against the Volunteers will set the stage for a huge game against No. 9 Arkansas.
Houston – Ranked No. 19 in BCS (6-0, 1st in C-USA West)
The most efficient passing offense in the nation should not have a problem winning the rest of their games in their schedule. Star quarterback Case Keenum could easily shatter the NCAA Division I records for career passing yards and touchdowns en route to a perfect season.
Marshall and Tulsa are the toughest opponents left for the Cougars, who could bust into the top 10 if they don't suffer a loss.
Kansas State – Ranked No. 11 in BCS (6-0, 1st in Big 12)
By starting the season 6-0 and posting a huge win over the Baylor Bears, the Kansas State Wildcats have earned their No. 11 ranking in the BCS.
However, the Wildcats need to add some quality wins to break into the top 10. If they defeat Kansas on Saturday, they get a shot to prove themselves in a match of unbeatens on Oct. 29 against Oklahoma.
The contest against the Sooners is the first of four straight against currently ranked teams.
Michigan State – Ranked No. 16 in BCS (5-1, 1st in Big Ten)
A loss to Notre Dame could have derailed the Michigan State Spartans, but it did not.
The Spartans have won three straight and have the fourth-best defense in the country in points against. On Saturday, Michigan State gets an immediate shot to move into the top 10 with a game against Wisconsin, who is currently sixth in the BCS standings.
A win against the Badgers would likely put the Spartans in the top 10 next week.
West Virginia – Ranked No. 15 in BCS (5-1, 1st in Big East)
West Virginia is in a similar situation to Houston, as the Mountaineers have a weak conference. Six very winnable games stand in front of West Virginia and an undefeated season.
If the Mountaineers can keep their potent pass offense going, they could easily go undefeated in the Big Easy…oops, I mean Big East.