Manny Pacquiao vs. Juan Manuel Marquez III: A Must-Read Boxing Prediction
October 14, 2011
Michael Loccisano/Getty Images
Manny Pacquiao landed in Los Angeles a few weeks ago to start his preparation in regards of his third fight vs. Juan Manuel Marquez.
While many people are talking about this boxing prediction, Pac-Man is already focusing on his next title fight. Indeed, he suggested that his next fight would be in Hawaii. Is he that much confident towards his bout vs. Juan Manuel Marquez, an opponent who has his number?
Manny Pacquiao is a very thoughtful man, so he will bring his family and friends for his next fight in Hawaii in order to please the local fans. He is even planning to travel to Hawaii from November 19 to 21 in order to plan the event. 
I can already see it coming: After the Kardashians and the Kendra show, the Pac-Man show! That would be a great reality show, with Floyd Mayweather playing the evil character.
Nevertheless, before thinking about any next fight, Pacquiao first needs to win against Juan Manuel Marquez, a man who actually defeated him twice, but never on paper.
Emmanuel Steward, Marco Antonio Barrera and co. Side with Manny Pacquiao
Emmanuel Steward has talked. He believes that Manny Pacquiao will win, but Marquez could upset him. Actually, you can make that assumption about most fights, so this prediction is kind of boring. Steward says that Pacquiao will win because of his size advantage and higher level of activity.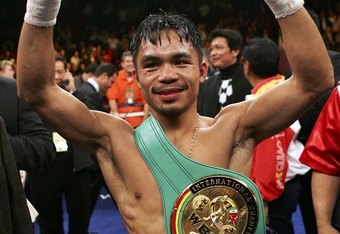 Jed Jacobsohn/Getty Images
As for the upset, Steward admitted that Marquez is always able to take advantage of Manny's mistakes; therefore he will always be a problem for him.
Marco Antonio Barrera says that Pacquiao will win because of his speed, size and age. Again, it is another obvious and boring prediction.
Alex Ariza, the Filipino champion's strength and conditioning coach, in revenge, is worth listening to. He said that the fight will end before the sixth round. 
Yes, he has bias, but you should consider this source reliable. He has been around Manny Pacquiao since 2008, just after the last Marquez fight. Since then, Pacquiao became unbeatable. Diaz says that he has introduced ways for the champion to add up in size without sacrificing his speed.
Why is Ariza a reliable source? He might just be the one who helped Pac-Man fall in the Obelix's magic potion that has transformed him since. I trust him, very reliable source.
Juan Manuel Marquez Has Someone Who Believes in Him
Angelo Dundee, former boxing corner man of Muhammad Ali, Sugar ray Leonard and George Foreman, thinks that Juan Manuel Marquez will win. However, don't put too much faith in him since he also said that Ortiz would win vs. Floyd Mayweather.
You might think that the 91-year-old man has lost his mind, but he did bring up an interesting argument. He says that Marquez will always be a problem for Pacquiao, because Marquez knows how to fight him.
He's not wrong: Matching styles in boxing is very difficult. He gives the win to Marquez by a split decision.
Manny Pacquiao Has the Edge
Manny Pacquiao landed in Los Angeles and was weighting around 148 pounds. On night fight, he will probably be around 145 pounds. In their two previous fights, the boxers were at 125 pounds (2004) and 129 pounds (2008). On November 12, they will be fighting at 144 pounds. This is an important issue.
Juan Manuel Marquez lost his only fight at 146 pounds (against Mayweather Jr) and he is much more comfortable boxing at 135 pounds.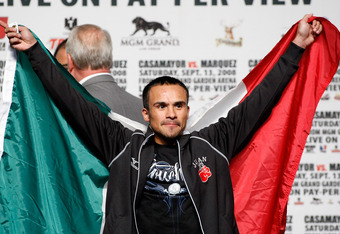 Ethan Miller/Getty Images
Even if Marquez had a Thanksgiving meal twice a day until the fight date, he would not reach 144 pounds. He will be happy to be at 140 on the ring. Nevertheless, if he's heavier, it will influence him negatively and drop his speed.  Pacquiao will be much bigger and stronger on the night fight.
Another aspect is the age factor. At 38, Marquez will have a tough time to go punch for punch with a man who is six years younger than him. This is a big disadvantage.
Finally, we all know that Pacquiao can send Marquez down, while the opposite is unlikely—even impossible. It will even be more relevant with the weight difference on night fight. It gives an edge for the scorecards and means that Marquez will need the judges to get the win.
Juan Manuel Marquez Has the Secret
Juan Manuel Marquez admitted drinking his own urine, but I don't want to hear about it anymore. Other than giving him bad breath and keeping girls away, it has no positive or negative impact on the fights.
He should drink whatever Manny Pacquiao drinks; it seems to work better than pee.
I keep saying it over and over: Sometimes a boxer will struggle against an opponent and you don't know why. This is the secret that Juan Manuel Marquez has. He knows how to capitalize when Manny Pacquiao commits a mistake.
He knows when to counter punch him. He knows how to attack him and he sees his shots coming. The Filipino champion is probably the best fighter, but this fight won't be easy.  We will never know why, but Marquez is able to fight him efficiently.
It happens often in boxing.
Shane Mosley lost twice to Vernon Forrest in 2002. He wasn't able to match his style. However, Mosley knocked out Ricardo Mayorga.
Vernon Forrest couldn't find a way to beat Ricardo Mayorga. He lost twice to him in 2003. Mayorga followed with five losses in his next nine bouts.
Bernard Hopkins has never been able to defeat Jermain Taylor. Hopkins, a boxing legend, lost twice to Taylor in 2005. Taylor followed with four losses and one draw in his next eight bouts.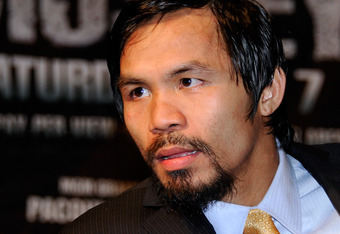 Ethan Miller/Getty Images
As for Marquez, he is able to defeat Pacquiao and he has done it twice, even though no official paper proves it.
Manny Pacquiao vs. Juan Manuel Marquez: the First Two Chapters
On the first fight, in May 2004, it has been called a draw, but Marquez was the clear winner. Yes, Pac-Man sent Marquez down three times on the first round, but the rest of the fight was a clear win for Marquez.
Actually, only Guy Jutras, one of the only judges in the world to often score rounds as a draw, had a winning scorecard for Marquez.  Jutras was even a sweetheart to Pacquiao by giving him a 10-8 round in the eigth, even if no knockdown occurred.
Based on compubox numbers, Marquez landed more total punches in seven rounds and he landed more power punches in eight rounds. From round seven to 11, Marquez landed more power punches in every round except the 10th. Surprisingly, judge John Steward gave every round to Manny Pacquiao. 
In March 2008, in the second chapter, the Filipino champion sent Marquez down, but overall, Marquez was again the best fighter.
Marquez dominated in terms of compubox numbers. He had more total landed punches and more power landed punches. In the second round, he landed twice as many punches than Pacquiao. 
In the eighth round, Marquez threw 400 percent more punches than his opponent.  The final round was clearly won by Marquez (in all statistics categories) and two judges, Tom Miller and Jerry Roth, agreed. However, judge Duane Ford gave the decisive round to Pacquiao.
As a result, the judges awarded a split decision victory to Pac-Man.
Boxing and Corruption, a Love Story
This is a cliché. Actually, if a cliché exists, it's because there's a part of truth in it.
What would happen if Manny Pacquiao loses on November 12th? No more talk about the super fight with Floyd Mayweather Jr. No more talk about Manny Pacquiao being an unbeatable legend.  Do you really think that television networks and newspapers want that? Do you think that HBO wants that? Pacquiao is a worldwide sports subject, a loss would benefit nobody.
Actually, boxing is the easiest sport to welcome corruption. In football, basketball, hockey, baseball and all other sports, the referee or judge can't score a point or a goal. However, in boxing, the judge has all the liberty to do whatever he wants with his scorecard.  It's not like he needs to go knock out the guy. He only has to lean always on the same side in close rounds and not so close rounds. It's that easy! If you're a boxer, you have only one way to control your destiny. Knock out your opponent.
Manny Pacquiao Will Win
Juan Manuel Marquez can't knock out Manny Pacquiao. Therefore, judges will have the final word. Manny Pacquiao might defeat him easily, but if this fight is close, trust me, judges will side with Pacquiao again.
Juan Manuel Marquez will give everything he has in this final chapter and will leave with his big pay check. However, there's almost no hope for him to win, so he should do his wife Erika a favour and stop drinking his urine!