Ranking the Atmosphere for Pac-12 Stadiums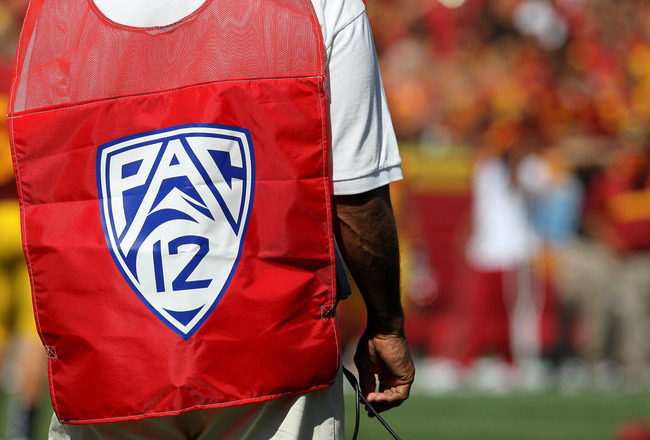 Stephen Dunn/Getty Images
The Pacific-12 conference may not be the strongest on the football field during this 2011 season, but it certainly does have some of the most dramatic stadiums in the country.
Whether it be Folsom Field in the Rocky Mountains of Colorado or magnificent Husky Stadium in Seattle, there may not be another conference in the country with as many picturesque settings for playing a football game.
Within the conference however, some stadiums stand out above the rest. In order to find the cream of the crop, each stadium is ranked from one through 11 (11 is the best) in each of the two following categories: crowd volume and surrounding area. The points are totaled, which give the overall stadium atmosphere ranking.
California's Memorial Stadium is not included because of renovations being made.
Let's get to the rankings!
11. The Rose Bowl: UCLA
Surprised? You shouldn't be.
Besides the history of the Rose Bowl, there is nothing that should draw many fans there unless attending a Rose Bowl game itself on January 1st.
While the stadium is very near Hollywood and Los Angeles itself, its exact location is not in the safest area. In addition, the product UCLA has been putting on the field recently has been atrocious. Crowds are small and disinterested, which creates for an all around boring atmosphere.
Total Score: 4 points

Crowd Noise: 2
Surrounding Area: 2
10. Stanford Stadium: Stanford University
Amazing stadium. Terrible stadium atmosphere.
There is absolutely nothing that should be keeping Stanford fans away from attending football games here, yet they still don't show up. The stadium is great and the team has been great. What more can you ask for?
Cardinal fans don't show up, making for one of the quietest and lonely places to play in the conference. While it is in a beautiful area of California, it's hard to make up the difference of the crowd volume.
Luckily, the Stanford football team has been good enough lately that they haven't needed a home field advantage, because in many cases, there are more visiting fans than home fans attending these games.
Total Score: 6 points

Crowd Noise: 1
Surrounding Area: 5
9. Los Angeles Memorial Coliseum: USC
Watch the video. Does this seem like the atmosphere that should be present during the first game of a season on a beautiful day?
The answer is no, but this was the Trojan's first game of the season this year against the Minnesota Golden Gophers. There are quite a few people at the game, but the stadium is quiet and uninspired.
The stadium does get loud when the Trojans are in big games (i.e. the game against Stanford earlier this season), and when that happens it is actually a great environment for college football. These games are few and far between lately, though, so most end up looking like the one above.
The surrounding area is even worse than UCLA's and many fans just do not feel safe after games when walking to their cars. Overall, it's a stadium that can provide a great atmosphere at times, but when watching a regular game, there is not much that sets it apart.
Total Score: 8 points

Crowd Noise: 6
Surrounding Area: 1
8. Martin Stadium: Washington State University
Given that it is the smallest stadium in the PAC-12, Washington State's Martin Stadium is a pretty good one in terms of crowd noise. It can get loud. Especially during those early season games, when the weather is nice, the stadium is packed and the season is full of hope.
The setting of the stadium, however, is what has this stadium ranked so low on the list.
In case you haven't heard of Pullman, Washington, don't worry. While it is a nice college town, getting there is like one of those dreams where you keep running and running, but don't seem to be moving at all.
Unless you live in a nearby area, I can't blame fans for not making the trip out there in November when the weather, and the team, is usually bad.
Total Score: 9 points

Crowd Noise: 3
Surrounding Area: 6
7. Arizona Stadium: University of Arizona
Arizona fans have always been known to be a bit hostile to visiting fans...and they have also been known to be a bit fair-weathered. It's not unusual for thousands of fans to not show up for the second half if the Wildcats are down by one touchdown or more.
During good seasons, however, crowds can be loud and create one of the better home field advantages in the conference.
The stadium itself, though, is nothing unique, as you can see from the picture. Despite some mountain views in the distance, the surrounding area is nothing special.
Total Score: 10 points

Crowd Noise: 7

Surrounding Area: 3
6. Reser Stadium: Oregon State University
Before renovations in 2004, Reser Stadium would have found itself in the bottom two of this list.
Now, however, the stadium is much louder because of the noise trapped in by a new side. The fans have embraced this change, and have seemingly become far more passionate.
Not only is it louder, but traditions such as the one in the video above, the third down chainsaw on defense, and the 'first down chop' have made it a place with character. It is home of Beaver Nation, and the passion the fans have is real.
Corvallis is a nice college town and, when it doesn't rain, views of the coastal hills make Reser Stadium's surrounding area much better than their rival to the south.
Total Score: 11 points
Crowd Noise: 4
Surrounding Area: 7
5. Sun Devil Stadium: Arizona State University
It's always a party in the desert when Arizona State plays.
Even though they haven't been the best team in the conference for a while now, they have a solid fan base and a great stadium that is loud and in a great location.
In addition, Arizona in the fall is a beautiful place to be. I can't think of a place I would rather be than in a place where it's sunny and in the 70's and 80's every single day.
All in all, it is a great place to watch a football game.
Total Score: 13 points

Crowd Noise: 5
Surrounding Area: 8
4. Autzen Stadium: University of Oregon
Autzen Stadium hasn't always been like this.
The notoriously fair-weathered fan base has had a lot to cheer about in the past 15 years, which has turned Autzen Stadium into a place that opponents fear.
It is unbelievably loud. Fans get into it and take pride in the noise. It makes for game time environment that is nearing the 'cream of the crop' in the nation.
If it were in a better area than Eugene though, it would be ranked higher on this list. Eugene is not the worst place on this list, but it is far from the best. It is also known for its hippie population, which might be all you need to know.
Great crowd, not a great town or surrounding area.
Total Score: 15 points

Crowd Noise: 11
Surrounding Area: 4
3. Folsom Field: University of Colorado
Set amidst the backdrop of the Rocky Mountains, Colorado's Folsom Field is a gem, and a welcome addition to the PAC-12's already-impressive list of stadiums.
It also has a tradition unlike any other in college football—a live buffalo named Ralphie, who runs across the field just before the Buffalo football team takes the field.
Even with the football team having a down year, Colorado fans still pack the stadium to cheer on the Buffaloes to victory, which makes for a loud stadium and one of the best stadium atmospheres in college football today.
When the team returns to its former prowess, it will become a feared Pac-12 stadium.
Total Score: 16 points

Crowd Noise: 6
Surrounding Area: 10
2. Rice-Eccles Stadium: University of Utah
One of two new stadiums in the PAC-12 conference this season, Rice-Eccles Stadium provides a home field advantage that few people are aware of.
It is a loud stadium, and Utah fans really get into it. It makes it easier to cheer for a program that has done things the right way, and has provided a lot of winning teams in recent years.
When the team isn't winning though, the mountain views from this stadium are gorgeous, and make for an atmosphere teams from the East Coast can only dream about.
This is a great stadium, and can also be a very intimidating place to play for opposing teams.
Total Score: 17 points

Crowd Noise: 8
Surrounding Area: 9
1. Husky Stadium: University of Washington
It doesn't get much better than this in college football, and the location is what sets it apart from the rest of the country.
Nowhere else can you tailgate on a boat just outside the stadium before the game starts.
Husky Stadium, at the University of Washington, is truly unique in that aspect—and the sea of purple that invades the stadium each game is loud and passionate. It has gone on record as having the loudest recorded noise level in college football history: a whopping 133.6 decibels in 1992.
Seattle is also a great city and, in my opinion, one of the most picturesque in the country. The surrounding area could not be much better for a stadium.
With renovations coming to the stadium, it should separate itself even more from the rest of the conference. Husky Stadium will top this list for years to come.
Total Score: 21 points

Crowd Noise: 10
Surrounding Area: 11
Keep Reading