WWE RAW: How to Fix the Brand After Monday's Fiasco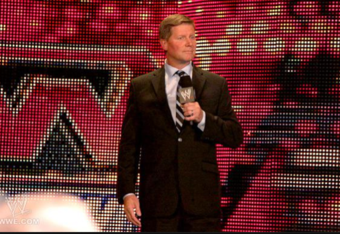 On Tuesday, I posted an article about how much of a failure this week's RAW was to fans. That article can be seen here. Ever since then, I and so many other wrestling fans have been wondering two things: why it was done and how it can be fixed.
The first part of the question seems to be revolved around having fans really hate John Laurinitis, the interim RAW General Manager. Fans used to dread hearing the raspy voice of the Executive Vice President of Talent Relations. Now, after this past week's RAW, Laurinitis is officially one of the most hated personas in the WWE today.
It has been reported that many changes and rewrites have been made in the last two RAW episodes. The walkout of superstars after the vote of no confidence wasn't the first idea for that night and most of this week's episode was changed the day of the show.
Jim Ross's firing, for instance, had not fully made it through the ranks before happening live on the air and has apparently surprised Ross himself.
So how do you fix what took weeks to build and was destroyed in two hours? Well, the casualty in all of this will likely be the upcoming Vengeance pay-per-view. Things definitely need to be straightened out before Survivor Series on Nov. 20 in Madison Square Garden.
It is the top priority of the creative staff to make that event as best as it can be, so every move in the next five and a half weeks needs to have some meaning for Survivor Series. Here are five points for WWE to focus on in the coming weeks and gain credibility back from fans.
The Status of John Morrison
My first move involves John Morrison, who has seemingly been buried in the last few weeks, despite crowd reactions on his side. Since the end of 2010, Morrison has been on and off of the elevator to rise into the main event.
Morrison began 2011 in a WWE title match as the first match of the year. If you buy all of the news in recent weeks about him, Morrison won't even finish 2011 on the WWE roster.
However, he does still get shown on television and just debuted a new t-shirt. It certainly doesn't seem like Morrison is going to be gone as soon as reports are suggesting.
John Morrison has been eating more lunches than winning matches lately.
Morrison can have a Punk-esque way of leaving WWE if he is really actually leaving. Comparisons were made to Christian's final appearance in TNA, when he was beaten up by the Main Event Mafia. I can see Morrison having a feud and being a thorn in the side of Laurinaitis. He was beaten down in the first match under the new interim general manager and could use such a fact to go down fighting from the company.
You could even see a match at Vengeance or Survivor Series with Morrison against someone of Laurinaitis' choice. It could be done to put Laurinaitis's job on the line, as well as Morrison's career. A Morrison loss ends his on-screen aspect with WWE on a high note, leaving the door open for a return in the future, and gives even more heat to the man in charge of RAW.
Survivor Series Teams
The only silver lining of Monday Night RAW this week was that prospective five-on-five Survivor Series teams have taken shape. The opening segment of the show had CM Punk, Sheamus, John Cena and Triple H all in the ring together and all seemingly on the same page.
The four of them would need one more member for their team, but memory would remind us that The Rock is supposed to team with Cena at Survivor Series. While it may not come to fruition, WWE has basically put a team together with a few weeks to spare. Any potential world title matches could change the team, but it is whole for now.
As for their opponents, they literally stood together Monday night. Vickie Guerrero has brought together Dolph Ziggler, Jack Swagger, Christian, Wade Barrett, Cody Rhodes and David Otunga for her ever-growing stable. Otunga can assume a managerial role alongside Vickie as the other five become the likely opponents at Survivor Series.
All have been critical of HHH as COO, as well as those who didn't walk out with the rest of the roster, so the match makes sense at every angle.
This could potentially be one of your Survivor Series teams this year.
The Commentary
Jim Ross is now fired from RAW, leaving Jerry Lawler and Michael Cole to fend for themselves again. McMahon has grown fond of three-man commentary teams, pointed out by Booker T's awful commentary on every single pay-per-view. Lawler has lost a step as a color commentator, but is still better than others.
Michael Cole has now resorted back into his over-the-top commentary that actually ruins the match going on in the ring. Cole is as annoying now as he was during his feud with Lawler earlier this year.
There aren't many choices to replace JR, especially those who could handle filling such a massive pair of shoes, as well as a cowboy hat. I think you can see where I am going with filling this position. If not, I'll give you a hint. He does well in the stock market, was featured in the Lawler/Cole feud, and is a self-procalimed "wrestling god."
Among other choices if that dream doesn't come true are Joey Styles, who could pop back up from WWE.com, Scott Stanford, who interviews backstage, Josh Mathews, who does commentary on Smackdown, Booker T, and a potentially returning Mick Foley.
The World Heavyweight Championship
It may be RAW and the World Heavyweight Championship is a Smackdown title, but RAW is now a SuperShow and both titles are important to the future of the show. Mark Henry has used RAW to grow his importance in the landscape of pro wrestling.
Henry is now a world champion, undefeated on pay-per-view in 2011, and has his face on the poster for Vengeance. Henry was knocked down a peg by needing Cody Rhodes' interference to save him from a loss to Randy Orton, but all will be okay. Rhodes will draw Orton away from the world title, likely until Royal Rumble time.
Will there be a third seat next to these two? Let's hope that there will be.
With Orton out of the way, Big Show and Mark Henry can focus on their feud. They will have a title match at Vengeance for sure, but the match will have to get spiced up for Survivor Series. Their previous encounters have been okay, but it is still a giant facing another giant, which often makes for rather boring matches.
A part of me is still holding out hope for Big Show and Mark Henry to align with one another and make a male version of the Divas of Doom. Combined, they can't really be stopped.
The Booking of R-Truth and The Miz
This was a well-done storyline. The two were fired randomly, but there was so much speculation on how or when they would come back. The final moments of Hell in a Cell, while confusing, were very compelling.
You knew that R-Truth and The Miz would be reinstated eventually, but Laurinaitis pulled the trigger too early. Now, the two have a lot of time to fill before their first big storyline back.
Their Vengeance match against Triple H and CM Punk won't do much for them personally, as it focuses more on Punk and The Game teaming together.
R-Truth and The Miz have been having mini feuds and random matches with the likes of Air Boom and CM Punk/Alberto Del Rio. The two need to either get their own legitimate feud or not stand together anymore.
The duo will do them both a lot of good if they book it that way, so an important part of RAW going forward should be to find them decent matches. Fans will question why bringing them back so soon, so the matches will be WWE's way of lessening the blow.
Have any other ideas on how to fix RAW? Comment on this article with them or mention them to me on Twitter so we can talk about them.

This article is
What is the duplicate article?
Why is this article offensive?
Where is this article plagiarized from?
Why is this article poorly edited?