Boston Red Sox: Will Sox Legend David Ortiz Jump Ship to the Yankees?
October 13, 2011
Rob Carr/Getty Images
The Boston Red Sox are less than two weeks removed from a historic September collapse. Terry Francona is gone, Theo Epstein is gone and the Boston Globe wants everyone to know just how bad things really are.
But hey, they can't get any worse, right?
You just had to ask...
Yes, things can get worse. Slugging DH David Ortiz is a free agent, and he indicated in an interview with ESPN's Colleen Dominguez that he would be open to signing with the New York Yankees, otherwise known among Red Sox Nation as "the Evil Empire."
"That's something I gotta think about," Ortiz said, per ESPNNewYork.com. "I've been here on the Red Sox a long time, and I've seen how everything goes down between these two ballclubs."
Ortiz didn't stop there. He didn't say directly that he actually wants to play for the Bombers, but he did make it sound like he's a fan of the organization.
"It's great from what I hear," he said. "It's a good situation to be involved in. Who doesn't want to be involved in a great situation where everything goes the right way?"
In keeping with the Star Wars theme between the Sox and Yanks, this would be like Luke Skywalker openly expressing his admiration for the Empire.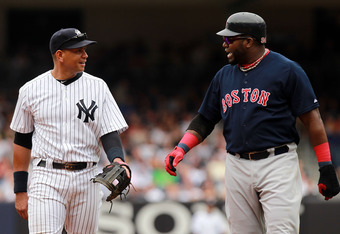 Nick Laham/Getty Images
Making matters worse is the fact that Ortiz is a very, very good fit for the Yankees. They're going to be in the market for a designated hitter, they have the cash to make a deal happen, and it would be very easy for them to sell Big Papi on the idea of taking aim at Yankee Stadium's short right field porch on a daily basis.
For the record, Ortiz has hit six home runs at the new Yankee Stadium. Three of those came this season.
Sure, a sense of loyalty would compel Papi to stay in Boston, where he is universally beloved. But alas, after what went on in 2011, loyalty might not be one of Papi's top priorities.
"There's too much drama, man," said Papi about playing for the Red Sox. "There's too much drama. I have been thinking about a lot of things. I don't know if I want to be part of this drama for next year."
Having read the latest horror story from the Globe, it's kinda hard to argue the point.
With enough time, it's possible that Papi will settle down and warm up to the idea of staying in Boston. But in order for that to happen, the Sox would have to give him the multi-year contract he openly coveted this year. Such an offer might not be forthcoming, which would leave the door wide open for Papi to bolt for the Bronx.
In case you're wondering, the Yankees visit Fenway Park for the first time in 2012 on April 20. If Ortiz is among them, you can rest assured that there will be a reaction from the Fenway Faithful.
Personally, my hope is that Red Sox fans would have enough sense to give Papi an ovation the likes of which no visiting player has ever received.
No matter who he comes back with and when, this is exactly what Papi would deserve.