Arkansas Football: 5 Things We Learned from the Razorbacks' Win over Auburn
October 10, 2011
Ronald Martinez/Getty Images
Just two weeks after the sky seemed to falling in Razorback land following a beat-down from 'Bama, the Hogs go into their bye week with a 5-1 record and a schedule that sets up nicely going forward.  Here are five things we learned about the Razorbacks in their 38-14 win over Auburn.
Arkansas Has Found Its Identity
A team doesn't just inherit the identity of last year's team especially when you lose the number of leaders Arkansas did from last year's Sugar Bowl team. After limping out of the Troy game, being destroyed by the Crimson Tide and trailing to Texas A&M 35-17 at halftime, the Razorbacks had a moment of truth. 
They could fold, make excuses and start building for next year, or they could go to battle together as a team and turn their season around. The Hogs seemingly have done the latter behind the leadership of Tyler Wilson and Jarius Wright. 
Wilson's willingness to take hit after hit and continue to stand strong in the pocket has clearly won him the respect of his teammates, and at the halfway point of the season, the team has clearly found their identity. They are Wilson's team!
Alonzo Highsmith Is Arkansas' Newcomer of the Year
As a fan, it is exciting every season to take a look at the newcomers and speculate on who will contribute the most. If your team is worth a damn, most of these new players will red shirt or at best contribute very little in their first year on campus. 
For Arkansas, the exception to this rule has been linebacker Alonzo Highsmith, who is a junior college transfer from Phoenix Community College. Highsmith was second on the team with 12 tackles, two of which were for a loss in the game versus Auburn. 
He plays fast and aggressive and is just the kind of linebacker the Razorbacks need if they are going to compete in the SEC.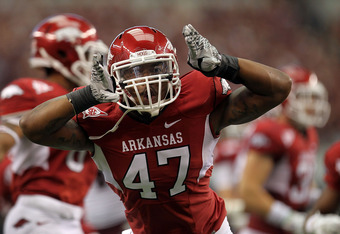 Ronald Martinez/Getty Images
Greg Childs Is Getting Better Every Game
Arkansas' passing game has been slowed by injury this year. That's a scary thought!  Jarius Wright and Joe Adams have both missed time this year and senior Greg Child's has still not returned to full speed after a season ending injury last year. 
On Saturday night, Childs looked more like his bad self as he had four catches for 44 yards and another one for 22 yards to that was called back for holding. With this week being a bye for the Razorbacks, Child's seems poised to have a breakout second half of the season.
It's Good to Have Jake Bequette Back
Jake Bequette only had one tackle in his first game back from a hamstring injury, but that doesn't mean he didn't have a big impact. The Hogs did a much better job of sealing the edge, thanks in no small part to Bequette. 
Bequette was also in the Auburn backfield all night. He failed to record a sack, but did chase the Auburn quarterback right into the arms of Lonnie Gosha for the Hogs' only sack of the night.  Bequette didn't appear to be 100 percent against Auburn, but his leadership is important to a defense that had lost its way in recent weeks. 
Look for Bequette to be dominant the second half of the season as he continues to get healthier.
The New Rule Against Taunting Is Scary as Hell!
When Joe Adams raced into the end zone, set the ball down and walked off the field, it never entered my mind that that could be considered taunting. So I was shocked Sunday morning when that play was being shown in contrast with the taunting penalty from the LSU game as an example of taunting that wasn't called. 
The fact that a referee can make a judgement call that takes points off the board is something that should greatly disturb every college football fan.
Arkansas has a much-needed bye this weekend before heading to Oxford to play Ole Miss.