UFC 136 Results: What We Learned from Melvin Guillard vs. Joe Lauzon
October 9, 2011
In a fight where many people expected Melvin Guillard's (29-2) stand-up to be too much for Joe Lauzon (21-6), it turned out to be the other way around.
Guillard hardly had a chance to get going before Lauzon had him mounted and sunk in a rear-naked choke.
What we'll remember about this fight
That Joe Lauzon is not someone to be underestimated and has a spot-on killer instinct.
Guillard and Lauzon both came out swinging, but it was Lauzon's striking that looked cleaner and more exact. After Lauzon landed a very stiff jab, Guillard seemed to lose control of his legs and fell to the mat while trying to back up.
Not missing a beat, Lauzon jumped on Gullard's back and submitted him at just 47 seconds in the first round.
What we learned about Joe Lauzon
While Lauzon is typically regarded as a submission specialist we were reminded tonight that he has power in his fists. We also saw that Lauzon has worked quite a bit on his boxing. It looked crisp, well rounded and the precision in his striking was a big factor in dropping Guillard.
Fighters would do well to be very respectful of Lauzon's striking from here on out.
What we learned about Melvin Guillard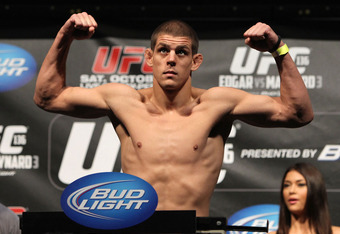 Guillard had been on a tear in the lightweight division until he came up against Lauzon on Saturday night. In fact, many fans were calling for Guillard to get a title shot after what they assumed would be a win over Lauzon.
Guillard's success was perhaps trumpeted a little too early and his chin may very well be in question after this bout. We'll see what happens in his next fight.
What's next for Joe Lauzon?
Title shot? No, probably not. This is Lauzon's second win in a row. It's too soon to be calling for a title shot.  Lauzon needs to be tested by a top-ranked lightweight before he gets a shot at the title. The question is who would Lauzon match up well with in the lightweight division?
What's next for Melvin Guillard?
This loss shouldn't drop Guillard's rank too much. He's still absolutely a contender at lightweight and needs another test to get his rank back up. Perhaps the loser of Guida vs. Henderson? If not, who else might Guillard face at lightweight?
Be sure to keep it on Bleacher Report for all things UFC 136. B/R is your home for MMA, from pre-fight predictions to in-fight coverage, live results and post-fight analysis...which you can check out on our UFC 136 event hub.