College Football: Picking Every SEC Game in Week 6
October 7, 2011
Stacy Revere/Getty Images
Six ranked SEC teams take the field this weekend in conference race shaping games. Two SEC East showdowns, one SEC West game of the week, and one cross-divisional game could dramatically shift the rest of the season after Week 6 unfolds.
No. 15 Auburn versus No. 10 Arkansas
This week's top game in the SEC is Arkansas versus Auburn. Both teams are fighting for national respect, regardless of their current rankings, and coming off upset wins. The winner lives to fight for an outside shot at the SEC West title.
Auburn is 4-1 with three last minute wins; Utah State, Mississippi State, and South Carolina. After the exodus of nearly forty percent of their 2010 roster, not much was expected of this year's team outside of Auburn. Somehow Gene Chizik keeps finding the magical winning formula for the Tigers.
Auburn is led by sophomore running back Michael Dyer. Dyer is seeking his fourth 100-yard rushing game of the season against the Razorbacks—he had four 100-yard games in 2010.
Streeter Lecka/Getty Images
Dyer has risen to the challenge against top competition this year; Mississippi State, 150-yards rushing with two touchdowns, Clemson, 151-yards rushing, with two touchdowns, and South Carolina, 141-yards rushing and one score. Dyer has to be chomping at the bit to play against Arkansas' rush defense knowing they gave up 381-yards rushing  to Texas A&M last week; Christine Michael 230 yards, Cyrus Grey 95 yards.
The Razorbacks are led by junior quarterback Tyler Wilson. Wilson leads the SEC in passing yards with 1,517 and is second in the SEC in with 10 passing touchdowns. Wilson is coming off a career game in which he threw for a school record 510 yards with two touchdowns against the Aggies.
The key match-up on paper is Arkansas' passing attack versus the Auburn pass defense and Auburn's rushing attack versus Arkansas' run defense. Which team will be able to slow down the opposition's strengths?
The Razorback rush defense is ranked 82nd in the nation allowing 168.20 yards per game. Auburn's pass defense is ranked 74th in FBS as teams are passing for 232.80 yards per game.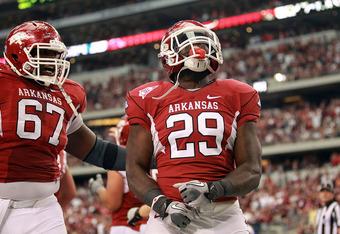 Ronald Martinez/Getty Images
If Michael Dyer hits 168-yards rushing the Razorbacks will be okay. Auburn's passing attack is limited; 184 passing yards per game. The Tiger's top wide receiver, Blake Emory, will not play this weekend. Look for the Hogs to stack eight in the box and beg Barrett Trotter to beat them with his arm.
Auburn did a great job of holding Stephen Garcia to a 39 percent completion percentage. Wilson completed 63 percent of his passes against Alabama's third ranked defense.
Arkansas found their running game in the fourth quarter when Petrino finally ran Broderick Green and Dennis Johnson. Auburn's rush defense is ranked 108th in the nation giving up 207 yards per game.
Arkansas puts together a complete offensive game plan and win this one 38-24.
Georgia versus Tennessee
After a 0-2 start that included a conference loss to SEC East foe South Carolina, the Georgia faithful were looking around for answers. Three wins later, a South Carolina conference loss, and a Florida conference loss, the Bulldogs find themselves in a three way tie for first in the SEC East.
Bulldog quarterback Aaron Murray grabs the headlines but the emergence of true freshman running back Isaiah Corwell has allowed Georgia to have a balanced offensive attack.
Crowell has three 100-yard games already this season (South Carolina, Ole Miss, and Mississippi State). His 575 total rushing yards ranks him fourth in the SEC.
Tennessee tailback Tauren Poole has yet to click with the offensive line. He has rushed for 318 yards with only one touchdown. His best performance was last week against Buffalo when he rushed for 101-yards on 17 attempts with no touchdowns.
Georgia's pass defense has been outstanding this year only allowing 151.60 yards per game. Tyler Bray leads the SEC in touchdown passes and passing percentage but has played primarily against lesser competition.
Tennessee's pass defense ranks 35th allowing 198.50.
Georgia's run defense is limiting teams to 107 yards per game; Tennessee allows 139.75.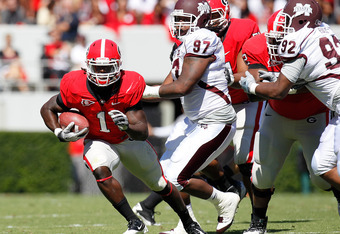 Kevin C. Cox/Getty Images
With Tennessee wide receiver Justin Hunter out for the year with a torn ACL, Da'Rick Rogers will see constant double team in passing situations.
Georgia's balanced offense will eventually overwhelm Tennessee's passing offense by winning the time of possession.
Georgia breaks their two-game losing streak at Neyland Stadium winning 28-24.
Georgia outside linebacker Cornelius Washington is suspended for two game after being arrested for a DUI Sunday night. Washington will be replaced by Jarvis Jones. Jones had two sacks against MSU last week.
Mississippi State versus University of Alabama Birmingham
A battered and bruised Mississippi State team takes their last non-conference road game of the season against the 0-4 Blazers.
UAB has found some momentum in their last two losses. They were beat soundly by the Florida Gators in the Swamp 39-0 and by Tulane 49-10. Then, in two consecutive road games, the Blazers found their competitive spirit in losses to East Carolina by five points and Troy by one.
Can UAB pull off an upset against the Bulldogs?
The Blazers held a second half lead over MSU last year before two late Derek DePasquale field goals lifted the Bulldogs to victory. But that was last year when MSU was in the midst of a six-game winning streak.
MSU is strong against the pass ranking 27th in the nation. The one thing UAB does fairly well on offense is pass the ball. They average 191-yards per game. Their rushing attack is 106th in the nation against lesser competition.
UAB is ranked 116th in rush defense (228.75) and 113th in pass defense (300). If the 2-3 Bulldogs cannot pull off a win this weekend they will miss a bowl game this year. MSU has winnable games left against Kentucky, Tennessee-Martin, and Ole Miss which would put them at six wins for the season. Remaining games against South Carolina, Alabama, and Arkansas may be too much for Dan Mullen and company this year.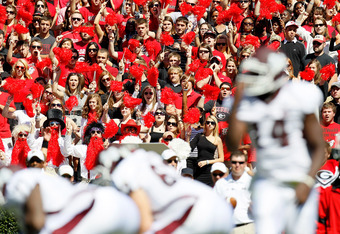 Kevin C. Cox/Getty Images
Chris Relf and Vick Ballard need this game to get back on track before South Carolina comes to town. Ballard was held to 23-yards rushing against Georgia last week. Relf had 157-yards passing.
Even if MSU can pull ahead early, look for Mullen to play his guys into the third quarter and possibly early into the fourth quarter to build confidence and rhythm for his offense.
MSU wins 38-14.
Kentucky versus South Carolina
Kentucky fans circled this stretch of games on the schedule before the season started. The 2-3 Wildcats play their third straight ranked opponent when they travel to No. 18 South Carolina on Saturday. Joker Philips is hoping to end his team's three game losing streak at Williams-Brice Stadium (Louisville, Florida, and LSU).
Philips is still looking for ways to ignite the Kentucky offense. Morgan Newton has replaced Mike Hartline under center but with very different results. Last season UK was ranked 34th nationally in scoring offense (31.20) and 27th in total offense (427.90). This season the Wildcats are averaging 15 points per game (113th nationally) and 255.50 yards of offense per game (118th nationally).
South Carolina enters the game after being upset at home by Auburn 16-13. The much publicized love-hate relationship between head coach Steve Spurrier and fifth-year senior quarterback Stephen Garcia appears to have finally ended, for now, due to Garcia's poor play against the Tigers.
Spurrier has benched Garcia again for sophomore Connor Shaw. Shaw was the starter beginning the season against East Carolina but after two fumbles and struggling within the offense he was benched in the first quarter in favor of the experienced Garcia.
Fans that like to see power running and gifted linebackers that stuff the run will enjoy the match-up between Gamecock running back Marcus Lattimore and Kentucky's linebackers Danny Trevathan and Winston Guy.
Danny Trevathan leads the SEC in tackles with 59 and Guy is second with 53. Lattimore leads the SEC in rushing yards with 677.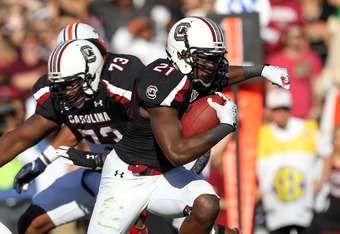 Streeter Lecka/Getty Images
Lattimore will get as many touches as Spurrier feels is necessary for the Gamecocks to win. With Shaw under center, the Wildcats will try to pressure Shaw every chance they get. Unfortunately for UK defensive end Collins Ukwu will be out for the third straight game.
Both teams need this win. Which team is more motivated?
USC and UK are one dimensional teams relying solely on their running game. Kentucky has allowed 21 sacks (2nd most in the nation). The Gamecock defense averages 2.60 sacks per game. Long third down attempts would normally favor the Gamecocks defense.
Shaw was three for nine for  21-yards passing with no touchdowns and zero interceptions before he was taken out of the game. First game jitters could have contributed to the two fumbles Shaw committed. What will Shaw be able to do against UK? If Shaw struggles will Spurrier pull the emergency switch again and place Garcia back in the game?
The Gamecock offense is in better shape with Lattimore than Kentucky is with true freshman running back Josh Clemons (269 yards rushing). But USC senior left tackle Kyle Nunn may miss his second straight game with a bulging disc. Last week true freshman Mike Matulis (Boynton Beach, Florida) struggled against Auburn.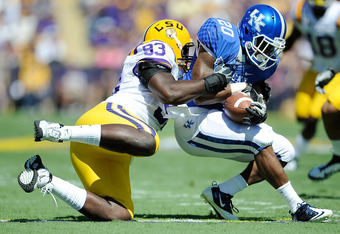 Stacy Revere/Getty Images
Kentucky has more stability in their backfield with Morgan Newton under center than Connor Shaw for USC.
Shaw will key on All-American wide receiver Alshon Jeffery as will the Wildcat secondary.
Kentucky finds a way to keep the game close and upsets South Carolina for the second straight year 17-14.
Vanderbilt versus Alabama
James Franklin has had a really nice start to his Vanderbilt coaching career. He won his first three games and eclipsed the team's total wins in 2010 (2). He also earned his first SEC conference victory over Ole Miss (30-7). Then the Commodores had a tough road trip to South Carolina that ended in a 21-3 loss.
Now Vanderbilt is trying to put their offense back together against the third ranked defense in the nation. USC held the Commodores to 77 net yards after Larry Smith was sacked six times for a loss of 42 yards. Vandy's rushing offense only netted four positive yards in the defeat.
Smith was harassed all game by the Gamecocks. His completion numbers tell a different story. He finished the game 12 of 16 passing with one interception and zero touchdowns. He only passed for a total of 44 yards.
If Vanderbilt's offense keeps everything within a ten yard zone against the Tide, this will be a really long day for the Commodores.
Vandy has the 11th ranked defense in FBS only giving up 279.25 yards per game. Their secondary has been ball hawks all season leading the nation with 14 picks; four against South Carolina in Week 4. They limited Marcus Lattimore to 77-yards rushing and now have to take on Trent Richardson and Eddie Lacy.
Alabama's rushing offense is 13th best in the nation averaging 229.80. AJ McCarron has been efficient as the starting quarterback for the Tide only throwing four touchdown passes but has thrown two interceptions.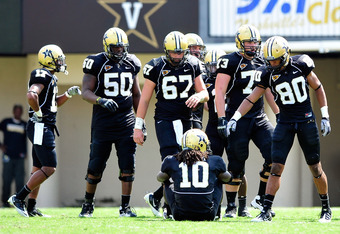 Grant Halverson/Getty Images
Vanderbilt's defense took a hit against South Carolina when junior linebacker Tristan Strong hurt his knee and is lost for the season.
Larry Smith did not make it through the South Carolina game due to all the hits that he was taking. If Vanderbilt's offensive line does not play better, Smith is in for another long or short game.
Vanderbilt's offense is too inept to hang with Alabama's defense. Vanderbilt's defense is SEC quality but gets no support from the offense. Bama wears down Vandy and wins 38-10.
Florida versus LSU
A week ago this game looked like a possible SEC Conference Title Game preview. It still may be but the loss of Florida's starting quarterback John Brantley puts a different spin on this SEC cross-divisional game.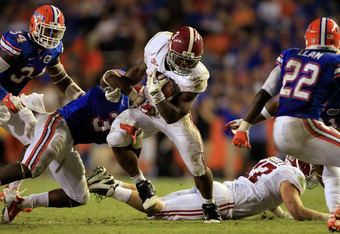 Sam Greenwood/Getty Images
The Gators will start true freshman quarterback Jeff Driskel (Oviedo, Florida) against the number one team in the nation. Driskel played the second half for the Gators after Brantley suffered what appears to be an ankle injury. In a half of play against Alabama, Driskel finished two of six for 14-yards passing.
Alabama was able to stack the box against the Gators and shut down their tandem running attack of Chris Rainey and Jeff Demps. Both players finished the game with four rushing yards each. For the game the team finished with 15 net yards rushing.
LSU's defense is as good as Alabama's if not better. The Tiger's are third in the nation in rush defense (60.40 yards per game) and only allow 12.80 points per game (9th in FBS).
Look for LSU to have a field day with Driskel and stack the box against the Gators running attack.
LSU will play their game and grind out another win. Florida's defense will keep it close. Final score LSU 28, Florida 7.