Air Force vs. Notre Dame: Spread Info, Line, BCS Impact and Predictions
October 6, 2011
Jonathan Daniel/Getty Images
The Notre Dame Fighting Irish are playing host to a very powerful and dangerous Air Force Falcons team in what is bound to be a very exciting matchup.
The Irish have bounced back from a 0-2 start to their season to win three in a row, including an impressive home win against then ranked Michigan State, and two in a row on the road.
At 3-2 on the season, they must match up against an explosive 3-1 team and their tricky triple-option offense.
This is a huge game for both teams, and I expect that it will come down to the wire.
Where: Notre Dame Stadium, Notre Dame, Ind.
When: Saturday, Oct. 8, 3:30 p.m. EST
Watch: NBC
Spread (Bodog.com): Notre Dame -14
I think this is going to be a bad game to call a cover on. Notre Dame is the better team and they're at home, but Air Force's offense is going to keep them in this game and keep them close.
Over/Under (ESPN.com): 56
This is a huge over, but I expect that these two combined will be able to cover it. It's going to be close, but they'll squeak by.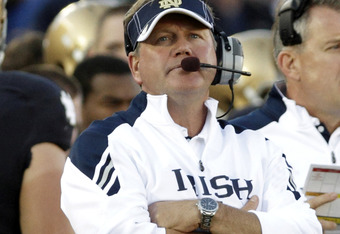 John Gress/Getty Images
Key Injuries:
Air Force: Offensive lineman Michael Hester questionable (ankle), fullback Mike DeWitt questionable (undisclosed), linebacker Ken Lamendola questionable (hamstring), defensive back Brian Lindsay questionable (groin).
Notre Dame: Defensive end Ethan Johnson questionable (ankle), wide receiver Daniel Smith questionable (leg), linebacker Danny Spond questionable (hamstring).
BCS/Top 25 Implication:
Notre Dame dropped out of the Top 25 early in the season, but now that they're on the comeback trail, every win they can pick up is going to count towards that.
Keys to Air Force Win: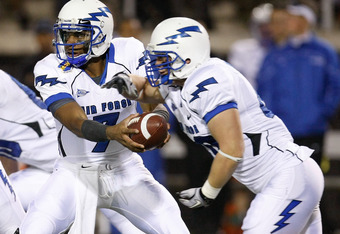 Ethan Miller/Getty Images
If quarterback Tim Jefferson can run the offense and keep Notre Dame's defense off-guard, then the Falcons have a chance. The triple-option can be extremely confusing at times, and if they get the Irish on their heels, they may be able to get ahead and stay ahead.
Keys to Notre Dame Win: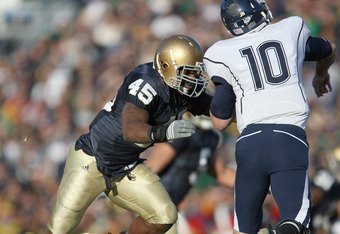 Jonathan Daniel/Getty Images
It's simple. If Notre Dame can shoot down Jefferson and the triple-option, then the Falcons have no shot at winning this game. The Irish's defense has been improving, but this is going to be a huge test for them.
Prediction:
The Falcons are going to have a good game, but Notre Dame is the better team and has home field advantage.
Notre Dame: 31 Air Force: 27