EPL Review: Arsenal Player Ratings vs. Tottenham
October 2, 2011
Julian Finney/Getty Images
Arsenal's disastrous start to the 2011/2012 English Premier League season continued and left a bitter scar as Arsene Wenger's men were defeated 2-1 by arch rivals Tottenham in the North London derby at White Hart Lane. The Gunners boasted a meagre two Premier League wins entering the encounter, alongside enduring an 8-2 loss to reigning Premier League champions Manchester United. Kyle Walker's 73rd minute strike ensured that the North London giants would maintain their disarray.
In what was a typically exciting and entertaining derby, Tottenham looked the livelier in the opening stages before an injury-stricken Arsenal began to secure a grip. The Gunners looked threatening out wide but routinely vulnerable at the back. Nonetheless it was Ivorian forward Gervinho who failed to capitalize for Arsenal after good work from Robin van Persie exposed Brad Friedel. However, the summer signing placed his shot wide from short range.
It was Harry Redknapp's men who were the more clinical, however, with Dutch playmaker Rafael van der Vaart taking advantage of some out-of-position Arsenal defenders and superbly controlling a long ball before finishing in the bottom corner five minutes before the main break.
Despite their lead, Spurs were still under threat from an energetic Arsenal attack and after the restart the Gunners proved their intent and character. Bossing possession and controlling the game, Alexandre Song found space down the left flank and managed to send a vicious low cross from the byline, which Wales captain Aaron Ramsey gained the all important touch and equalized for Arsene Wenger in the 51st minute.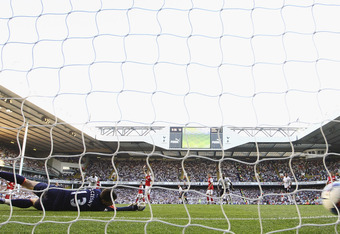 Julian Finney/Getty Images
The Gunners continued to maintain their dominance for periods to come and it became evident the Tottenham back line was under threat. Former Arsenal striker Emmanuel Adebayor then failed to direct his one-on-one effort with Arsenal shot stopper Wojciech Szczesny in what was arguably the best chance of the match.
A smart substitution from Harry Redknapp in which Rafael van der Vaart was replaced by Brazilian midfielder Sandro saw Tottenham regain some structure in the midfield and enabled 2011/2012 PFA Player of the Year Gareth Bale to thrive.
Finally, in the 73rd minute, a cleared set piece found Tottenham defender Kyle Walker, who evaded Gervinho and sent a thunderous long range drive which had too much power for an off-balanced Szczesny.
The Gunners tried feebly to find the equalizer but Harry Redknapp's men held on to record a historic win and signify that a power shift has certainly occurred for North London.
Arsenal Player Ratings
Wojciech Szczesny, 6.5: In truth, the Polish youngster was magnificent as the 21-year-old continually thwarted Tottenham efforts, particularly parries against Scott Parker and Emmanuel Adebayor. However, there will be questions raised over his inability to keep out Walker's winner.
Bacary Sagna, 5.5: The Frenchman managed to contain Gareth Bale on occasions but his precarious positioning enabled van der Vaart to strike whilst there was little communication with his centre halves. It was a worrying sight for Arsenal fans as Sagna was substituted with a severe ankle injury.
Per Mertesacker, 5.0: A discouraging performance. The German giant was slow and unconvincing dealing with Tottenham's energetic attack and failed to impose his physical, tall presence in both defence and attack. Furthermore, Mertesacker lacks communication and positioning with his fellow defenders.
Alexandre Song, 6.0: A credible effort from the Cameroon international. Song produced a strong display to thwart the dangerous Emmanuel Adebayor, especially as he was forced to play in the unfamiliar centre half role. Song also provided the assist for Ramsey's goal.
Kieran Gibbs, 6.5: A efficient and impressive performance from the England international. Gibbs was strong and defiant for the most part in defence, withstanding assaults from Walker and Van der Vaart, whilst the 22-year-old worked tirelessly in attack.
Francis Coquelin, 7.0: The French youngster was by far the best Arsenal player. Thrown into his first North London derby, the 20-year-old showed phenomenal maturity and composure as he worked immensely hard and made a number of crucial tackles and interceptions.
Mikel Arteta, 5.5: The Spanish playmaker attempted to orchestrate the Arsenal attack but simply lacked efficiency and a clinical edge. Arteta produced some dangerous balls and runs but ultimately produced nothing to sufficiently threaten the Tottenham back line.
Aaron Ramsey, 5.0: The Welshman may have scored, but it was a hideous performance overall. Ramsey was lacklustre on the ball with numerous erratic passes, poor control and little awareness.
Theo Walcott, 5.5: The England international had moments of real threat with some incisive shots and runs but Walcott ultimately was inconclusive in his attacking forays.
Gervinho, 5.5: The Ivorian showed his lack of finishing skills as he failed to put away a superb chance. However, Gervinho was a bright spark in attack with a number of dangerous runs and moves but like most of the Arsenal attack, he simply couldn't find the answer when needed.
Robin van Persie, 6.0: The captain was calm, composed and strong on the ball as he dealt with constant attention from Younes Kaboul. The Dutchman held the ball well and provided passes the created chances but in the end there was no result.
Substitutes
Carl Jenkinson, 5.5: The Englishman last featured for Arsenal in the Premier League during the 8-2 humiliation. The teenager was tormented by Gareth Bale this time around but showed signs of impressive strength and speed.
Yossi Benayoun, 5.5: The Israel captain was brought on to implement a spark or attacking edge and although he tried hard, little emerged.
Andrei Arshavin: N/A