Week 3 Tight End Fantasy Rankings and Analysis: Can Fred Davis Bounce Back?
October 2, 2011
Ronald Martinez/Getty Images
Week 4 TE Player Rankings
Click here for TEs ranked 11-30.
10. Fred Davis (at STL)
 Davis was finally given recognition as a superior tight end talent by the Cowboys last Monday night as he was constantly double-teamed and taken out of the play. However, I'm not sure St. Louis will be able to do the same as Davis' athleticism will be on display in the dome all day long.
With Chris Cooley back in the mix, teams will at least have to pay him some attention which will undoubtedly leave Davis in single-coverage. Fantasy owners should love that.
9. Scott Chandler (at CIN)
 After doing absolutely nothing during his first four years in the league, Chandler suddenly hit his stride by catching TD passes in each of the Bills first three games.
He now has four on the season, which is one behind Gronk, and it wouldn't surprise me to see him snag another one against a Bengals defense that allows the seventh-most fantasy points to tight ends this year.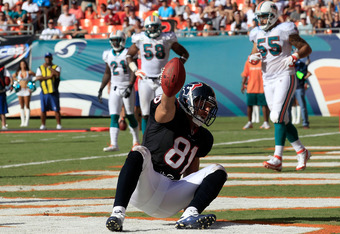 Sam Greenwood/Getty Images
8. Owen Daniels (vs. PIT)
Daniels looks like he's got his swagger back after being targeted nine times last week and catching a TD pass for the second weekend in a row. The Texans will need some nice production out of him if they want to beat the Steelers, so watch for Schaub to get him involved early.
7. Brandon Pettigrew (at DAL)
Matthew Stafford finally remembered what Pettigrew was good for last weekend—the bailout dump-off pass. Pettigrew was able to turn his whopping 13 targets into 11 catches for 112 yards.
He still hasn't caught one in the end zone for the Lions, but that should come real soon, maybe this weekend against a Dallas defense that has given up the sixth-most fantasy points to tight ends this year.
6. Greg Olsen (at CHI)
 It's not the most exciting homecoming for a player in recent years, but Olsen returning to Soldier Field to take on the Bears should at least serve as motivation for the athletic tight end.
Chicago allowed Jermichael Finley to have his way with them last weekend and though Olsen will come nowhere close to the same fantasy output, there's definitely a good chance he does something good for your team.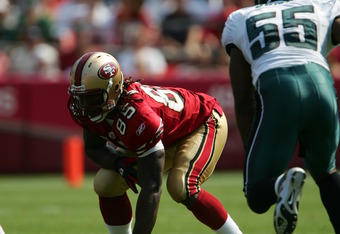 Jed Jacobsohn/Getty Images
5. Vernon Davis (at PHI)
 After Davis complained about the offense not getting the ball in his hands enough through Week 2, the 'Niners coaching staff tended to his needs by throwing the ball his way nine times last weekend.
Eight catches and 114 yards later, Davis is happy, and should continue to be this weekend against an Eagles team that is only so-so at containing tight ends.
4. Jason Witten (vs. DET)
 As expected, Witten was the most-targeted player on the Cowboys last Monday night with Miles Austin out of the lineup, though he could only manage six catches for 60 yards with the Redskins hounding him all evening.
Detroit may be even better at stuffing Witten this weekend as they rarely let tight ends go off on them, though I'm sure Tony Romo will find a way to get his groomsman his fantasy goods.
3. Jermichael Finley (vs. DEN)
 Watching this man-child catch passes from Aaron Rodgers is a Sunday treat you simply don't want to miss. That three-touchdown performance last weekend against the Bears may only be the beginning with this kid as it seemed he could pretty much do anything he wanted out there on the field.
Congrats to those of you who drafted him.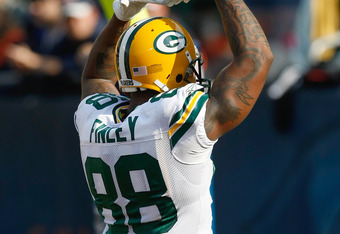 Scott Boehm/Getty Images
2. Jimmy Graham (at JAX)
 If anyone were to supplant Gronk in the No. 1 slot this week, it would have been Graham. First of all, the kid is awesome. Simply awesome.
Second, the Saints backup tight end, David Thomas, will be out this week with a concussion, so Graham stands to see a little more playing time because of it.
Third, Jacksonville is awful at defending the tight end ranking third-worst in the league last year and now in the bottom eight again this season.
1. Rob Gronkowski (at OAK)
 Until Aaron Hernandez comes back from his injured knee, Gronkowski will occupy this top slot—regardless of whether Antonio Gates is fully healthy and playing or not.  He and Brady are simply too good together—kind of like a vanilla Oreo.
Brought to you by pyromaniac.com.
Complete Week 4 rankings for QBs, RBs, WRs and TEs.
Follow Pyro® on Twitter:  https://twitter.com/pyroman1ac
Follow Pyro® on Facebook:  http://www.facebook.com/pyromaniac