Everton vs. Liverpool: Why Jack Rodwell Red Card Cheated Blues in Derby
October 2, 2011
Clive Brunskill/Getty Images
A local derby 'is a commonly used to signify matches between teams in the same town or region…[in which there is] usually a much more heated atmosphere between the fans and often the players of the two clubs.' This may be from Wikipedia, but there is no better way to explain it.
Like most rivalries, the contest between Everton and Liverpool consists of two teams playing each other around an atmosphere in which artificially created animosity between the two makes the game mean something more than others.
It does not matter about their place in the table, what they have left to play for or if there are any major implications to the outcome. For the fans a victory over their cross town neighbors, the same people they work with happily and hang out with socially, gives them bragging rights…until the next match of course.
This attitude, of course, resonates down to the players. They go into the game with a different mindset. A more serious disposition knowing that a win today can help brighten a bad season, or be the turning point for a poor run of form. It can also be the ever so sweet icing on the cake after a fine year.
Both Liverpool and Everton understood this heading to Goodison Park today. Both teams have been playing right around where they were expected, and this was a chance to get that extra boost, a little more confidence that will push them to that next level.
You could see the concentration in the player's eyes as they warmed up, as they stood for the anthems, as they lined up in their positions. From the first whistle you could tell that this game meant a bit more than the others.
Liverpool had early possession, but not much came of it. Everton looked comfortable, knowing they were the underdogs, but also confident that they were ready for the challenge.  The Reds had a nice move and delivered a crisp cross to Suarez who regretted putting it right into Tim Howard's hands. Everton answered immediately on the counter, and a fine save by Reina was needed to put Cahill's header over the top.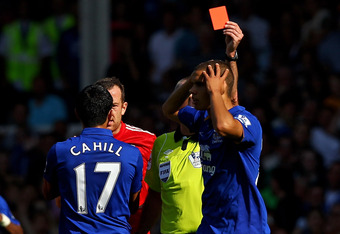 Clive Brunskill/Getty Images
It looked to be a one of those matches we would be talking about all week. Perhaps a great shot would be the talking point, or a goal at the death.  And a talking point there would be. Unfortunately it would not be Everton winning in an upset or Gerrard recapturing his greatness; in fact it would not focus around a player at all, but a referee, a referee that would decide the fate of the Merseyside derby.
When Jack Rodwell went into a tackle on Luis Suarez he was going for the ball, let's make that clear. If you were watching Rodwell you would see there was no malicious intent, no aggression and no look of anger.
But if you happened to be watching Luis Suarez, you would have thought he was doing a reenactment of Bin Laden being shot by US Navy Seals. The Uruguayan leaped into the air like he was standing on hot coals, grabbed his shin as if it was holding his body together, then let out scream that could be heard from the stands and felt through the expression on his face. Apparently today's ref Martin Atkinson was watching the theatrics and not the game.
It is always a shame when an official decides a game. It is the last thing the fans, players and even the officials themselves want to do. And as much as we wish it were not true, refs are human and they will make mistakes. You could think of it like this: How many times when you watch football, basketball or baseball does a player make a snap decision that leaves you scratching your head.
The player knows he made a mistake, but of course he can't take the bad shot back or stupid foul. Just as a ref may question his call, but he cannot a few minutes later ask the fourth official to go call Rodwell back from the locker room because he made a mistake. Heck, the worst thing a ref can do is renege on a decision. In the end all you can say is what is done is done.
I don't know if Atkinson thinks he made the wrong choice in giving a straight red, but it really does not matter at this point. Liverpool's 2-0 win is set and in the books. Everton will probably appeal the suspension that comes with Rodwell's red card. Hopefully they will win it and get something back from the loss. But the real losers in this, the ones who cannot be given any gratification for the harsh-is-not-enough-of-a-word red card, are the fans.
Liverpool fans will of course rejoice in the win, and why not. Though they were favored and played a majority of the game with a man advantage, the 2-0 was hard fought. But a true fan, a fan of sport and competition does not want to see their team win like that. The win is not tainted in the sense that it was wrong or deserves an asterisk by it. But there it leaves a sour taste in your mouth, knowing that the win was not as sweet as it could have been.
The red card may have cost Everton the win, but it was all at the expense of the fans and after all what is the game played for if not to entertain those who watch.