Oklahoma vs. Texas: Never Too Early to Preview the Red River Rivalry
October 1, 2011
Ronald Martinez/Getty Images
Sure, Oklahoma doesn't play Texas in the Red River Rivalry until next week. Is it ever really too early to look at one of the greatest rivalries in the nation, though?
The Red River Rivalry—once known as the Red River Shootout—will be 111 years old when these two teams take the field next week. It's easily one of the oldest rivalries in all of college football.
Currrently, Oklahoma is ranked No. 2 in the nation with a 3-0 record. Texas meanwhile, is currently ranked No. 17 and also holds a 3-0 record.
Sounds already like the set-up for another great rivalry game with both conference and national implications.
Oklahoma's offense vs. Texas' defence
Offense isn't necessarily Oklahoma's strong suit—at least, not in terms of scoring. Currently, they're tied at 33rd in the nation in scoring offense. The Sooners are 50th in rushing offense, but are 6th in passing offense.
On the surface, this doesn't look good for the Sooners, as Texas holds the 16th rated scoring defense. Making it worse, the Longhorns have the 9th rated passing defense, allowing only 154 yards per game through the air.
The Longhorns are 30th against the run, allowing 104.67 yards per game.
This is strength against strength. The Sooner pass attack against the Longhorn pass defense.
Landry Jones will have his hands full, to be sure. Texas DB Adrian Phillips already has a pair of interceptions on the season and will be a dangerous threat. In all, the Longhorns have five interceptions by four different players in just three games.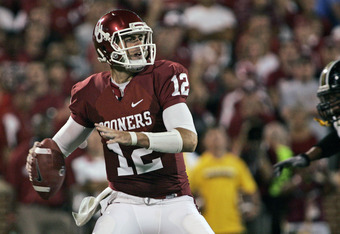 Brett Deering/Getty Images
They're opportunistic, to say the least.
On top of that, LB's Jordan Hicks and Keenan Robinson have been very good in short pass protection. Young defenders Carrington Byndom and Quandre Diggs both have a couple of batted passes as Texas' secondary has been strong against the pass.
Still, Jones has had solid success this season with the help of Ryan Broyles, Kenny Stills and Dominique Whaley. Broyles easily leads that pack, pulling down 34 catches for 367 yards and 4 touchdowns.
Therein lies a potential problem. Broyles has been the favorite target of Jones by far. If Stills, Whaley and their teammates don't step up and provide solid targets, Texas' secondary will be able to key in heavily on Broyles and potentially take away Oklahoma's biggest offensive threat.
Whaley has been decent running the football, carrying the ball 55 times for 270 yards and 5 touchdowns. He's averaging a decent 4.91 yards per carry, but hasn't been asked to carry this offense. If the Longhorn defense is able to stifle the Sooner pass attack, that may change.
Now, there's a strong argument that could be made in regards to the level of competition these programs have played and how those stats can be skewed. Those arguments might be legitimate, but we really only have what we have to this point. We'll know more about both teams after this game.
The edge right now has to go to Texas.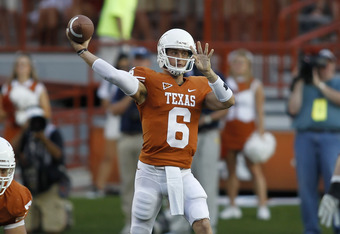 Erich Schlegel/Getty Images
Texas' offense vs Oklahoma's defense
Much like Oklahoma, Texas' offense may not look so hot on paper. They're ranked 45th in scoring offense right now. However, what isn't said is that they're still putting up 33.3 points per game.
These stats are somewhat skewed by the number of teams that have been playing cupcakes up to now and have padded their stats from those games.
The Longhorns have been a strong run team, ranking 20th in the nation and putting up 226.3 yards per game with the run.
The pass game is where Texas appears weakest, ranking 81st in the nation and grabbing just 201.3 yards per game. The Longhorns have been struggling with their quarterback situation and it has hurt them statistically.
Garrett Gilbert struggled to lead the team, completing under 50 percent of his passes and throwing two interceptions to just one touchdown. That's where a lot of the negative stats come from.
However, Case McCoy (younger brother to Colt McCoy) has completed 76 percent of his passes, thrown two touchdowns without an interception and has reignited this pass offense.
Another younger brother of a former Texas star—Jaxon Shipley—is likewise firing up this pass game, pulling down 10 catches for 139 yards and a touchdown. Could it be that McCoy to Shipley will be the most oft-spoken words in Texas broadcasts again?
The Longhorn run game has been the strength while Texas has worked out their quarterback woes, though. Malcolm Brown and Foswhitt Whittaker are both average near-or-above five yards per carry and have combined for four touchdowns. Cody Johnson is less used, but has added four scores of his own to the total.
Oklahoma's pass defense has not been stellar, rankning 96th in the nation and allowing 260.3 yards per game. Their run defense has been a touch better, coming in at 53rd in the country and allowing 132.3 yards per game.
McCoy may find Javon Harris to be a tricky threat as Harris has a pair of picks on the year. Jamell Fleming has also been decent, batting down a trio of passes. The Oklahoma defense has four interceptions and 12 broken passes on the year—not as bad as other stats may indicate.
Ronnell Lewis and Frank Alexander have combined for 7.5 tackles for loss and have provided a tough duo on the line. R.J. Washington joins Alexander with a couple of sacks as well and will test Oklahoma's offensive line.
Still, with the balance Texas is finding on offense, they could be a touch more than the stats would indicate.
Edge is very narrowly in Texas' favor.
Throw out the stats
Having said all of that, throw those stats out the window. This is a heated rivalry game. Anything can happen in these kinds of games.
Oklahoma started the first three weeks as the No. 1 team in the nation. They have played just one ranked team (Florida State) and got a 23-13 victory.
Texas has yet to play a ranked team and struggled to get by BYU 17-16. However, that game was prior to McCoy's emergence at quarterback.
This should be a furious showdown between two fairly balanced offenses and two defenses that are strong, but have certain weaknesses.
Who will come out on top?
Oklahoma is the higher rated team, but Texas is at home. It's a tough call, but I think Oklahoma's experience will trump Texas in a very narrow and tough football game.
Oklahoma 31 - Texas 27