UFC on Versus 6 and Why You Should Give A Damn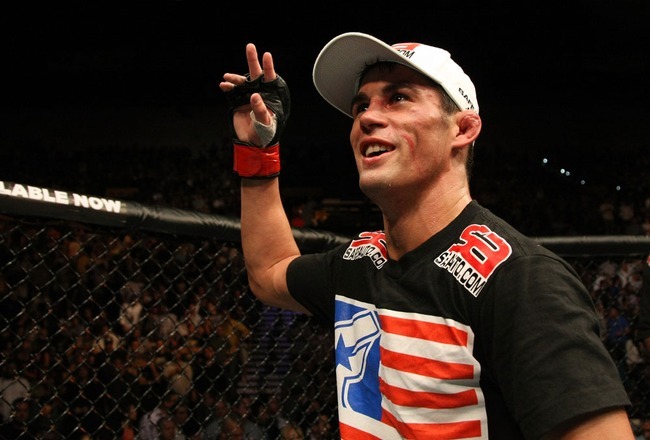 With the featherweight and bantamweight divisions still being sorted out, there are few certainties in a pair of weight classes so young into their development.
There is at least one constant, though: UFC bantamweight champion Dominick Cruz is a damn good fighter.
Saturday will answer the question of just how many people are willing to tune in and watch him.
On the heels of a Fight of the Year contender against Urijah Faber at UFC 132, Cruz goes from headlining pay-per-view to headlining Versus and the champion of just the second UFC title fight to air on free television.
Cruz jousts with Demetrious Johnson in an attempt to shed the label of "that guy who last fought Urijah Faber" and connect with fans in a way few at his weight class have been able to do.
Cruz and Johnson take center stage Saturday, but why else should you give a damn about the UFC's sixth card on Versus?
Can "Mighty Mouse" teach us anything new about Dominick Cruz?
As the UFC's bantamweight division continues to evolve, champion Dominick Cruz is approaching uncharted waters.
A win against Demetrious Johnson on Saturday would mark Cruz's fourth successful title defense and a record-high for any prior 135-pound titleholder under the Zuffa banner. It's been a dominant run too, with wins over Joseph Benavidez, Scott Jorgensen and Urijah Faber; neither of whom were able to establish a clear-cut blueprint on how to flummox the champion.
The 5'3'' Johnson will be tasked with trying to solve the riddle of Cruz, one of befuddling footwork, pinpoint combo striking and a stout wrestling base.
Johnson presents a speed element lacked by Cruz's past few opponents and how Cruz deals with that will dictate his success in this fight. Johnson's striking obviously isn't to the level of Cruz's but he possesses one of the fastest shots in the division.
It's forcing Cruz into a grappling affair that would best suit Johnson, but that's easier said than done as getting a hold of Cruz while at the same time avoiding his myriad of offense has proved a woeful proposition for most.
For whatever technical errors Cruz makes with his head movement and what not, Johnson doesn't appear to have the power to make him pay, nor the strength to grind out the converted featherweight so he'll be relying on the speed of his takedowns, the balance of his top control and his ability to win scrambles as keys to victory.
As dominant as the champ has looked, Johnson brings a skill set with the pacing and physical intangibles that Cruz is yet to experience and as was the case with light heavyweight champion Jon Jones last weekend, I'm curious as to what Johnson can showcase that will give us a better understanding of just how good Cruz is.
Whose glaring flaw will be exploited first?
As fun as these two can be to watch at times, both Pat Barry and Stefan Struve have proven to be very flawed fighters.
For Barry, the image of him tapping to a rear-naked choke, sans hooks, at the hands of Mirko "Cro Cop" Filipovic are as fresh as ever. A ferocious kickboxer by nature, Barry's lack of grasp for the grappling game has hampered his ceiling at heavyweight.
Struve has a physical skill set that should make him far better than his UFC run indicates. Standing 6'11'' with an 84-inch reach, Struve maintains distance as if he were the size of Demetrious Johnson. Still unable to take full advantage of his telephone pole-like limbs, Struve's added propensity to take unnecessary risks on the feet have allowed opponents to feast on his otherwise brittle chin. The outcome has been some of the UFC's more gruesome knockouts in recent memory.
Saturday's co-main event is about who can capitalize on the glaring weakness of the other first, as this fight doesn't appear destined for the scorecards.
Struve won't win a striking battle but the least he can do is not let Barry close the distance as effortlessly as Junior Dos Santos and Roy Nelson managed to. If Barry does, Struve needs to clinch and drag the action to the mat by whatever means necessary.
I'm also curious to see Barry's mindset after the Cheick Kongo loss, as he was knocked out for the first time in his career for being too reckless on his feet.
Does he take a more conservative approach against Struve, sit back and pick apart at the towering Dutchman with leg kicks?
Either way, it should be a doozy.
The Curious Case of Charlie Brenneman
For all the questions and subplots regarding the fighters on Saturday's card, Charlie Brenneman may be the most fascinating of them all.
Seizing the opportunity of a lifetime, Brenneman was the benefactor of the Nate Marquardt fiasco at UFC on Versus 4, filling in as a last-minute replacement against Rick Story and upsetting the welterweight contender with a clear-cut unanimous decision win.
Like some, I'm skeptical of how good Brenneman is and think that his benchmark victory was aided somewhat by Story's inability to adapt to the last-minute opponent change.
Here's Brenneman's chance to silence any doubters as Anthony Johnson is certainly a credible opponent and one that should provide a clearer picture of where Brenneman falls in the welterweight hierarchy.
Game-planning for Brenneman isn't terribly difficult, with his primary objective being to grind opponents out with his tenacious wrestling. Brenneman's damn good at it too, wearing down Jason High and even stealing the first round of his bout with Johny Hendricks before succumbing to strikes.
Johnson's hulking frame will always leave questions regarding his gas tank should a fight of his ever carry on too long and it isn't out of the question that Brenneman's pace and conditioning will zap Johnson as easily as it did Story.
"Rumble" is a solid wrestler in his own right though, with tried-and-true power on the feet, to boot. That's the x-factor and if Brenneman can avoid Johnson's one-hit-quit punches, he can go a long way towards validating the credibility built up after the Story fight.
Showing a little love to the Facebook prelims
If you plan on taking in the full UFC on Versus 6 experience, then you'll be by the computer late Saturday afternoon for the preliminary bouts set to be streamed via Facebook.
There's a bit of star power on these prelims, with the likes of Yves Edwards and Shane Roller looking to bounce back from losses, the UFC return of Josh Neer and the promotional debut of Mike Easton, most famously known for his controversial decision win over Chase Beebe in 2009.
Grappling wins should be apprised of the return of the "Sassangle," as Paul Sass tangles with "The Ultimate Fighter 12" runner-up Michael Johnson. Sass has a bit of a Cody McKenzie syndrome in that he has finished all but three of his 11 opponents via triangle choke.
A master at pulling guard and drawing opponents into his comfort zone, Sass is a very game opponent for Johnson, who unfortunately saddles the guilt by association by having competed on an increasingly-inept TUF season.
Lastly, one fight I'm particularly curious to see is the opener between Joseph Sandoval and Walel Watson; not because I think either of these fighters are an immediate high-level prospect worth keeping an eye on, but as more of a sentimental bias in having seen Sandoval fight live.
A Shark Fights staple, Sandoval's lone fight outside of the popular regional promotion came under the banner of Steele Cage MMA, a small-scale promotion in Frisco, Texas.
Sandoval competed in the co-main event of a Steele Cage card in August 2010 and put on easily the most entertaining show of the night, ripping through Douglas Frey with a second-round TKO behind a flurry of nearly 20 unanswered punches and knees.
I covered the event and seeing Sandoval now with a chance to make it in the UFC, color me curious to see just how far his game has come in a year's time.
This article is
What is the duplicate article?
Why is this article offensive?
Where is this article plagiarized from?
Why is this article poorly edited?