NBA Lockout Blow by Blow: Who's Winning? Who's Losing? What Side Are You On?
September 29, 2011
Neilson Barnard/Getty Images
With the NBA lockout well into its third month and both sides taking a break in this legal slugfest to observe the Jewish holiday this week, it gives us a moment to sit back and take stock of all the happenings so far.  No Lebron James dunks, Kobe Bryant crossovers or Dirk Nowitzki double-doubles. Just the excitement of a two-hour meeting on a Tuesday afternoon in early September.
Stimulating.
Although an agreement seems far off, we are able to discern some points from the discussions that have taken place and see which side seems to be gaining the upper hand.
First and foremost, it is easy to see that the players are more unified than the owners. 
Player Union President Billy Hunter and NBA Commissioner David Stern have both stated that their respective sides both stand as unified fronts and will not be broken.  Reports, however, tell a much different story. 
ESPN broke a story describing dissension amongst the owner in recent negotiations.  The following quote was taken after a meeting on September 14th:
Owners and players initially found reason for optimism during Tuesday's meetings. Commissioner David Stern and Peter Holt, the head of the owners' executive committee, felt that the players' proposal to take 52 or 53 percent of basketball-related income, compared to 57 under the previous agreement, was basically fair, sources said.

Owners were seriously considering coming off of their demand for a salary freeze and would allow players' future earnings to be tied into the league's revenue growth, a critical point for players. The owners also were willing to allow the players to maintain their current salaries, without rollbacks, sources said.

But when the owners left the players to meet among themselves for around three hours, Cleveland's Dan Gilbert and Phoenix's Robert Sarver expressed their dissatisfaction with many of the points, sources said. The sources said that the Knicks' James Dolan and the Lakers' Jerry Buss were visibly annoyed by the hardline demands of Gilbert and Sarver.
While the players seem to hold fast to their central demands, the owners seem to be fighting among themselves. There is an indication that the larger markets are fine working within the present guidelines, simply looking for tweaks in the systems to assure them continuing profits as the league grows.  Smaller markets seem to be looking to completely revamp the system, seeking to artificially create equality within the league.  That faction is a huge check in the players column.
Point- Players
The players are resigned to the fact that they will take a pay cut.
The Players Union had already offered to take a $500 million pay reduction in a new agreement before the lockout started, as long as the system stayed the same:
$500 million pay cut: Players are proposing a reduction of their income by $100 million a year for the next five years. They have made this concession to reduce the percentage of BRI that is guaranteed to them. However, they do not want change to the fundamental features of the current system: a soft cap, long contracts and fully guaranteed deals.
Unfortunately for the players, this is simply not good enough.  The owners, claiming huge losses, are searching for a way to control spending on player salary and a simple reduction in salary will not achieve this goal. There have been many mechanisms that have been conceptualized, but the latest has been to reduce the players' portion of the Basketball Related Income (B.R.I.) by 11 percent and stagger cuts over the next few seasons:
In last week's negotiating session, the owners proposed that the players' share of basketball-related income, or BRI, be sliced from 57 percent to 46 percent, and a source told ESPN.com's Chris Broussard that the players were offered 48 percent of BRI on Tuesday. The owners also want a five-percent reduction on all existing salaries for this season, a 7.5 percent reduction of all 2012-13 salaries and 10 percent reduction of 2013-14 salaries, a source said.
With this reduction would come major changes.  The Mid-Level Exception would be drastically reduced, limiting teams ability to retain players and therefore aid in creating competitive balance throughout the NBA.
The most drastic change, however, could be an adjustment to the "Larry Bird" clause.  This stipulation, allowing teams to exceed the salary cap free of tax, could be limited to only one player per season. The change would be crucial, as large market teams would now have to choose who to keep as opposed to having the freedom to exceed the cap to keep any player they wanted.     
These changes would certainly bring down salaries throughout the NBA.  It seems pretty clear the Players Union knew it could not avoid a major pay reduction.  It seems they will have to take far more than they want to, but seem willing to push the process along. 
Point- Owners
The Luxury Tax would increase substantially.
The NBA does not participate in pure revenue sharing, but it does have a luxury tax system that does collect and redistribute funds through the league.  Teams that exceed the "soft cap" have to pay a dollar for dollar tax that is rolled into an escrow account.  That account is then divided up between the teams that fall below the tax line as a rebate at the end of the season.
The idea is that this tax could severely increase in new collective bargaining agreement.  This would seem like a non-issue for the players and a major minus in the owners' column.  Looking deeper, however, it would be a major win for the owners.
This entire lockout is predicated on team owners creating safeguards against their own bad investments.  An increased tax would give bigger markets a reason to think twice before exceeding the tax limit. 
Imagine a $2 tax for every $1 over the cap.  That means if you decide to sign Joe Johnson to a six-year deal and his new contract pushes you over the cap by $2 million each season, that contract would cost your organization an additional $24 million over the life of the contract! 
That kind of investment is reserved for the players that would yield you a huge return.  Quite honestly, there are not that many players in the NBA that are able to generate that kind of revenue.  On top of that, there is a huge incentive now to stay below that cap, as your rebate has now doubled from the previous agreement.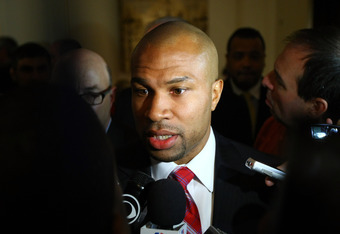 Neilson Barnard/Getty Images
Point- Owners
The results are  elementary, but two usually beats one where I'm from.
The reality is that billionaires typically beat millionaires in a labor disputes.  The players knew going in that they would have to make concessions to continue to prosper in this booming industry.  The players, however, are not relenting on their core issues and seem to be wearing down Stern and his bosses. 
September 30th will be a critical point, as the Commissioner is expected to wield his most powerful weapon. All point to David Stern threatening the cancellation of the entire season this coming Friday.
Let's just hope this does not signal a technical knockout of the 2012 season.