Washington State: Can the Cougars Make a Bowl Game?
September 28, 2011
Ezra Shaw/Getty Images
Go ahead. Make your jokes. After all, Washington State has become a national punchline.
At least, they would be if anyone even paid them any attention.
Their last winning season came in 2003, a 10-3 campaign which ended in a victory over Texas in the Holiday Bowl. In 2002, Washington State played Oklahoma in the Rose Bowl.
It's safe to say that Texas and Oklahoma have had different levels of success than Washington State has since then.
The last three years, all under Wulff, have produced a combined five wins (two of which were against FCS opponents). The five wins over the past three years is by far the lowest out of BCS teams. Think of any awful team in the BCS that you want, and I can tell you they've been twice as good as Washington State. That's because the next fewest wins over the same stretch is Vanderbilt, who has eleven, and plays in a much harder conference.
But something happened last season that the Cougars have started to build off of. They stayed competitive in games.
Consider this: From Week 3 to Week 8, Washington State went 5-1 against the Las Vegas spread. They were more than three touchdown underdogs in every single game.  Despite this, they lost to UCLA by 14, Oregon by 20, Arizona by 17, and only lost to Stanford, in Palo Alto, by 10.
If there was ever a team and a time to take some solace in "moral victories," it was the Cougars last year. They're close efforts were finally rewarded at the end of the season, when they demolished Oregon State. They played tough once again in the Apple Cup against Washington, but came up just short thanks to a last second Jake Locker TD pass.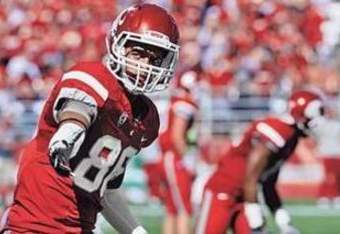 Now, the moral victories are turning into real victories. The Cougars have started 2-1. First, a 64-21 win over Idaho State, and then a 59-7 win over UNLV.
Do those scores jump out at you? They should.
Washington State is fourth in the nation in passing yards, and fifth in the nation in scoring. Even more surprisingly, this is all coming without the help of what was thought to be their best player.
Early in the opener, QB Jeff Tuel suffered a broken clavicle. Last year, Tuel threw for 2,780 yards and rushed for another 459. When he went down, visions of another one or two win season danced flashed in the eyes of Cougars fans.
Entered backup QB Marshall Lobbestael. He has been more than effective; throwing for 959 yards, 10 touchdown and two interceptions.
His favorite target? Sophomore Marquess Wilson, who only had six catches against SDSU...for 236 yards! Last year Wilson was named a first team freshman All-American, thanks to his 1,006 yards and six touchdowns. This year, he already has four touchdowns, and is on pace to shatter last year's receiving total. 
While the offense has been clicking, the defense may remain a concern. Two weeks ago against San Diego State, the Cougars surrendered 500 yards and 42 points. So while Lobbestael threw for 368 himself, the Cougars 24 points wasn't enough (they lead going into the third quarter).
Nevertheless, it has been a positive and encouraging non-conference season for Wazzu. Now, the $64,000 question is how they will fare in Pac-12 play.
There's no reason to think they can't be successful. They have four road games, four home games, and one neutral game, and they avoid USC and Arizona from the South. It would set up better for them if they played their easier opponents at home, and their tougher opponents  on the road, but it seems to be the opposite (they travel to UCLA, Colorado, Cal, Oregon and host Washington, Utah, ASU, Stanford and Oregon State [at Qwest Field]).
But the thing to remember is that they have looked good early on. They have looked better than Oregon State, and as good as UCLA and Colorado. Why can't the Cougars travel to the Rose Bowl and put up big numbers on UCLA, the same way in which Texas and Houston did?
Before we get crazy, a few things need to improve for the Cougars. A more consistent running game is needed, as the Cougars have only been rushing for 159 yards per game (which is an improvement over last year). 

Secondly, the Cougars need to limit turnovers. They were down three halfway through the fourth to SDSU when they fumbled in Aztecs territory (they had four turnovers on the day). Two plays later, the Aztecs scored to put the game out of reach. And finally, the defense needs to continue to improve. The Cougars are only starting two seniors on defense, so they are young, but full of potential.
All of these things are in the process of occurring though. They have two wins already, and three winnable games in the next month (at Colorado, at UCLA, and Oregon State). They will have to continue to improve to win all three, but if they do, they could be sitting on five wins with five games to go. After that, they'll only need one break to become bowl eligible.
My prediction? I think Wazzu wins five games. Next year, with a potentially healthy Tuel, Wilson and more experienced backs, along with a defense that will most likely return eight-plus starters. The Cougars will be in great shape for a bowl bid. Cougars fans should be happy with the way Wulff is building the program back up from the desolate areas it was in in recent years.