TUF 14: Team Bisping vs. Team Miller Live Results and Analysis, Episode 2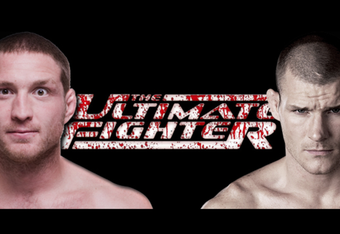 The Ultimate Fighter 14: Team Bisping vs. Team Miller got off to a roaring start as the first episode delivered some of the most polished and exciting fights we've seen on the show.
The franchise will try to keep that momentum going this week as the fighters move into the house and one more competitor gets eliminated. Of course, that's no easy task as Episode 1 set the bar pretty high, delivering 13 stoppages against only three decisions in the 16 elimination bouts.
And we're not talking your garden-variety, ho-hum stoppages either.
Josh Ferguson delivered a crushing TKO in only 14 seconds, Diego Brandao authored a pure knockout in only 47 sweeps of the second hand, Dennis Bermudez came back from the brink of defeat to best Jimmie Rivera via second-round TKO and Marcus Brimage registered a standing TKO of the hard-headed Bryson Wailehua-Hansen.
Meanwhile, Akira Corassani blasted the equally rugged Brian Pearman before ranting about being "from the streets" and immediately endeared himself to Jason Miller by squirting water in Mayhem's direction, much to the coach's amusement.
The submissions weren't quite as eventful, but keep an eye on Roland Delorme, who looked dangerously fluid on the ground, and Steven Siler, who upset the heavily favored (if Vegas released odds on TUF elimination bouts) Micah Miller.
All in all, it was a thoroughly satisfying two hours that are gonna be tough to beat.
Luckily, we've got Mayhem Miller and his equally volatile counterpart, Michael Bisping, matching "wits" plus a whole house full of high-energy scrappers to keep us entertained even if the fight action fizzles. Thankfully, the latter doesn't seem like much of a possibility after the first episode appetizer.
Regardless, tune in tonight at 10 p.m. ET / 7 p.m. PT for the second installment of TUF on Spike TV, and follow along with Bleacher Report as we live blog all the antics.
That wasn't a bad encore after such a triumphant debut. The show had some meat to it, culminated in a decent fight and set a more reasonable pace for the rest of the season.

Looks like the shenanigans start up in earnest next week so be sure to check back in next week. Same place, same time.
That was one hell of a pep talk from Coach Bisping—let's just say his strength lies in strategy rather than motivation and move on.
Tough to see a guy's legs thrashing around while he's tapping to a choke. I don't imagine that's the way any warrior wants to go out.
Bryan looks severely gassed at this point and that forces him to strike briefly before scoring a nice trip to get the fight back where he wants it: on the mat.

From there, he takes Marcus' back and sinks in the rear-naked choke.

Game. Set. Match.

And score another for the wrestler.
Marcus comes out looking to strike aggressively and he has some success, but he's WAY too out of control and Caraway inevitably drags the festivities to the ground.

Caraway takes his back momentarily before losing position altogether and we're back on the feet where Bryan is as vulnerable as he is impervious on the canvas.
Ahhh, Arianny Celeste.

How's a man supposed to concentrate with her around?
Bryan Caraway is ALL OVER Marcus Brimage on the ground, easy 10-9 round for Team Miller's guy and he'll win the tussle in a walk if he can secure another takedown.
Caraway is doing just enough to maintain his dominant position, but give Brimage credit for trying to strike even from a supremely compromised spot. Granted, that's not what Bisping wants him to do.

But who are you gonna trust, me or Michael Bisping?
Brimage is putting up an honest fight, but he looks outgunned in the grappling department. So much so, in fact, that Mayhem Miller takes time out from his coaching to deliver a cross-cage barb to Bisping, incredulously pointing out to Caraway that Marcus is "having Bisping coach him on grappling right now!"
Caraway eats a punch coming in for the takedown, but he secures it with relative ease and has Brimage in his world now. Marcus is trying to get up, but his prospects for completing the feat aren't too good as Bryan has him against the bottom of the fence.

Oops, now Caraway has Brimage's back and is working for the rear-naked choke with a body triangle locked in. Not good for Marcus.
Damn, Brimage is quite a bit shorter than Caraway and is giving up even more reach. That could be a problem for a guy who seems to have only striking in his arsenal.
Brimage says Caraway looks scared and he's right, but Bryan has already admitted to that frailty. Furthermore, Marcus doesn't look like he's out there without a care in the world and that's at least superficially disturbing considering how easily he claimed he'd emerge with the victory.
"He's nothing."

When one fighter says that about another as Brimage just did in reference to Caraway, it makes me think the utterer is sincerely worried that he's trying to convince himself that he is the superior gladiator.

I mean, it's just too obvious that nobody at this level is "nothing." Even the cans are in the UFC for a reason.
In listening to Brimage describe himself as such a unilateral striker and Caraway talking about how winning is the only thing that matters, I think I'm gonna have to side with Bryan on this one.

Something tells me Marcus is gonna leave himself open for a takedown and it's gonna be all she wrote from there.
Bryan Caraway is quite the chatter box when he's nervous, it would seem. Unless it's common practice for fighters to inform each other how much saliva they're working with before a fight.
Does floating an air biscuit in the middle of his pre-fight hype reel make Marcus Brimage more or less intimidating? I say less.

But that's definitely something the TUF audience hasn't seen or heard.
Actually, Mike, that door is still pretty firmly on its hinges.
Oh yeah, this is gonna be a great season.

How can it not be when the Count calls Team Miller childish right after his team's sing-along during the weigh-in?

That sort of delusion guarantees must-see television.
Uh…that was one of the more bizarre square-offs I've seen.

Felt a little too orchestrated with Akira Corassini starting up the chant, Team Bisping stomping along and then Brimage stealing it with that overwrought scream into Caraway's grill.

And at what point is it no longer OK to nickname every black fighter "Darkness?"
See? Now th.at is a good prank—the oversized tires in Team Bisping's changing room create a minor hassle without catastrophic damage or embarrassment.

And Miller seals it with a pun, good stuff.
Man, Caraway's honesty really knocks me off kilter. I'm so used to competitors puffing out their chests and giving themselves over to bravado without abandon, but Bryan cops to seeing a sports psychologist, to being a regular person and to being scared all inside of about five minutes.

Crazy.
Look how far I've come and not how far I have to go—I like that.
There's a nice moment of irony—Mayhem Miller calls Bryan Caraway a "head case." Well, if anyone would recognize one, it would probably be a guy nicknamed "Mayhem."

To his credit, Miller didn't appear to be using the term in a negative sense, but make of that what you will.
Yeah, cutting weight seems pretty awful—that salt bath to hot bed combo is unpleasant. Baths and beds are supposed to be relaxing (or fun depending on the, ahem, the circumstances).

Marcus is experiencing neither.
Jesus, Marcus has to cut from 157 pounds to 145 in only a few days? Damn, that can't be easy or good for your body.
This article is
What is the duplicate article?
Why is this article offensive?
Where is this article plagiarized from?
Why is this article poorly edited?