Purdue vs. Notre Dame Football: Will Purdue Be Able to Stop the Irish?
September 27, 2011
Jonathan Daniel/Getty Images
Purdue and Notre Dame are set to do battle once again this Saturday for the coveted Shillelagh Trophy and in-state bragging rights.
Notre Dame currently holds the series advantage 35-19 and have not been defeated by the Boilermakers since 2007.
Both of these teams have struggled this season with the Irish starting 2-2 and the Boilermakers 2-1 with a close win against Middle Tennessee State and a loss to Rice.
It is obvious that there is a serious talent advantage for the Irish, but anything can happen in an in-state rivalry and the Boilermakers are coming off a shutout against SEMO.
The one thing that might hold back the Boilermakers is their offense.
Purdue has had difficulty scoring when it mattered. Against Notre Dame they need to have no hiccups on the offensive side of the ball and be able to move the ball and get first downs. 
Third downs are going to be very important as well, as the Boilermakers have struggled getting key conversions.
Basically, Purdue needs to play a perfect game and the stars need to align for the Boilermakers to come out on top here.
They will need tremendous support from the crowd and the atmosphere at Ross Ade Stadium must be deafening.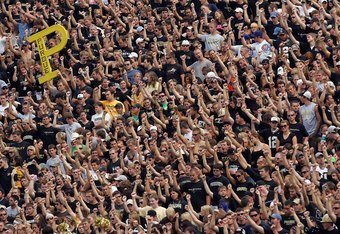 Ronald Martinez/Getty Images
As likely as it may seem that the Boilermakers can pull this one out against an average Notre Dame team, it is a very slight possibility.
If Purdue can get out and make this one close until the second half, they will have a shot.
Although the chances may be slim, make sure to come out and support the Boilermakers. They will need every fan they can get to help them beat the Irish. 
So to answer the question, can the Boilermakers beat the Irish? Yes, but whether they will is yet to be determined and could possibly save Danny Hope's season. 
James Evens serves as a National Featured Columnist for college football and basketball as well as the FC for the Purdue Boilermakers.   Follow him on Twitter or like him on Facebook.