Peyton Hillis: Has Madden Curse Already Struck Cleveland Browns Superstar?
September 26, 2011
Matthew Stockman/Getty Images
I'm not one that generally believes in curses and things of that nature, but even I have to admit that the "Madden Curse" that falls over players that appear on the cover of the popular EA Sports video game is eerie.
The curse seems to have struck again. Peyton Hillis of the Browns has already suffered an illness that caused him to miss a game, just over a month after the game which bears his likeness on the cover was released.
Before we get to HIllis, let's recap all the victims of this curse.
In 2001, Eddie George appeared on the cover and never averaged more than 3.3 yards per carry again.
In 2002, Daunte Culpepper was on the cover just before he threw 23 interceptions and broke the single-season record for fumbles.
In 2003, Marshall Faulk was on the cover and never rushed for 1,000 yards again. He was retired within two years.
In 2004, Michael Vick was on the cover. He suffered a broken fibula in a preseason game and his team, the Atlanta Falcons, went 5-11.
In 2005, Ray Lewis, that year's cover, suffered a broken wrist in Week 15.
In 2006, cover boy Donovan McNabb suffered a sports hernia, a torn meniscus and a torn ACL.
In 2007, Shaun Alexander, that year's cover, suffered a foot injury that cost him several games.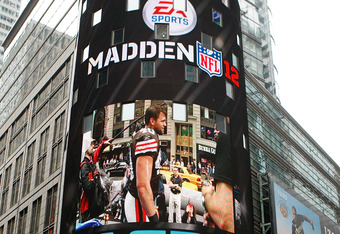 Mike Stobe/Getty Images
In 2008, Vince Young was on the cover. He publicly said that he was not afraid of the curse. In that season, he suffered a knee injury and was replaced by Kerry Collins for the remainder of the season.
In 2009, Brett Favre was on the cover just before he led the league in interceptions with 22 as a member of the New York Jets. Favre had also been battling a biceps injury for much of the latter part of the season.
In 2010, Madden had two separate covers. Larry Fitzgerald managed to have a healthy season, but Troy Polamalu missed much of the first four games of the season with a sprained MCL.
That's what we call overwhelming evidence.
To be fair, the odds were already stacked against Hillis having another season like 2010. His success last season was largely based on the sheer volume of carries he got. Now that Colt McCoy has another year under his belt and the talent on the team increases, it's not hard to imagine him taking a step back.
Hillis is still more than capable of having a successful season. He has only missed one game so far and he is still very much the focal point of the Browns' offense.
It's only one game missed, but I think it still qualifies. The Madden curse has struck again.