Redskins vs Cowboys: Predicting Final Score for Monday Night Football
September 26, 2011
Jed Jacobsohn/Getty Images
Tonight, the Dallas Cowboys host the division rival Washington Redskins in a battle that will likely have an impact throughout the season in both teams' pursuit of the NFC East title.
Cowboys quarterback Tony Romo is slated to play just a week after suffering a broken rib and punctured lung in his team's overtime win against the San Francisco 49ers.
Romo left that game and then returned to lead his team to victory, and was in significant enough pain after the fact to be questionable heading into tonight's contest.
He will be taking the field against a Redskins defense looking to inflict further injury upon his ribs; in fact, cornerback DeAngelo Hall has said just that.
Keeping Romo protected and upright will be a major task for his young offensive line. Certainly, this is a lot of pressure on a quarterback who has single-handedly been responsible for his team's one loss and one win thus far this season.
In contrast, Redskins quarterback Rex Grossman has been coolly leading his team to a 2-0 start. Combining the efficient passing game with productive running backs Tim Hightower and Roy Helu, and undefeated Washington has become one of the surprises in the league.
However, the Redskins have been extremely lucky in their two wins. In Week 1, they dispatched an injury-depleted New York Giants squad that had yet to find its identity, and in Week 2 pulled out a last-minute 22-21 win over an Arizona Cardinals team with one of the worst defenses and most disappointing offenses in the league.
This week will prove to be a much greater test for the Redskins, especially against the Dallas defense. The Cowboys have allowed the fifth-fewest yards and are in the top three of defenses against the run. Hightower and Helu will struggle to gain significant yardage tonight.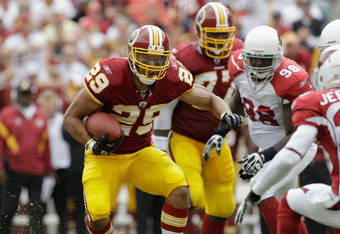 Rob Carr/Getty Images
The game will likely hinge upon the passing skills of Romo and Grossman. Romo will be limited not just by his injury, but by the absence of wide receiver Miles Austin, who hurt his hamstring in Week 2.
While Dez Bryant will likely be on the field and a major target for Romo this evening, the receiver won't be playing at 100 percent, and the possibility of re-injury does linger.
This means a number of Cowboys receiving targets not named Austin or Bryant will need to step up and make plays if Dallas wants to emerge from this contest victorious.
Grossman will have to evade what is guaranteed to be a heavy amount of pressure from the Dallas pass rush. The last thing that the Cowboys want is to go 1-2 in a such a difficult division, and to do so at the hands of the rival Redskins. Look for the Dallas defense to turn up the heat considerably tonight.
For that reason, I believe that the Cowboys will emerge victorious in a close contest. While the Redskins have impressed thus far, I think the team will be exposed as a weaker contender than they've seemed through the first two weeks, and their brief undefeated streak will end.
Final score: 28-24, Cowboys.