Justin K. Aller/Getty Images
September 26, 2011
With the move of the Atlanta Thrashers to Winnipeg, the realignment debate has began in full force.   he NHL is currently planning on having whatever changes are made announced by December.
The Detroit Red Wings have lobbied in the past to make the move to the east.  
Many assume that a simple one for one swap is Winnipeg moving to the Western Conference and one team going to the East.  Detroit, Nashville and Columbus are each lobbying to be the team that moves east.
In the end we are bound to see a major upheaval in how the teams are split. 
NHL Commissioner Gary Bettman has recommended a complete shift in how the league is set up.  As reported in the Ottawa sun, he would like to go to a two conference, four division setup.  Detroit and Columbus would go east in this format.
There is one other issue out there that could still throw a wrench into the realignment talks and that is Phoenix.   The franchise has gone through bankruptcy and is looking for a new owner to step in.  Chances are a new owner will also mean moving the team.  Two popular locations that are being talked about are Quebec City and Hamilton Canada.  If that were to happen, then it would make for the easy one for one swap with Winnipeg.
Just in case it does become a one for one swap, here are the main reasons why the Red Wings should be that team as well as a few issues working against them.
The travel
The Red Wings, year after year, rack up more miles than other teams in the NHL. 
More travel means more money spent. 
The NHL needs to look out for the financial interest of teams and helping a team lower their travel cost is a no brainer.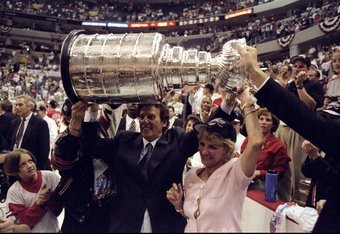 Robert Laberge/Getty Images
Rivalries
While many rivalries come and go, some last for decades. 
The Detroit- Colorado was a very heated and fan attracting rivalry in the 1990's, but that has long cooled off. 
Chicago and Detroit are rivals but that is about it. 
In the east, the Wings would be back with the Original six teams; Montreal, Boston, New York Rangers and most of all Toronto.  We could also mention Pittsburgh, as that is now a rivalry.  Now it could be short lived like the Colorado or stand the test of time.
The Promise
The Maple Leafs made the jump years ago.
Detroit owner Mike Ilitch appears to have taken one for the team when the Wings stayed in the west. Rumors have bantered about over the years that he was promised a move to the east at some point down the road.  That promise is denied when asked about on record but chances are there was some back room agreement and the time to pay up is now
TV Time
The Wings are one of the highest rated teams on TV every year.  This is despite so many of their road games being two or three time zones away from their fan base.  With games that can start at 10pm or later imagine how much better their TV ratings would be if they were able to lower the number of west coast games they were forced to play. 
A better TV rating means more money, which is what these teams are meant to do.
Now of course there are those that do not want Detroit to move.  We can't talk of them moving without looking at the other side.
Proximity
In a simple swap, Columbus is closer to the Southeast Division's region then Detroit.  Although the difference is minimal, if we look at a purely geographic setting then Detroit wouldn't move over Columbus.  Plugging a team into the hole that Atlanta/Winnipeg is leaving would be the easiest for the NHL.
Road team
 The Wings are a great road team.  Not only do their fans travel well but teams are able to sell more tickets when the Wings are in town. 
They are the New York Yankees of hockey, love them or hate them, people will come to watch them.  The extra fans in the seats means more money for those teams.  Now it could be argued if Detroit coming to town a couple times a year could make or break a team, then they have much bigger problems.
The East
As teams will have a voice in what moves need to happen, one would have to think that the East would want no part of the Wings.  In Detroit they have a team that has been in the playoffs for over 20 straight years.  They also have played for six Stanley Cups and won four of them over that time span. 
If you agree on a team to join would you really want a top tier team that would make it more difficult for your own team?
In the end there are plenty of reasons to move or not move the Red Wings. 
The best option however is a complete reorganization of the NHL. As part of that, the Red Wings would move to the east along with Columbus.  Perhaps there ends up being a 16 team east versus a 14 team west. 
Regardless of what happens the NHL will look different next season.
http://www.ottawasun.com/2011/06/22/nhl-maps-out-major-changes
Like the new article format? Send us feedback!