Detroit Lions: Should We Really Be Surprised the Lions Are 3-0?
September 25, 2011
Adam Bettcher/Getty Images
It wasn't easy, but the Detroit Lions walked off the field in Minnesota with a 3-0 record for the first time since 1980. 
Think about that.  31 years have passed since the Lions last started a season with this much success.
On the surface, facts like that make it easy to call their start "surprising." A team that couldn't even win its first three games for more than three decades has no business sitting as one of the league's handful of undefeated teams. They're supposed to be wallowing in Matt Millen's discarded pile of wide receivers or deciding which of their cornerbacks would make the best turnstile. 
Instead, they're in position to be tied for the lead in the NFC North with the defending Super Bowl champs. At worst. 
Still, the real shock here is that we shouldn't be surprised by their hot start at all. This team has been building the right way for three years now. Head coach Jim Schwartz and general manager Martin Mayhew have plucked top-tier talent from the top of the draft, spent late-round picks wisely and invested in free agents who are comfortable and familiar with their scheme.
They have the all-important franchise quarterback in Matthew Stafford. They have a dynamic, playmaking runner in Jahvid Best and the most talented receiver in NFL history in Calvin Johnson. The defensive line, once the butt of league-wide jokes, is now bubbling over with dangerous names like Ndamukong Suh, Kyle Vanden Bosch and Lawrence Jackson. Rookie Nick Fairley hasn't even seen the field yet.
Even the offensive line is playing well, which, on the surface, might seem like the most surprising aspect of their 3-0 start. At least, until you realize that their play in 2010 was far better than advertised, finishing sixth in the league after giving up only 27 sacks.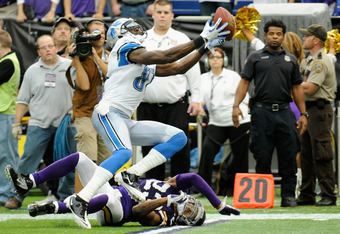 Hannah Foslien/Getty Images
It's OK to admit that the sturdy play of the defensive back seven is somewhat new, but even that happy storyline shouldn't cause too many gasps if you follow football closely at all. Teams with strong offenses can take early leads, forcing their opponents into frenzied passing attacks. When your defensive line is as talented as Detroit's, it becomes almost simple to ease the load on your secondary. Especially when you can pin your ears back and be confident that your opponent will throw the ball.
At this point, if you've been paying attention, nothing about the Lions' sprint to 3-0 should be surprising. Their first three games were overrated contests against a middling Tampa Bay Buccaneers team, the crumbling Kansas City Chiefs and the dismal Minnesota Vikings, and their roster is as stocked from a pure talent standpoint as anyone's in the NFL.
No, at this point, the only surprise the Lions could provide would be failing to finish with a winning record.
What a difference 31 years makes.