Jon Jones vs. Cain Velasquez and Other Fights That Would Be of Epic Proportion
September 25, 2011
MMA fans love to cut to the chase. 
If they feel a fight needs to happen, whether right now or in the near future, they want it and are more than comfortable with expressing their impatience. Good things come to those who wait, but we live in an instant gratification world and we want what we want when we want it. 
Dana White is usually pretty good about giving his fans what they wants, but he is also a smart business man and knows there is more to meets the eye when it comes to giving us every super fight we want. 
Case in point: Why has GSP vs. Anderson Silva not happened? It is not as simple as it would seem. 
With that said, let's take a look at some epic fights that eventually need to happen depending on how the MMA match making landscape plays out. We will break it down based on listing a particular fighter and all the possible super fights we'd love to see. 
Let's start with the man of the hour.
Jon Jones vs. Cain Velasquez: Eventually Jones will move up to heavyweight, right? Maybe he will just take one off fights like Anderson Silva while holding onto his light heavyweight belt or perhaps he may or may not ever move up like GSP.
Only time will tell but how epic Jones vs. Velasquez would be if they fought each other while champs in their respective divisions. The most similar scenario was when then lightweight champ BJ Penn moved up and took on GSP for his welterweight belt. BJ got beat down: Would Jones suffer the same fate?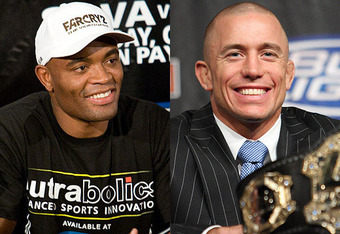 Jones vs. JDS/Alistair Overeem/Brock Lesnar: If Jones did not get an immediate title fight with Cain Velasquez, and we aren't specifically saying he should, then there are plenty of compelling matchups. Could JDS and Overeem out-strike Jones? Could Lesnar man handle him and take it to the ground? Who knows—but it sure would be fun to find out, right? 
Jon Jones vs. Anderson Silva: Yeah, this fight should happen. But for some reason Manny Pacquiao vs. Floyd Mayweather seems more likely, but stranger things have happened. Would Silva knock out Jones before "Bones" took the "Spider" to the ground and squashed him with hell-bows?!
Moving on to the greatest MMA fighter of all time, what are our fantasy matchups for Anderson Silva?
Pretty much everyone that applies to Jones (see above) applies to Silva, including Jones vs. Silva.
The one addition to the list is GSP and since that fight had been waxed and waned about poetically for way too long, we won't beat a dead horse. If Silva isn't going to move up in weight and fight the best at light heavyweight and heavyweight, then let's book this super fight and put it in Dallas stadium which is somewhere between Canada and Brazil. With that said, don't hold your breath this fight happens.
So outside of a fight involving Jon Jones or Anderson Silva what other super fights are out there?
Cain Velasquez-Junior dos Santos (booked for UFC on FOX 1) winner vs. the Brock Lesnar-Alistair Overeem (booked for UFC 141) winner.
It has pretty much been decided that the winners will face off creating what will be the biggest heavyweight title fight in UFC history in the first half of 2012 and likely crown "the greatest heavyweight fighter of all time" depending on who wins out. 
So what else is on your list?