Jon Jones Timeline: What We Can Expect in 2012 and Beyond
Photo Props: MMAJunkie.com
Jon Jones has been hyped for a while now as the "future" of MMA and last night he firmly solidified himself as the "present" too.
So what do the immediate present and future have in store for quite possibly the best fighter in the sport right now (no offense to Anderson Silva or Georges St-Pierre, Cain Velasquez or Jose Aldo).
Lets take a look, shall we?
Begin Slideshow

»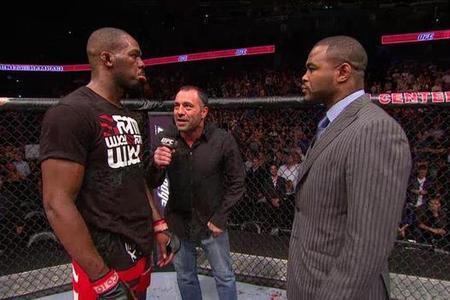 If you were watching UFC 135 last night then you obviously know that up next is a fight between former friends and training partners. After the fight between Jones and Rampage was over, the UFC brought in Rashad Evans for a post-fight interview and Jones was none too happy about it.
There was an awkward verbal exchange between Jones and Evans before "Bones" walked off to leave Evans and UFC commentator Joe Rogan talking to finish out the broadcast.
Evans had a cast on his arm and there was speculation that Jones sustained some damage, possibly before coming into the fight, so dont expect this fight to happen anytime soon unless both are given a clean bill of health sooner rather than later.
Let's speculate and say that this fight happens in February: a great even would be the annual fight card that takes place the night before the Super Bowl.
Early Breakdown and Prediction:
Rashad Evans will be the most complete MMA fighter Jon Jones has faced; plus, let's give Evans the advantage over Jones when it comes to getting in each other's heads. Rashad is the big brother here, albeit the smaller man physically. Evans has a good shot of taking Jones into deep waters and possibly tiring Jones out where Rampage was unable to do so.
Evans also has great speed, footwork, and is integrating his stand up game and wrestling very well. He also has power in his hands and feet and it's conceivable that he could T(KO) Jones, whose chin has never been tested. Evans is a lot more cage savvy too.
Despite all the things Evans has going for him, it is hard to imagine Jon Jones losing and his combination of youth, athleticism, confidence, size, wingspan, and creativity coupled with explosiveness, an unlimited amount of tools in his belt, and a hellacious combination of wrestling and vicious elbows from the top position means Jones wins this fight by however he wants.
Photo Props: MMAValor.com
With our speculation that Jon Jones will beat Rashad Evans, let's continue our timeline. It has been put out there the Dan Henderson-Shogun Rua winner will most likely get the next title shot, putting them in line to face Jon Jones should he in fact beat Rashad Evans.
So first we have to pick a winner for the Hendo-Shogun fight.
Early Breakdown and Prediction for Dan Henderson vs. Shogun Rua
Henderson is coming off a HUGE win over Fedor while Shogun looked impressive over Forrest Griffin at UFC 134. Both will be coming into this fight with momentum and with the added motivation of a title shot being on the line, look for both to be in top shape. This fight will come down to styles, and Hendo has a style that will be hard for Shogun to deal with.
The combination of his greco wrestling, KO power and ability to scramble/transition well in any situation will give Hendo an advantage over a dangerous Shogun. Hendo has never been stopped in his career—only losing via decision—and neither will happen here as Dan Henderson earns a title shot by beating Shogun Rua.
Early Breakdown and Prediction for Jon Jones vs. Dan Henderson
What a fight. Who would have thunk the 40-year-old Hendo would be back in the Octagon and challenging the 24-year-old prodigal son of MMA? Jones will have to be very leery of the big power that Hendo possesses in his hands: if Hendo touches the chin of Jones it could be game over. Jones will have to be cautious here and use his wrestling to get Hendo down—no easy task—and unleash some vicious ground and pound that could result in the first TKO loss ever for Hendo.
Hendo could also possibly give up his back and get submitted by near naked choke as he has done to Anderson Silva and the Nogueira brothers. The longer this fight goes, in theory, the better for Jones who can use his size, and leg kicks, to chop and wear down Hendo. Jones finds a way to win and defends his belt for the third time.
Note: With Jones vs. Evans having (remember, this is all somewhat educated speculation) fought back in late February, expect Jones vs. Henderson to happen in the summer of 2012. Possibly on the annual May 30 Memorial day fight card OR the annual 4th of July fight card. Either would be the perfect event to feature this title fight, and since we are totally speculating, it would be fun to see it headline the numbered event of UFC 150.
Photo Props: MMAWeekly.com
Are you still with us? Continuing on our theoretical timeline... what could the second half of 2012 have in store for Jon Jones, as he has already dispatched both Rashad Evans and Dan Henderson?
Other faces that could emerge as a legitimate light heavyweight threat: Lyoto Machida is a name that people threw out there as someone that stylistically could give Jones fights. Do we still feel that way?
Perhaps Phil Davis will have evolved to the point of being such a complete MMA fighter that he could be the man to dethrone the man.
Another name that could be very well in the mix a year from now is Alexander Gustafsson.
Who else is on your radar as someone that could be a viable threat to Jon Jones in the fall of 2012?
Beyond fights with Rashad Evans and the Dan Henderson-Shogun Rua winner, we don't really know how long Jon Jones will defend his belt at light heavyweight. If Anderson Silva and GSP are to be used as case studies, it could be awhile.
It seems the UFC does not like to let a dominant champion just totally vacate a division and leave it in a vacuum where the next champion would be a "paper" champion.
Anderson Silva has gone up in weight and taken two fights at 205 lbs.—James Irvin and Forrest Griffin—but has never actually, and probably never will, fight for a light heavyweight belt. He has mostly continued to defend his middleweight belt in violent fashion.
As for GSP, he continues to rack up title defends at welterweight and we don't know when he will move up to middleweight at some point, if ever.
Perhaps Jon Jones will take more of the B.J. Penn route; he moved up to take on GSP in a welterweight title fight—albeit unsuccessfully—while still having possession of his lightweight belt. BJ Penn had previously won the welterweight belt when he stunned Matt Hughes.
Randy Couture is another champ who moved up and down in weight classes to successfully wear gold in two divisions.
But the path Jon Jones is on is more akin what GSP has done, mostly dominating his weight class from the get-go. Will GSP move up to middleweight? Will Jon Jones move up to heavyweight?
Only time will tell. For now we just get to sit back and watch it all unfold before our MMA-lovin' eyes.