United States Soccer: Why Seattle May Be the Answer to the Nation's Problems
September 25, 2011
A. Messerschmidt/Getty Images
United States Soccer is in need of some maintenance. With the sacking of coach Bob Bradley, President Sunil Gulati showed the nation that he has high expectations of the program. Jürgen Klinsmann has been brought in to restyle, and revamp how America plays the game. He has been brought in to give American soccer a presence, a notable distinction, to help send out a global message that American soccer is on the rise.
However, in order for Klinsmann and US Soccer to realize President Gulati's dream, there is one critical decision that needs to be made. The US Soccer governing body needs to appoint a city to be the capital of soccer in America.
Once the US completes their upcoming fixtures against Honduras and Ecuador, on October 8th and 11th respectively, they will have played their last 14 games, at an incredible 13 different venues. Compare this to England, who have played all of their home matches of 2011 at the same venue, Wembley Stadium.
Granted, the United States is a much larger nation than England. However, if American Soccer is to become the world presence that we all want it to, we need to set one city and one venue, to become the home for all of US Soccer's competitive matches. That city should be Seattle.
The Seattle Sounders FC boasts Major League Soccer's most impressive attendance, with an average of 37,061 attending each match. That outnumbers the next closest team (the LA Galaxy) by 14,010. The city has already demonstrated a love and passion for soccer that would be expected of a soccer-capital.
Seattle's climate would be an added benefit to the US. Both Seattle and England have a Coastal-Marine climate. This type of climate is ideal for the type of expansive, free-flowing football that Klinsmann wants to play. The frequent precipitation provides a slick, quick-moving pitch, ideal for the passing that the German tactician's style requires.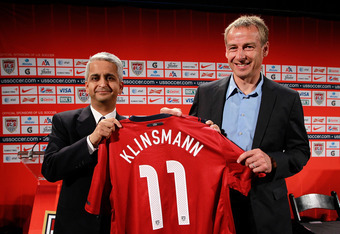 Chris Trotman/Getty Images
While soccer enthusiasts around the nation might be disappointed, this would not mean the end of US Soccer playing games across the nation. The United States still could, and should, play friendlies in all parts of the nation.
Some might argue that a more high-profile city, such as Los Angeles, would be a more ideal home for soccer in America. The main problem with Lost Angeles was illustrated most prominently, in this year's Gold Cup Final. The United States took on Mexico in the biggest tournament since the 2010 World Cup.
The game was played at the Rose Bowl, and for all intents and purposes, the game took place in Mexico. The fans were overwhelmingly in favor of Mexico, cheering every pass, every shot, and every goal. In Seattle, the US would not only have a crowd majority, but they would have a strong supporter pool, which is critical when playing  quality teams like Mexico.
While the United States is making strides to demonstrate that they are a force to be reckoned with, in order for the US to truly arrive as a soccer powerhouse, they need to implement Seattle as their "home."