Solheim Cup 2011: Natalie Gulbis' Absence Makes Sense for Team but Not LPGA
September 24, 2011
Scott Halleran/Getty Images
Natalie Gulbis was clearly not playing her best golf leading up to the Solheim Cup. She was ranked 16th, and had been mired in a recent slump. You can't blame Rosie Jones for leaving her off of the Solheim team. Well, unless you are the business side of the LPGA.
The LPGA is short on interest these days. Tournaments are seemingly won by a new player every week, and they are players not many people know.
They are losing more fans than they are generating. The Solheim Cup, the LPGA's equivalent of the President's Cup, is an excellent chance to introduce new fans to the LPGA.
People are more apt to tune in when a little national pride is involved. People are also more likely to tune in when they know some of the players participating.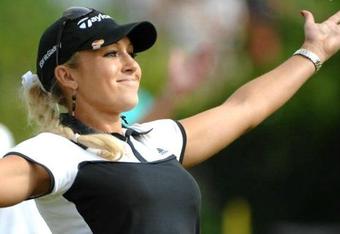 Natalie Gulbis is one of the few names that people who don't follow the LPGA from week-to-week know. She is one of the few marquee players; and one of the only names that will grab anyone's attention if it is in a headline.
And while Gulbis has not been playing her best, she is still among the quality of players that are considered for this competition.
Vicky Hurst and Ryann O'Toole were two rookies added to the team, and not many fans would have batted an eye had they been left off for Gulbis. She is experienced in this competition, and has the potential to earn points.
And more than anything, she has the potential to make people watch. And the LPGA needs that.