USC Football: Is This Year's Defensive Front the Wild Bunch III?
September 24, 2011
Harry How/Getty Images
They were called The Wild Bunch II. They got their name from the classic Western film of 1969, Sam Peckinpah's The Wild Bunch.
It was fitting that the defensive front from the 2003 national championship team acquired such a handle. Like the Peckinpah film, USC's Wild Bunch II wreaked havoc on the opposition.
For those of us who saw defensive ends Kenechi Udeze and Omar Nazel, and defensive tackles Shaun Cody and Mike Patterson in action, we figured there would never be a group of Trojans to match those four.
Cody and Patterson also played on the 2004 championship team, and both of them, along with Udeze, went on to play in the NFL. Udeze's career sadly came to a premature end after a battle with acute lymphoblastic leukemia and is now an assistant coach in Steve Sarkisian's staff at the University of Washington. 
Cody and Patterson are still in the league. Cody is with the Houston Texans, and Patterson is a starting DT for the Philadelphia Eagles.
While we USC fans thought there would never be a foursome like The Wild Bunch II, could it be possible that this year's defensive front may be The Wild Bunch III?
Even without Armond Armstead, who will be redshirted after not receiving medical clearance, the current Trojan defensive line is an imposing bunch, indeed. Just how wild and havoc-causing they will be in 2011 remains to be seen, but they are well on their way.
This weekend the new Wild Bunch could take a huge step toward earning that moniker.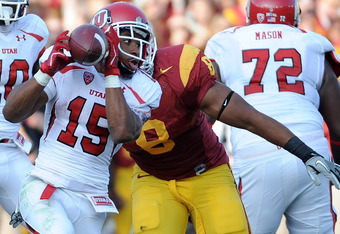 Harry How/Getty Images
All week, the media have played up Vontaze Burfict, the Arizona State linebacker who is on numerous 2011 award watch lists. Burfict, a once much-sought-after USC recruit that got away, plays with reckless abandon. Sometimes too reckless and immature, ASU head coach Dennis Erickson has noted.
Burfict is not a model of self-control and will let his emotions run away with him long after the officials blow their whistles. He is one of the reasons that ASU had the most penalties and penalty yardage per game last season in the Pac-10 and are close to repeating that feat again this year.
But overlooked by the pundits who are covering this Saturday night battle in the desert are Trojan defensive ends Wes Horton and Nick Perry, and defensive tackles DaJohn Harris and Christian Tupou—USC's new Wild Bunch.
I would also include a couple of the alternates in that group. On the outside, there is Devon Kennard, and inside, there is 300-pound George Uko. In addition, Lane Kiffin hopes to work 325-pound freshman tackle Antwaun Woods into that mix.
While Burfict gets all the press, USC fans can expect this new Wild Bunch to rack up most of the stats.They play fast and tough, and they are getting faster and tougher by the week. That is not good news for Brock Osweiler, the Sun Devil quarterback who was sacked six times last week at Illinois.
When you are 6'8", you can run but you cannot hide. Although Dennis Erickson has called his experienced offensive line the strength of the team, USC fans can expect The Wild Bunch III to summarily dismantle that line right at the point of attack.
Ranked way down at No. 23 with supposedly nothing to play for (still banned from BCS bowls), USC's current Wild Bunch will fly under the radar, like most of the team (minus QB Matt Barkley and WR Robert Woods).
But it's not the media that matters, it's the scoreboard—and the tradition that is USC Football.