English Premier League Weekly Predictions: Gameweek 6
September 23, 2011
Alex Livesey/Getty Images
Manchester United took a stranglehold on the English Premier League last week. Although they didn't dominate, United made the most of their opportunities.
City finally dropped some points, and now Sir Alex Ferguson's club sits alone at the top of the table. We are still a long way from the end of the season, but it would be ignorant to overlook United's dominance.
A lot of clubs are hoping to answer some questions this week, we'll just have to wait and see if it happens.
MATCH OF THE WEEK
Stoke City 0 Manchester United 2: By simply looking at last week's scorelines, this appears to be a foregone conclusion. Not so fast. Stoke have one of the toughest defenses at home, and despite getting worked last week (4-0 defeat at the Stadium of Light), they have an outside shot of a Champions League spot this year.
United demonstrated last week that their backline is far from impenetrable. David De Gea has looked a little better, but the defense just hasn't looked flawless (like most of the United attack has looked).
With all that said, United are too talented to lose this match. In fact, I think they will win. However, don't be surprised if Stoke are able to earn a point at home.
OTHER MATCHES
Manchester City 2 Everton 0: For the first time this year, Roberto Mancini's squad dropped points in the league. While they are no longer untouchable, City are still really good. This will be a nice homecoming match, as they will win handily over an inferior Everton squad.
Arsenal 1 Bolton 0: The Gunners simply aren't very good this year, are they? Despite that fact (and having more matches played than points), Arsenal should earn three points at Emirates this week. Bolton are a tougher side than they've played like, but I just don't see them getting any points on the road this week.
Chelsea 2 Swansea City 0: If you watched last week's match at Old Trafford, you would believe me when I say that the Blues could've won it. In fact, with the amount of quality chances they had, Chelsea should have won it.
But that doesn't matter. With a Jose Bosingwa cheap foul (setting up the free kick for the first goal), a Juan Mata lazy tackle (letting Nani cruise right past him) and poor interior defending (Phil Jones running nearly the length of the field), they were down 3-0 at half.
Despite his embarrassment, Fernando Torres was, in my opinion, the man of the match. Now, he needs to start putting the ball in the net more often. He should notch a brace this week, and get his season on the right track.
Liverpool 2 Wolverhampton Wanderers 0: Liverpool have really slipped. With injuries and suspensions, the Reds have been outscored 5-0 in their two September matches. With a return to Anfield, I think they will get a much-needed three points.
Newcastle United 2 Blackburn 0: Don't look now, but the Toon are in the top four. Obviously, it's early in the season, but it is a great sign for a historic club that was embarrassingly relegated three seasons ago. Now, led by the best statistical defense in the league (two goals conceded in five matches), Newcastle hope to return to European football by the end of the year. We'll have to see about that, but a win this week doesn't sound to outrageous.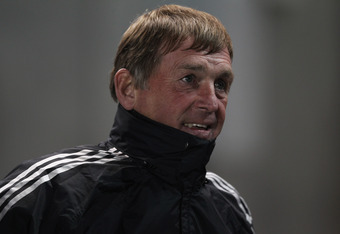 Clive Rose/Getty Images
West Bromwich Albion 1 Fulham 0: Both of these teams surprised me last week. However, now that West Brom returns home and Fulham is on the road, I think their results will be reversed. West Brom should earn a solid three points at the Hawthorns.
Wigan Athletic 0 Tottenham Hotspur 1: Spurs are starting to look better as the season goes along. Not to mention, Luka Modric scored one of the best goals in this campaign. Look for him to dominate the midfield as Spurs earn three points away from White Hart Lane.
Queens Park Rangers 2 Aston Villa 1: I think Villa are more talented than QPR, but I don't think they are quite playing to form. At Loftus Road, QPR have been unimpressive, but I think they'll notch a victory for the home crowd this week.
Norwich City 2 Sunderland 0: Sunderland finally got back on track with a thumping 4-0 victory last week. However, things won't be as easy against Norwich. On the road, I expect Sunderland to drop this match, in relatively boring fashion.
Last Week: 3-5-2 (W-L-D)
Season: 20-12-8 (W-L-D)
Well, those are my predictions for the week. As always, feel free to let me know what you think, and give me any input on any of the matches. Thanks!