College Football Week 3: West Virginia Is Not Oregon
September 22, 2011
Rob Carr/Getty Images
With ESPN's College GameDay traveling to Morgantown for the first time in anticipation of No. 2-ranked Louisiana State University vs. No. 16 West Virginia, analysts and fans alike seem to be confused about one major detail. 
The West Virginia Mountaineers are not the Oregon Ducks.
To be fair, both run high-tempo, speed-based offenses that, amplified by LSU's impressive victory over Oregon in Week 1, are sure to draw comparisons as the Tigers prepare to face the Mountaineers on Saturday night. However, amidst those comparisons is one glaring difference that analysts have ignored.  West Virginia features a passing offense, while Oregon is firmly based on the run.
In all honesty, Oregon's current system under Chip Kelly is more akin to the Mountaineers' offense under Rich Rodriguez, when Pat White and Steve Slaton were still at the helm. And while analysts seem content in overlooking this detail, you better believe Les Miles won't.
For starters, West Virginia ranks seventh in the nation in passing yards per game, averaging 356 yards per contest.  Oregon averages close to 100 yards fewer at 278.7 yards per game, and even that statistical difference is misleading. Whereas Kelly's offense calls for mostly short passing plays, wide receiver screens and swing passes to LaMichael James, Dana Holgerson's Mountaineer passing offense is more wide open. 
West Virginia quarterback Geno Smith has all the tools you want in a pocket passer. He can make all the throws, from quick slants to 10-yard outs to deep corners and posts, has great presence and awareness in the pocket, a quick release and puts touch and zip on his passes that can only be described as awe-inspiring.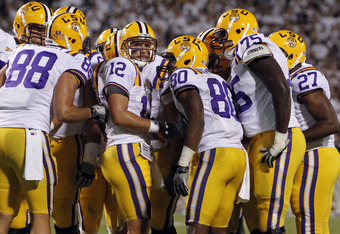 Butch Dill/Getty Images
Smith is highly underrated nationally, and with 1,008 yards (good for fourth in the nation), seven touchdowns and just one interception (a dropped pass that wasn't his fault) through three games this season, some Heisman hype would be well deserved.
A victory against LSU would help further that cause, I'm sure.
Taking the focus away from the offenses for a second, there's one other thing that West Virginia does that Kelly debatably doesn't even know the meaning of: Play defense.
Last year, the Mountaineers were third in the nation in defensive efficiency and, even though they lost seven starters from a year ago, didn't let up an offensive touchdown until last Saturday against Maryland. The same game in which they picked off preseason first-team All-ACC quarterback Danny O'Brien three times, taking one back for a touchdown. Also, two of those returning starters, Bruce Irvin and Julian Miller, combined for 22 sacks last season. 
Take into account the fact that LSU's defense is arguably the best in the nation and, even though all anyone wants to talk about is offense, this game could ultimately come down to the defenses.
Last year in Baton Rouge, the Mountaineers gave up one touchdown to top-10 draft pick Patrick Peterson on a punt return and another after a Ryan Clark fumble gave the Tigers the ball inside the 'Eers own 10.  A pair of LSU field goals became the difference in the outcome of this game.
This year, while West Virginia's defense might have taken a slight step back, the offense, under Holgerson, is worlds better and I expect these two powerhouses to fight it out to the bitter end.
Only a few things can be certain, however, when looking forward to this Saturday night:
Whichever team wins, it will have been earned, but no matter what happens in Morgantown, things will be burned!