Green Bay Packers Stock Sale Seems Likely; Pending NFL Approval
September 21, 2011
A. Messerschmidt/Getty Images
As much as I don't want to bring this to your attention (because the less that this is in the forefront of your mind, the more likely there will be an opportunity for me personally to take advantage of this chance), the Green Bay Packers franchise is all the more closer to going about a stock sale.
As the attentive public already knows, the Green Bay Packers have only issued stock for the team four times in the past; in 1923, 1935, 1950, and again on 1997 if you really want to be specific.
In my selfish push to disinterest you from hype of the sale, I must inform you that, other than voting rights, there are no advantages to being a shareholder of the Green Bay Packers. You do not get ahead on the season ticket waiting list, and you will never receive paid dividends. In addition to this, the stocks will not increase in value over time. So, there's really no benefit to this purely sentimental investment, right?
Wrong.
As the only publicly owned, non-profit football team, and due to regulations that have since been put into place since, stock ownership in this team is a once-in-a-lifetime opportunity. 112,158 individuals own the Green Bay Packers, and no one can own more than 200,000. The stocks also cannot be transferred, except to family members.
I want one.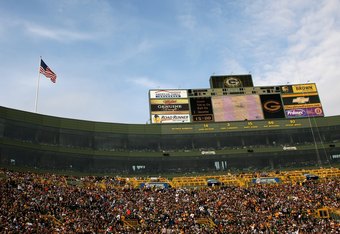 Stephen Dunn/Getty Images
Pending the necessary approvals, the decision to go ahead with the sale is contingent on the NFL's head nod. According to spokesperson Aaron Popkey, they believe that they will get the required permissions since the money that they are hoping to raise from the sale will go towards stadium improvements and not towards operating costs.
"We would hope to have an offering yet this fall," Popkey said.
There has not yet been any decisions made as to the number of shares that will be sold. However, there are a remaining 280,000 shares from the last sale that were approved to offer but they chose not to sell. In the instance that these shares were offered in the likely upcoming stock sale, there would be no additional splits for current stock holders necessary.  
But like I said, don't pay attention to this, it really isn't a big deal... Leave them for me and walk away from the table...