College Football: Recapping the Second Round of Conference Realignment
September 21, 2011
Doug Pensinger/Getty Images
What We Know
What the officials have been saying publicly (legitimate/confirmed reports) 
-The Pac-12 has decided to remain at 12 teams...for now. Late Tuesday night, Pac-12 commissioner Larry Scott announced that the conference's presidents and chancellors had affirmed their decision to remain a 12-team conference.
"After careful review we have determined that it is in the best interests of our member institutions, student-athletes and fans to remain a 12-team conference. While we have great respect for all of the institutions that have contacted us, and certain expansion proposals were financially attractive, we have a strong conference structure and culture of equality that we are committed to preserve. With new landmark TV agreements and plans to launch our innovative television networks, we are going to focus solely on these great assets, our strong heritage and the bright future in front of us," he said.
Scott's statement came amidst rapid speculation that Oklahoma, Oklahoma State, Texas, and Texas Tech were preparing to exit the Big 12. However, reports had also started to surface that the Pac-12 was not excited at the prospect of adding Oklahoma State and Texas Tech due to academics.
-Apparently out of options, Oklahoma is committed to achieving stability in the Big 12. Shortly after Scott made his announcement, Oklahoma president David Boren, who had been authorized to act on finding OU a new conference Monday afternoon, released a statement re-affirming the school's commitment to achieving stability in the Big 12.
"We were not surprised by the Pac 12's decision to not expand at this time. Even though we had decided not to apply for membership this year, we have developed a positive relationship with the leadership of the conference and we have kept them informed of the progress we've been making to gain agreement from the Big 12 for changes which will make the conference more stable in the future. Conference stability has been our first goal and we look forward to achieving that goal through continued membership in the Big 12 Conference," Boren said.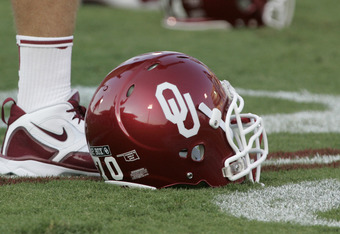 Brett Deering/Getty Images
-The SEC has only extended an invite to Texas A&M. After stories started to surface that Missouri had an offer from the SEC in case the Big 12 fell apart, associate commissioner Charles Bloom told reporters in a phone interview that the conference had only made an offer to Texas A&M (see: "what we think we know").
"The SEC has not extended an invitation to any school beyond Texas A&M since it extended invitations to Arkansas and South Carolina.," said Bloom.
He declined to comment further, but Texas A&M's departure from the Big 12 is basically a forgone conclusion.
-There is absolutely, positively, no chance Texas A&M returns to the Big 12 next season. Despite the best efforts of Oklahoma State booster Boone Pickens to get the Aggies to re-think their position—which included calling Texas governor Rick Perry—Texas A&M officials said they have no intention of remaining in the Big 12.
"Texas A&M has made our intentions perfectly clear. We do not intend to be a member of the Big 12 past this season," Jason Cook, A&M vice president for communications said.
While losing Texas A&M would force the Big 12 to find a replacement to get back to ten members, it would not mean the ultimate demise of the conference.  
-Pittsburgh and Syracuse are headed to the ACC. Just as it appeared that the Pac-12 would be the first conference to expand to 16 teams, setting off a massive overhaul of the college landscape, the ACC announced it would be expanding to 14 teams with the additions of Pittsburgh and Syracuse. Big East by-laws require schools to pay a $5 million exit fee and give 27 months notice before leaving, meaning that Pitt and Syracuse will not leave the Big East until 2014.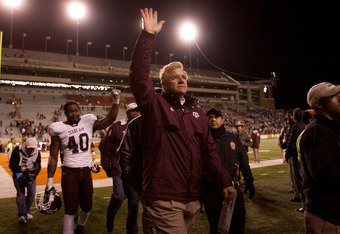 Darren Carroll/Getty Images
-The Big East is going to do its best to remain relevant. Shortly before the Pac-12 made its announcement, Big East commissioner John Marinatto said the conference's remaining members were committed to staying together and planned to aggressively recruit replacements. Marinatto said that even the eight non-football programs, including Notre Dame, were beginning to find potential replacement schools.   
-Texas is open to a new revenue sharing option. In an article published by the Houston Chronicle, University of Texas president William Powers said creating stability within the Big 12 is a top priority and suggested that Texas is open to a different revenue sharing model.
One of the main causes of instability within the Big 12 has been its unequal revenue sharing model. Basically, the former Big 12 South schools like Texas and Oklahoma take in a much larger share of the league's media revenue than the other schools because more of their games are nationally televised than, say, Iowa State.
In theory, this system is designed to reward the schools who earn the conference the most national exposure with a bigger piece of pie. Unfortunately, the disparity between a school like Texas and a school like Iowa State is so large that the Cyclones receive almost nothing compared to what the Longhorns rake in each year.
While Powers did not specify what sort of new revenue sharing model the Big 12 could adopt, it is hard to believe that UT would be on board with the conference adopting a model similar to the one utilized by the other Division-I conferences.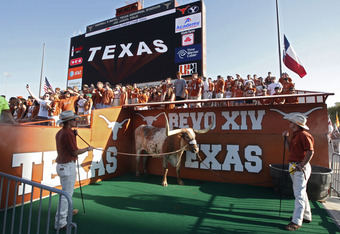 Erich Schlegel/Getty Images
If the Big 12 were to amend its revenue sharing model, 75 percent of the members must vote in favor of the motion (1.5.2b).
The Longhorn Network is untouchable. Wednesday afternoon, Texas athletic director DeLoss Dodds told reporters that the university is not willing to negotiate any changes to the Longhorn Network. Dodds said the Big 12 athletic directors approved equal revenue sharing for Tier 1 and Tier 2 sports last spring, but the presidents never took action on it. 
The Texas AD continued to say he feels a 10-team league is in everyone's best interests because it allows for a total round-robin in football, double-round robin in basketball, and a clearer path to the BCS Title game.
ESPN also released the following statement concerning the latest developments:
The driving force on realignment lies with the conferences and universities. The Big 12 determined in 2010 to grant each of its schools the ability to create their own networks. As a result, the Big 12 stayed together and University of Texas made the decision to launch its network. ESPN subsequently won a competitive bid to become its media partner. We have since seen Kansas State and Missouri create opportunities while Oklahoma is exploring its media options. The concept of LHN remains the same as it was 15 months ago.
On a side note, Dodds said he does not believe it will be possible to salvage their rivalry with A&M due to scheduling commitments for both schools.
What We Think We Know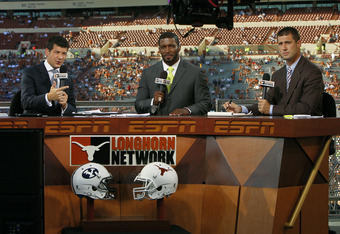 Erich Schlegel/Getty Images
What the nameless, faceless anonymous sources have been saying, but no one has actually confirmed 
-Dan Beebe's day as Big 12 commissioner are numbered. According to reports published Tuesday afternoon, the only way Oklahoma would remain in the Big 12 was if certain changes were made. Among those changes: restrictions on Texas' Longhorn Network and the removal of Beebe as commissioner.
According to the source, the league presidents were not pleased with how Beebe responded to Nebraska's and Texas A&M's frustrations and the fact that the Big 12 is on the brink of losing its third member in the last 15 months. Keep in mind, however that Beebe did sign a contract extension through 2015 last November, meaning that obviously not everyone was displeased with his performance.
In light of the recent developments concerning the Pac-12's immediate future, this may have been a simple power play by OU to save face before the Pac-12 could publicly deny interest in expanding. However, it appears that the movement to oust Beebe is gaining traction.
According to a report published in the Tulsa World, the Big 12 Board of Directors is planning to hold a teleconference Thursday to discuss reforms for the conference. It is rumored that they will also ask for Beebe's resignation. The article says that former Big 8 commissioner Chuck Neinas would be hired to replace Beebe on an interim basis.    
In case you were wondering, the Big 12 bylaws (Section 1.5.2a) require a majority vote among the member schools to oust the commissioner.
-Texas caused the Pac-12 to rethink its expansion plans. Oops, they did it again. According to a report on ESPN.com, an anonymous source said Larry Scott did not endorse expansion to the league's presidents and chancellors because he was unable to get assurance from Texas that they would back an equal revenue sharing plan.
-Missouri has a contingency plan this time around. According to a report first published by Gabe DeArmond on PowerMizzou.com, "the SEC wants Mizzou as number 14, but is willing to wait on the implosion of the Big 12 Conference before making any moves if necessary."
The wording of Gabe's article is important. At no point does he mention, or even suggest that the SEC had made an offer to Missouri, or any other school for that matter. However, it does appear that Mizzou is high on the SEC's wish list and Mike Slive is poised to bring the Tigers on board if and when the Big 12 implodes.
-West Virginia is stuck in the Big East. West Virginia was unable to escape the Big East, getting turned down by both the SEC and the ACC.
-The Big East and Big 12 were considering a merger if their conferences fell apart. According to multiple reports, Big 12 and Big East officials were formulating plans for a new 12-team conference in case the Big 12 fell apart. That league would keep its automatic BCS bowl bid.
-BYU will replace Texas A&M in the Big 12. In a report published on Deep Shades of Blue (BYU's Rivals.com site), Big 12 officials were close to making the addition of BYU official, but those plans were put on hold by Oklahoma's announcement that it would be exploring other options.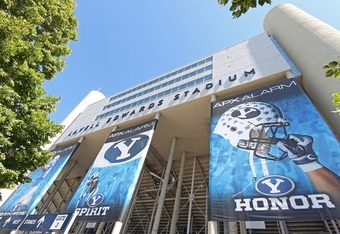 George Frey/Getty Images
According to the source, BYU president Cecil O. Samuelson has been authorized by the Board of Trustees to move all the school's athletic programs. This same source told DSB last year of BYU's plan to become a football independent shortly before it became official.
Loose Ends
Some lingering questions moving forward
-The long-term stability of the Big 12 is still in question. What happens when the Pac-12 re-opens the possibility of expanding? Will Oklahoma (and Oklahoma State) and Texas (and Texas Tech) forget this "re-formed Big 12" and apply for membership with the Pac-12?
-What is Missouri's next move? Suppose Mizzou is in fact at the top of the SEC's list, would MU chancellor/Big 12 chairperson Brady Deaton accept Mike Slive's offer if it comes in the immediate future? Remember, numerous sources have said Deaton has worked extremely hard throughout this process to keep the Big 12 together. I'm not sure if he is ready to give up on his "project," but at the same time, this could be the best option for Missouri long-term.