Pittsburgh Steelers: Offense Still Has Room To Improve
September 21, 2011
Justin K. Aller/Getty Images
Following their shut out victory, the Pittsburgh Steelers defense showed everyone that they are still capable of dominating an opponent.
It was by no means their best effort that we have seen in the past few seasons, but it was certainly better than their opening week performance against Baltimore.
As the defense is living up to expectations the offense still has yet to reach its potential.
The Steelers have surrounded Ben Roethlisberger with incredible talent at every skill position.
Pittsburgh has a nice one-two punch at running back with the speed and skill of Rashard Mendenhall and the power and physicality of Isaac Redman.
They are even better at wide receiver starting Mike Wallace, Hines Ward and Antonio Brown last week with Emmanuel Sanders also getting significant playing time.
The Steelers also have a talented tight end with Heath Miller and an underrated backup in Weslye Saunders who has seen his time on the field increase by the week.
As the season progresses, all facets of the offense should improve and another step forward could be taken this weekend at Indianapolis.
Pittsburgh should continue to use Mendenhall and Redman as a tandem. First, it helps keep Mendenhall fresh for the duration of the season with less carries and it also gives defenses another thing to plan for.
Unlike Mendenhall, Redman is quick through the holes and runs with extreme power. He is rarely stopped behind the line as it takes multiple defenders to bring him down.
It may be time for the Steelers to look to Redman in goal line situations as the Steelers twice failed with Mendenhall in the backfield.
That is not saying Mendenhall cannot get the job done, because he can, but rather that with the weak offensive line in front, the Steelers could benefit from a big straight line runner.
The inclusion of Redman as fullback and Mendenhall at tailback would add yet another wrinkle and could produce some big yards for Redman with quick handoffs up the gut.
When the Steelers go to air they need to go to their strengths, which are using the quickness of their receivers and setting up the play action to get big plays from Wallace and Brown.
While the play action has been a staple of the offense, the quick passing game has not. We did get a small taste last week with a couple of slants over the middle which the receivers were able to get yards after reception.
Saunders can be a deadly weapon over the middle as well as Brown with their incredible acceleration.
Saunders is particularly well in this area of the field, playing with no fear running crossing routes. He, along with Ward and Miller, gives Roethlisberger plenty of options between the hashes.
Wallace and Brown are both excellent deep threats and can also turn a short reception into a long gain with their elite speed.
Bruce Arians goes to the bubble screen quite often to Ward and instead needs to focus this play, if it continues to be a part of the playbook, to go to Wallace and Brown.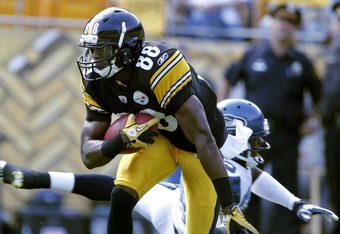 Justin K. Aller/Getty Images
Each player can turn what is usually a two to four yard gain into a 10 yard or more play.
A short passing game will not only allow for the receivers to turn a reception into a big gain, but will keep Roethlisberger on his feet.
Injuries to Chris Kemoeatu and Willie Colon have resulted in an offensive line shuffle and continuing to run deep routes with all of the receivers is not the ticket to success.
The short passing game can bring up a defense and eventually allow for the Steelers to sneak in a deep throw to one of the speedsters.
It has been the low production players so far, though, that could really provide a boost for the offense.
Miller only has four receptions through two games and should be a bigger part of the offense. He is excellent over the middle and in the flats and would provide Roethlisberger with a big option for the short and mid-range passing attack.
Then there is the little known Saunders who made the roster as an undrafted free agent in part because of his high end potential as a receiving tight end.
Saunders has a chance to be a legitimate second receiving tight end option, in other words, nothing like Matt Spaeth.
Pittsburgh has been hurt by throws to the backs and tight ends this season and they have their own set of backs and tight ends that could be used to exploit defenses.
The Colts' defense will give the Steelers another opportunity to continue to improve and continue to develop their offensive attack.
The skill players are in position and now it is up to Arians to devise schemes to maximize their potential. This year's group has the chance to be the most productive Steelers offense ever, they just have to be set up to succeed.
Expect bigger and better things from the offense as the season progresses, the sky is the limit.
Follow me on Twitter @ChrisG_FC