Arsenal FC: Youth Serves Up a Rare Victory for Under-Fire Gunners
September 21, 2011
Julian Finney/Getty Images
In a span of 10 days, Arsenal has rescued a season, instilled hope for success, thrown it all away and then re-ignited the fires of ambition all over.  Tuesday night, a besieged Arsenal side hosted nPower League Two side Shrewsbury Town, kicking off a stretch of three must-win games for the club.  While it was a victory, many questions remained unanswered as the Gunners now look ahead to Bolton this weekend.
The game itself mirrored much of Arsenal's season so far as it brought both highs and lows; what should have been routine was anything but as the Shrews looked to score another upset over a team from the Premier League.  Nearly four weeks past, the League Two side defeated EPL newcomers Swansea City 3-1, a team that Arsenal edged by a week and-a-half ago. This time, Shrews looked to claim an even bigger scalp for manager Graham Turner.
The Match

An energetic start to the match saw Marouane Chamakh in rare form.  Perhaps inspired by his goal in the losing effort at Blackburn on Saturday, he made two excellent plays within the first four minutes and placed first a header and then a Coquelin pass onto goal.  Shrews keeper Benjamin Smith was up to the task, however, saving both and denying the home side an early lead that would have boosted confidence into the stratosphere.
Upon 10 minutes, however, the tide turned and Arsenal eased the pressure, no longer closing on the ball as quickly when Shrewsbury was in possession and allowing the League Two side to get their feet underneath them.  It took but a single set piece at the 10' mark and Joe Jacobson set the Shrews' tails on fire.  Suddenly the visitors were in attacking form and looking dangerous. Three minutes later, Mark Wright's shot would deflect off the far post, rattling a weakening defense.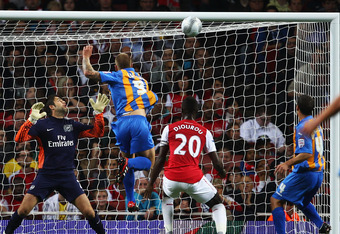 Julian Finney/Getty Images
Already the most maligned unit of Wenger's 2011/2012 Arsenal, a back four consisting of Jenkinson, Djourou, Miquel and Gibbs started brightly but then quickly found themselves repeatedly out of place.  Forwards and attacking midfielders made unchallenged run after unchallenged run, culminating in a textbook header from James Collins that sent 5,000 visiting Shrewsbury fans into a rapturous celebration.
Shrewsbury Town had done what everyone feared—they had come to the Emirates, weathered the storm of the early Arsenal shooting gallery and counterattacked to fierce results.  Arsenal's high line would be challenged throughout the rest of the half and at periods within the second with exceptional play and tackles from Francis Coquelin and Ignasi Miquel the only thing between Arsenal and Carling Cup embarrassment.
The Gunners would have to endure another 17 minutes of play before a Jenkinson cross would be deflected off of Chamakh and directly into the path of an attacking Kieran Gibbs who placed his header perfectly and beat Smith to the lower left corner of the goal to draw the match into a 1-1 tie.  A late rally saw Arsenal challenge the goal as often as they, themselves, were challenged and the first 45 minutes would end with the same score.
The second half was another story.  Arsenal charged from the gates once more but rarely gave the Shrews an opportunity to touch the ball, let alone muster many chances.  Those chances that they did manage were dangerous and threatened to steal the game from the Gunners once more.  Once again, Coquelin was the primary savior for Arsenal, partnering with the always-active Emmanuel Frimpong to deny the Shrews, time and again.
Returning to the same attacking play that saw them successful in the first 10 minutes of the match, Arsenal once again laid siege to Ben Smith's net with his primary antagonist the highly controversial signing, Alex Oxlade-Chamberlain.  With attacking runs that sliced the defense apart, he was the catalyst for most of Arsenal's attacks and he was rewarded at the 58' mark with a terrific shot from 25 meters out.  With the momentum largely gone, the Shrews could do little to stem the Gunners' assault and would see Yossi Benayoun net his first Arsenal goal at 78'.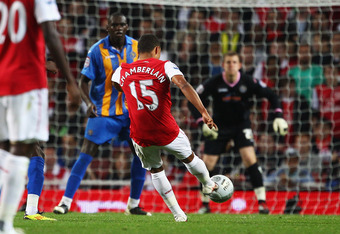 Julian Finney/Getty Images
The Impact

It is quite obviously too early to tell the impact that the Shrewsbury match will have upon the Gunners.  It was a win that everyone expected them to claim, even though nothing is a given anymore with the current Arsenal side.  Additionally, results can often be skewed and a single player dominating could mean little as he faces opposition that is not the quality of the rest of the Premier League, sometimes yielding false positives.  That's not to say that it wasn't a crucial victory, but a 3-1 win over Shrewsbury would have been laughed at in years past; only three goals? 
That said, while it is a victory that they can celebrate, there wasn't a single player from Saturday's Starting XI on the pitch, so whether it will instill any confidence within those players is highly doubtful.  What it can do (and I expect it to) is force the Arsenal first team to re-evaluate their roles as starters.  This match should have served a notice to the rest of Arsene's charges that lack of production will see you replaced, because there are youngsters that are screaming for an opportunity to perform.
Of these youngsters, none impressed more that Alex Oxlade-Chamberlain.  A controversial signing by Wenger during the summer window, many critics and supporters alike claimed that the fee would have been better spent upon a defensive midfielder or center back.  AOC may have put many of his doubters to rest as he was devastating to the Shrews' defense.  A mix of his runs, shooting prowess, vision and crossing made mincemeat of a defense that had trouble with his pace and intensity.
While a false positive is possible due to the perceived inferiority of a League Two team, many of the skills he displayed were those not affected by opposing players.  The intelligent runs and the crosses show how AOC can be instrumental in Arsenal's plans this year and his exposition today should be seen as a calling card to Theo Walcott, "hey Theo, check over your shoulder, because I'm here for your job!"
Even more important than the youngsters performing was the play of Yossi Benayoun and Marouane Chamakh.  Both players have been mired in poor form for months and have been called busts by pundits everywhere.  
Whether it was today or Saturday for Marouane Chamakh, he looked eager, willing and capable of inflicting damage upon the opposition.  I was amazed at his dominance of the Shrewsbury back line as he got his head onto nearly every single ball that was within his reach.  That is exactly why the Gunners brought him in and if he can regain even a fraction of the form he showed at the start of last season, we may yet see Arsenal pull themselves from the doldrums.
Much akin to the Moroccan was Yossi Benayoun.  Signed on a year-long loan from rivals Chelsea, Benayoun was considered superfluous to Andre Villas-Boas plans and his poor form made it easy for Arsenal to draw him in.  Today he looked dangerous, making runs, holding onto the ball, distributing it well and even scoring his first goal for the Gunners.  If he can maintain this upward trend, his creativity will also help to stabilize a still-reeling Arsenal side.
All-in-all it was a positive result for the Gunners that saw them into Round 4 of the Carling Cup and enabled them to regain a bit of their self-respect.  While not a textbook victory, nor even entirely convincing, it is still a win and a step in the right direction.  Hopefully it's not another Swansea and I'm looking forward to this weekend's clash with Wanderers.
Gooner for life!!!