SEC Football: How the Arkansas Razorbacks Will Beat the Alabama Crimson Tide
September 20, 2011
Wesley Hitt/Getty Images
Arkansas and Alabama have two very similar teams in 2011, except one is getting a lot more national attention than the other. Is the early season attention given to Alabama over Arkansas truly deserved?
Both teams are ranked in the AP and Coaches Top 25 going into this week's game, Arkansas 14th, Alabama third in the AP. Neither team has played a challenging schedule to date.
Yes that includes Alabama's trip to Penn State, a team that finished 7-6 in 2010. Arkansas received perhaps their toughest offensive test for the entire season against Troy, 8-5 in 2010, and their highly regarded quarterback Corey Robinson; sans a November visit from Marcus Lattimore and the South Carolina Gamecocks.
Both teams have lost a great deal of talent off of their 10-win 2010 teams. Alabama has 14 returning starters while Arkansas has 11. Offensively Arkansas and Alabama have had to replace their starting left tackles. Arkansas has had to go a step further and replace two additional offensive linemen.
Arkansas lost Knile Davis to injury during fall practices, a 1,322-yard rusher in 2010, while Alabama had to replace their 2009 Heisman Trophy winning tailback Mark Ingram (875-yards rushing in 2010).
Trent Richardson and Ronnie Wingo Jr. saw significant snaps for their respective teams last year. Richardson ended the year with 700-yards rushing on 112 attempts for a 6.2 yard per carry average to Wingo's 253-yards rushing on 41 attempts also good for a 6.2 yard per carry average. Both backs excel as pass catching options out of the backfield.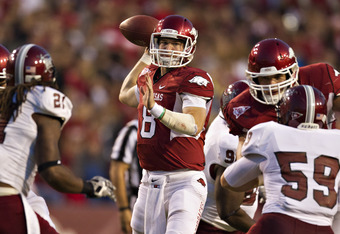 Wesley Hitt/Getty Images
Tyler Wilson has stepped in well for departed quarterback Ryan Mallet. Wilson is currently 23rd in the nation in passing yards averaging 274-yards per game in part-time work. AJ McCarron has replaced Greg McElroy at quarterback by posting 193-passing yards per game, ranking him 69th in FBS. McCarron has thrown two touchdown passes to Wilson's five.
Arkansas's entire wide receiving core returns from a passing offense that ranked fourth in the nation. The Tide has to replace first round draft pick Julio Jones and Preston Dial.
Arkansas is the first team ever to have four finalists for the Biletnikoff Award (Joe Adams, Greg Childs, Cobi Hamilton, and Jarius Wright). Alabama has three finalists named to the watch list (Duron Carter, Darius Hanks, and Marquis Maze) even though none of their receivers topped 600-yards receiving last season. Adams had 813, Childs 659, and Wright had 788-yards receiving. Maze had 557-yards.
14 Razorbacks were named to the All-SEC Preseason Teams, the most of any SEC team.
Both teams return seven starters from their highly ranked defense. Bama finished the season ranked fifth in the nation in total defense, Arkansas finished 36th.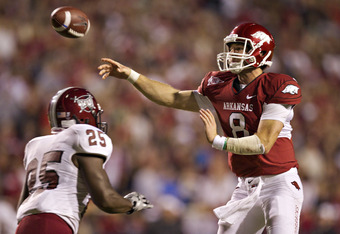 Wesley Hitt/Getty Images
Alabama currently has the third ranked defense in the nation to Arkansas 35th ranked defense. Between the two teams Arkansas has played a team with a more dynamic offense, Troy, than Alabama has in Kent State, Penn State, or North Texas. Penn State has the 103rd ranked offense in FBS to Troy's 33rd ranked offense; versus Clemson and Arkansas.
Arkansas has the 11th ranked offense, Alabama the 21st.
Arkansas has two punt returns for touchdowns, Alabama zero.
Arkansas has one kickoff return for a touchdown and is ranked third in FBS with 33-yards per kickoff return. Alabama is ranked 33rd averaging 24.6-yards per kickoff return with zero touchdowns.
What's the main difference between two evenly matched teams?
Not much other than Arkansas can put points on the board against any team in the nation. Alabama's young offense has yet to prove their abilities against a top tier defense.
Bama has a slight advantage playing at home but not enough to cover the current spread out of Las Vegas at 13 points.
Both teams may have played a vanilla offense against lesser opponents thus far and held back their blitz and defensive packages but you can expect Arkansas to run some of their 5-2 defense against Trent Richardson and Eddie Lacy. Arkansas defensive coordinator will beg Nick Saban to let AJ McCarron throw the ball to beat the Razorbacks.
Arkansas has a more experienced quarterback that has played well on the road in the state of Alabama. Wilson threw for 332-yards and four touchdowns at Jordan-Hare Stadium in front of 85,000 plus in less than three quarters worth of time. The 100,000 in attendance in Bryant-Denny Stadium will not rattle Tyler Wilson.
Alabama gets a slight edge on the offensive line… but they did give up four sacks against North Texas; three on AJ McCarron and one on Phillip Sims.
Arkansas wins the special teams match-up due to their kickoff and punt returns. Both teams have excellent field goal kickers.
The turnover battle will always factor into any football game. No one can predict what one team will or will not do against the other.
Arkansas will limit the pressure their young offensive line will receive from Alabama's defense by running five and eight-yard pass routes. When the Tide sit back, look for Arkansas to drag Bama's defenders from one side of the field to the other.
Arkansas will be able to stop Alabama's big play threats from Eddie Lacy and Trent Richardson. Against North Texas Alabama broke four long runs for touchdowns, 43, 58, 71, and 67-yards.
Those four plays account for all of Alabama's net rushing yards (347) against North Texas.
Arkansas wins this one 28-21. After all Petrino "didn't come here to paint".