Steven Jackson Injury: Updates on Rams Star's Week 3 Status and Fantasy Value
September 20, 2011
Dilip Vishwanat/Getty Images
There may not be a more determined man in the NFL right now than St. Louis Rams RB Steven Jackson.
UPDATE: 9/25/2011 5:15 p.m. EST
Steven Jackson (quad) has just two carries for 12 yards through 22 minutes of action.
UPDATE: 9/25/2011 2:40 p.m. EST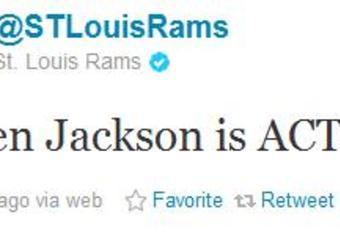 Steven Jackson (quad) is active today against Baltimore, according to the St. Louis Rams.
UPDATE: 9/25/2011 1:35 p.m. EST 
Steven Jackson has been listed as questionable by the St. Louis Rams, but popular belief is that even if Jackson does go against the Baltimore Ravens, he won't get many touches.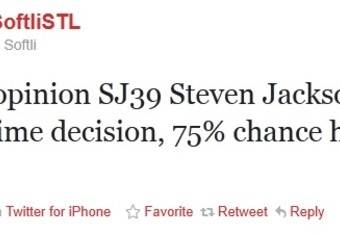 ESPN St. Louis Rams insider Tony Softli is reporting about Jackson's probability of playing:
Jackson should be on your fantasy bench until he shows that is back to being the power back that you drafted, but Cadillac Williams would be a good fit if you don't have a better option.
UPDATE: 9/25/2011 9:13 a.n. EST
Steven Jackson has a terrible matchup with the Baltimore Ravens and is listed as questionable on NFL.com. With Cadillac Williams practicing late in the week, it's difficult to see the Rams risking S-Jax in this brutal contest.
UPDATE: 9/24/2011 7:50 a.m. ET
After a week of very little practice, and certainly nothing strenuous enough to reactivate the quad injury that has kept the powerful back sidelined, the St. Louis Rams are holding onto hope that experts don't share.
ESPN NFL Analyst John Clayton is reporting that from the looks of things, Steven Jackson will not be able to go: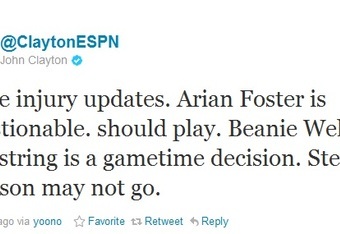 While the Rams need Jackson to be effective, they will have to go to battle without him and depend more heavily on the young arm of second-year quarterback Sam Bradford.
With the Baltimore Ravens coming off a terrible game against the Tennessee Titans, expect the entire Rams team to be a target for an angry Ravens team that will be trying to make an example of them.
UPDATE: 9/23/2011 9:35 a.m. EST
Jackson tested his right thigh in practice on Thursday, and he told the St. Louis Post-Dispatch that the next few days are crucial for him as he will more than likely be a game time decision. 
'I was able to get out there today, practice a little bit, get a few reps in,' Jackson said. 'I'm starting to familiarize myself with the game plan and knowing what Baltimore does.

So mentally, I'm right on key with the team. I just have to continue over the next few days to see how the quad reacts to me actually doing physical work that's football related.'
With Cadillac Williams also banged up, the Rams really need Jackson out there considering they have yet to win a game this season. However, if he rushes the injury then he runs the risk of hurting it more, which would put him out longer.
The wise move is to see how he feels on game gay and go from there. At this point I think he'll play, but only on a limited basis.
Remember, the Rams play in the weak NFC South, and even without Jackson for a few games they can still win enough to take first place in the division. They just need Jackson fully healthy for the back stretch of the season.    
UPDATE: 9/22/2011 12:11 p.m. EST
There hasn't been any medical developments with Steven Jackson's injury, but his coach did have some encouraging words for Rams fans and fantasy owners today.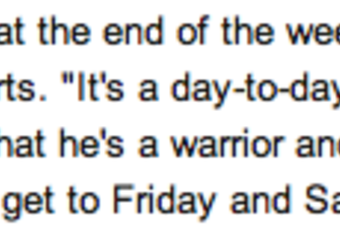 Unfortunately his return coincides with a game against the Ravens. Baltimore only gives up an average of 70 yards per game on the ground this season.
UPDATE: 9/22/2011 11:09 a.m. EST
The news for Steven Jackson continues disappoint both Rams fans and fantasy owners. The eight-year veteran running back's quad injury gives no indication of if/when it will allow him to play and he's heading for yet another game time decision.
If his status is unknown until game time it will it difficult to put him in your starting lineup for Week 3.
UPDATE: 9/21/2011 3:22 p.m. EST
Ravens Insider Aaron Wilson confirmed that Jackson is day-to-day and uncertain to play against Baltimore.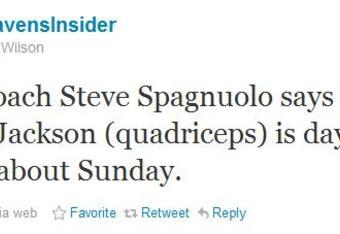 UPDATE: 9/21/2011 2:54 p.m. EST
Rams head coach Steve Spagnuolo is unsure if S-Jax will play Week 3, according to ESPN's Mike Sando.
UPDATE: 9/21/2011 2:48 p.m. EST
Jackson tweets that he is in great spirits. Hopefully that means his body is progressing like he wants and will be able to help his teammates Week 3 against Baltimore.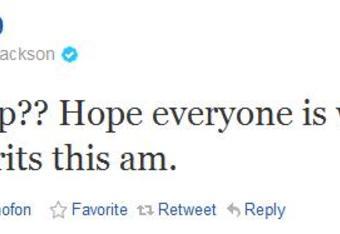 UPDATE: 9/21/2011 8:55 a.m. EST
Jackson is considered day-to-day heading into Week 3, according to the Rams.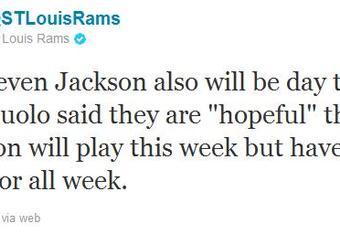 S-Jax was forced out of Week 1 against the Philadelphia Eagles after he strained his quadriceps on a 47-yard touchdown run. Without Jackson, the Rams' upset bid against the "Dream Team" was over.
S-Jax missed practice everyday leading to the Week 2 Monday night matchup with the New York Giants. He was a game-time decision, but used acupuncture and individual workouts to prepare himself for battle.
Unfortunately, S-Jax was unable to participate in the game; he couldn't get into rhythm in pregame warm-ups, according to NFL Network's Albert Breer.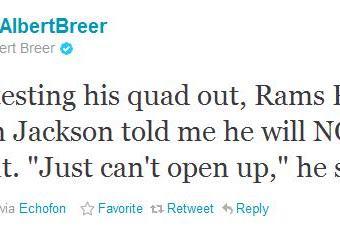 Considering how both games went, the Rams could have been 2-0 to begin the season. Instead, they are 0-2, but it is a long season. Jackson understands the season is a marathon, not a sprint, and must be ready for the stretch run of the season.
He tweeted this before the game.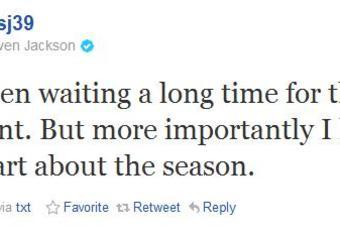 Since Jackson was closer to suiting up in Week 2 than most expected, we can only expect him to start against the Baltimore Ravens. Cadillac Williams carried the load in relief during Week 1, but he wasn't as productive against the Giants.
In order to prevent a three-game losing streak, the Rams desperately need their all-purpose workhorse veteran. Baltimore will be coming in to St. Louis looking for blood following their loss to the Tennessee Titans.
One has to wonder if S-Jax should sit out the game altogether, considering Ray Lewis and Terrell Suggs will be gunning for him, but Jackson is a warrior and wants to be out there with his teammates. It was bad enough for him to watch his team lose to the G-Men.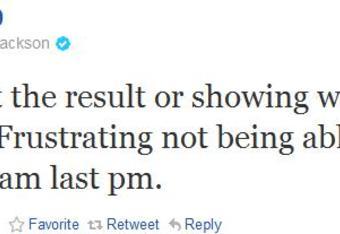 The Rams were ineffective inside the red zone (they were stopped twice), which is where S-Jax's presence and skills would have catapulted them to victory. Without Jackson on the field, the Rams didn't have the necessary power to pound the rock into the end zone.
The Giants stopped Cadillac Williams nearly every single time in short-yardage situations. If Jackson was on the field, the Rams could have taken an early 14-0 lead. Instead, they were forced to kick two field goals.
With Jackson on the field, the Rams have a legitimate power threat and, more importantly for Josh McDaniels' scheme, a strong receiver out of the backfield. The Giants had no reason to fear Caddy on short-yardage situations and were able to blanket Sam Bradford's receivers in the end zone to make their goal-line stands.
Luckily for Rams fans, heading into a seemingly must-win game, Jackson is focused and determined to get his body ready for game-time come Sunday. He is taking the necessary steps to make sure he can help his teammates in what will surely be a difficult task against Baltimore.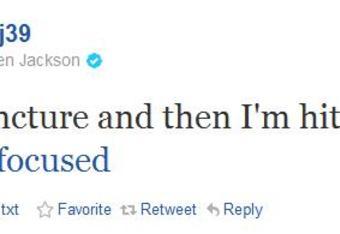 ESPN's Suzy Kolber expects him to be ready for Week 3, according to Rotoworld's staff.
Matt Noonan of Noontime Sports also heard that S-Jax will be ready, but doesn't think it's a wise decision.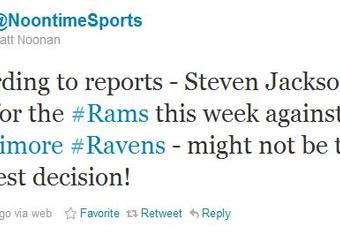 As somebody who drafted him in the second round, I have to agree.
This is a terrible matchup for S-Jax. The Ravens have one of the best rush-defenses in the NFL and will be aiming to stop him. They shut down Rashard Mendenhall and Chris Johnson, two of the top backs in the league. S-Jax will be a third and is not a good fantasy play for Week 3.
He may be a warrior, but I too would prefer if he stayed on the sidelines for this contest.