SEC Football: Vanderbilt Making Some Noise with a Surprising Start
September 19, 2011
Grant Halverson/Getty Images
I am pretty sure absolutely no one predicted Vanderbilt to be undefeated three games into this season.
Yet here they are. The undefeated Commodores.
Vanderbilt is the surprise of the young SEC season, as they have raced out to a 3-0 record with a huge upset win over Ole Miss on Saturday.
The 30-7 rout was a big victory for the program and is slowly giving the football team some attention. 
Everyone thought Vanderbilt could beat up on Elon, an FCS opponent, in the first week of the season. Therefore, when they did, it didn't get much notice.
The next week the Commodores upset Connecticut from the Big East and it caught the attention of some people, simply as a nice win.
Then, this past Saturday, Vanderbilt goes out and blows away Ole Miss in one of the biggest surprises of the college football season so far in 2011.
Now people are starting to notice, at least a little.
New head coach James Franklin has prepared his team in short order to play hard and avoid costly mistakes.
Amazingly, it has been since War World II since a new Commodore coach has started the season 3-0.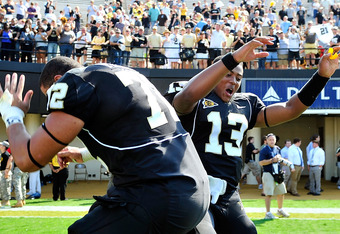 Grant Halverson/Getty Images
The hot start was definitely unexpected and is due in part to the hard work and aggressive style of play Franklin has implemented throughout the program.
As a matter of fact, Vanderbilt players lead the SEC in sacks (Tim Fugger with three), interceptions (Trey Wilson has three) and tackles for a loss (Rob Lohr has 5.5). 
Most importantly, the Commodore team leads the SEC in turnover margin, a very key stat, with an incredible +6 ratio over three games.
The defense is solid and balanced, lead by star linebacker Chris Marve (23 tackles already this season), and they rank fourth in the SEC in rushing and passing defense.
The offense is lead by the running game and ranks in the top half of the conference, racking up 177 rushing yards per contest and have managed to score over 30 points per game.
This undefeated run is not a smoke and mirrors situation or a fluke.
Don't get me wrong, this 3-0 start doesn't mean Vanderbilt will be a threat to win any championships this season. However, it does mean that teams should be on upset alert and ready for a battle when they line up against Franklin's Commodores in the coming weeks.
Already having three victories, and with winnable games against Army, Kentucky and Wake Forrest still on the schedule, six wins is more than possible.
The question is, can Vanderbilt upset someone else, win seven or more games and end up with a quality bowl invite? 
Should be interesting to watch as more people watch the Commodores.
Their next stop is a very tough one, at No. 12 South Carolina.
However, James Franklin will have his kids believing they can win that one too.
Whether they do or not, his early success has people already believing in him and his Vanderbilt team.
For the most part, that is definitely more than what could have been said three weeks ago.